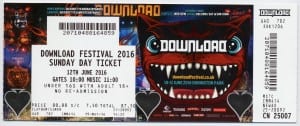 Back in 2012 i vowed i'd never go back there again until they improved the set up for the punters. Awful memories of the car getting stuck GOING IN on first day, rivers of MUD & generally a crap festival.I'm only going Sunday, mainly because Maiden are headlining & being a British band, they STILL wont do a proper UK tour – bunch of cunts! There's a couple more decent bands & i'm also really looking forward to meeting friends there 😉
I realy shoulda listened to myself hey ? It was as crap as 2012, if not worse ! The day started early with Andy picking me up & driving us to our "usual" hotel in Nottingham. There we met Ady & went off to the gig in his car. I'd got the disabled parking permit, so, that was a bonus as we get to park on the hard standing surface instead of the rivers of mud. As i'd arranged this a bit late, it seems they'd cocked up & didn't send something to get me in on the disabled entry though. First stupid thing : The portacabin for disabled tix etc was all muddy in front of it. An easy example of how they could improve things for the punters : How about some tracking or pallets placed in front of it? After some discussion, eventually a guy came to see us & after i complained, he took us to the disabled entrance,thus jumping the massive queue 😉 Good chap.
The festival site was an absolute mess! Talk about rivers of mud ! I'd hate to think what crap was in there & it's really not the best place for me to be,due to my immune system dropping right now. But i am rock n roll & i'm doing this mofo !
I didn't take hardly any photos/videos, due to the crap weather…
First band we saw was " Monster Truck " on the main stage. Good old school, kinda southern rock n roll. We stayed there to watch Amon Amarth. They had some nice fire breathing dragons onstage, & we were asked to raise our horns 😉 First time seeing them for me & i doubt i'd go out my way to see them again. Musically good,entertaining yes, but vocals meh !
We then went to the other stage to watch Delain. Finally the weather got a little better & could use camera. I was surprised how it wasn't very busy. But they did a nice little gig.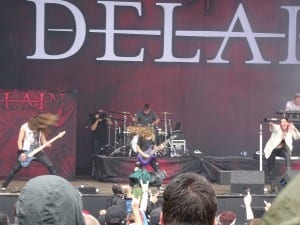 We then made our way back to the mainstage for Halestorm. Whilst there i met Tina & her friend Carol. Tina seemed very impressed with Halestorm, especially Lzzys great vocals 🙂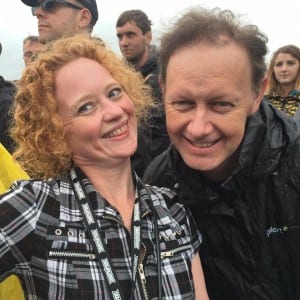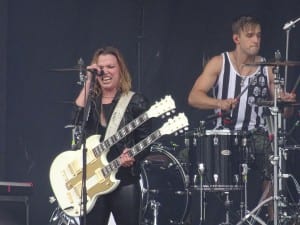 As the lads are not into Brent Smiths over talking, we decided to move to the other stage (We all like Shinedowns music, but, Brent just goes on too much between songs…"Look to your left…shake the hand off that person..blah blah lol). They went to watch Breaking Benjamin, whilst i waited around to meet Tess. Stood near the "Big Download Dog" (a photo opportunity similar to the Harry Potter thing down London, except, you didn't have to pay here lol) i could watch a bit of Shinedown on the screens. Totally thought of the lads when Brent did his preaching 😉 With Ghost having cancelled earlier, there were really only two bands i really wanted to see : Janes Addiction & Maiden.The weather was still rubbish & walking through the mud was a PITA. Once Tess arrived,we decided to make our way over to the Encore stage & get a coffee before Janes. Totally random, we bumped into Matt & Vicki Wright ! Was great to see them again. We then all carried on in the direction of Encore stage. Myself & Tess nipped to get a coffee before Janes Addiction. Now i love Janes, have done for many years, but sometimes the "same" show gets a bit much. Today however, was different as i was watching it with a fellow Janes lover who totally gets them 🙂
Starting with the usual "Up The Beach" we float into Janes world. Perry is still the Pimp Daddy, in his great old style clothes.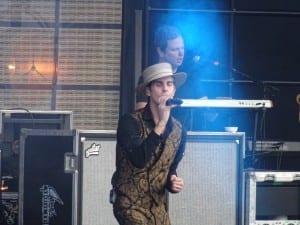 Then it's the familiar "Stop" quickly followed by "Ain't No Right".Cannot help but shake my ass to this stuff ! Bloody love it.
Tess is beaming as classic after classic is played. During "Mountain Song" the world was exposed to my crappy vocals 😉
Next they play the only really modern song of there's " Just Because". To think this came out in 2003….how quickly time flys.
Next it's the monumental " Three Days ". This is one of my all time fave songs by any band. I just love how the bass starts things off & the song ebbs & flows. It's just amazing
Next it's the song that everyone knows by Janes Addiction " Been Caught Stealin ". After "Ocean Size", there's a shock when they cover Bowies " Rebel Rebel ". I really dunno if it worked on not tbh.
Finally we get "Ted Just Admit It". During which, we had the
suspension girls flying above the band. Why does it not surprise me that Tess said she wants to do that ? 😉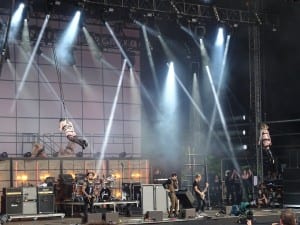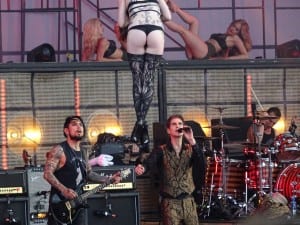 The encore is the usual " Jane Says". Cracks me up how "comfy" Navarro looks 🙂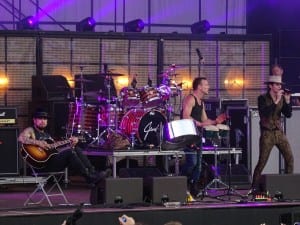 So that was that. Easily my highlight of Download 2016.
Said my goodbyes to Tess,then me & Andy wandered off to see Maiden.
Maiden is a band i've followed for many years. Back in the day, i followed tours around the UK. I'm lucky to have seen a bunch of shows from the real "glory years". In fact, they are in 2nd spot for the band i've seen the most. Strangely, it's a certain German band that currently hold to top spot… So anyway, as soon as you hear UFOs "Doctor Doctor", you know it's time. First song was "If Eternity Should Fail ". Took them that song & "Speed Of Light" before it sounded any good. Particularly thought the Nickos drums sounded very tinny. But they got it better for "Children Of The Damned". An old chestnut. It was a nice moment when Bruce dedicated "Tears Of A Clown" to the late Robin Williams. Was great to hear the classics "The Trooper" & "Powerslave". Brought back so many memories of the '80s for me. I think we stayed untill encore time. It had been a long day & it really was taking its toll, so myself & Andy decided to leave early & wait for Ady at the car.
My highlights of the day were Janes Addiction & finally meeting Tess properly. So nice to have a real good chat etc. It was a good craic 🙂
So, once again, i say to myself i won't go to Download again….& this time i mean it ! The money grabbing bastards !