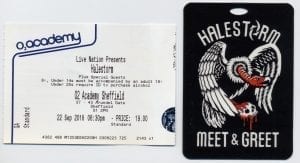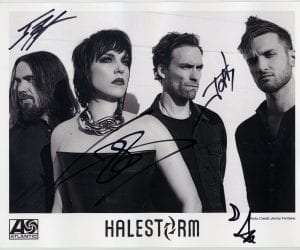 Been looking forward to this one for a long time. Last time i saw Halestorm was at the crappy Download festival, back in 2016 !
I used to follow them all around the UK & also saw them abroad in Amsterdam, Berlin, Madrid, Milan, Paris. As i could only make it to 2 shows this time (Sheffield & Brixton) i decided to do the M&G at Sheffield. What a great decision that was 🙂
I'd arranged to meet my old Halestorm touring friend Kristina at Sheffield. We both messed up by booking hotels which were stupid prices. If only we knew our plans before, we could have saved a lot of money by sharing a room. Live n learn i guess.
My train journey to Sheffield included changing train at Nottingham. From Boston, it was only 2 carriages & pretty busy. Once at Nottingham, i was amazed that once again it was only 2 carriages. Good thing i reserved my seat as it ended up standing room only! They even stopped people from getting on board at some stops ! Well done EMT for spoiling a few peoples day 🙁
Arriving in Sheffield, there was a high presence of police. They even had horses. I assumed there must be some footy happening.
Managed to check into hotel early & arranged to meet Kristina so we could go for food. Only problem with my hotel is there's 2 entrances & it seemed that Kristina took the wrong one. But hey, we met up still. I'd decided the "Bankers Draft" would be the best option to go to as it's bigger than the other Spoons in Sheffield. It was still very busy though & we were lucky to get a table. Kristina insisted on paying for our meals. They seemed to be taking a long time to bring the food to us, so Kristina went to investigate. Would you believe,about a minute (or less) after she'd gone, the food was brought to our table ! Damn did i need that food ! (Thanks Kristina). After that, we both went to our own respective hotels. This time we arranged to meet at the venue 😉 There were already a few people queued up when i arrived. Most of them doing the M&G. The box office wasn't open due to staff being ill. Great ! After various emails to both Stuart & Kirstie, i'd got everything sorted out so could get in early & Kristina could also join me at the same time…they said go to the box office once there lol. Fortunately, for once, there was a GREAT security guy who understood what i needed & he even said he'd show me where the disabled area is, after the M&G. When Judy came out to hand out the laminates etc, she had exactly the number of them for the  people doing the M&G. I explained to her that Kristina wasn't doing the M&G, but it had been arranged she could come in as my "helper". This is where Kristina got very lucky 🙂 Judy said she could also have photos took ! So i decided we should be the last in the line.Thought this way, would get more time to chat with the band.(I mean, there's been a lot that's happened since Download festival). To my surprise, Arejay still remembered me ! I think Lzzy remembered me. When chatting with Josh i asked if he remembered when after the Oxford gig he stayed outside talking even though it was raining like hell. He didn't remember, but as it was 5 years ago & MANY gigs during that time, it's hardly surprising 🙂 I told Joe that i'd be up in the balcony. So if he wanted to throw a guitar pick up there, that would be cool. He then gave me a pick,which caught me off guard! ("in case my accuracy isn't good enough" )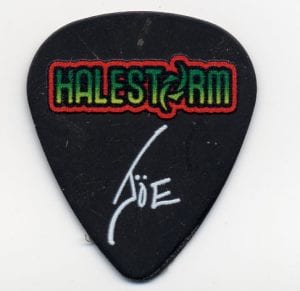 It was really nice to "reconnect" with them all.
Tonight it was Judy who took the photos (Where's Detroit?). Unfortunately, there was a problem with the link to download them, so i emailed her & she said she'd send them via email.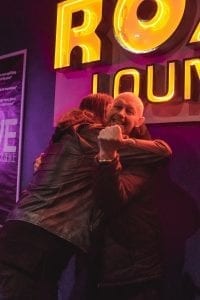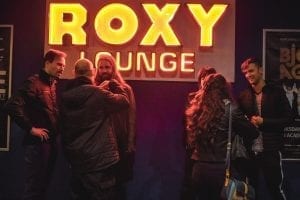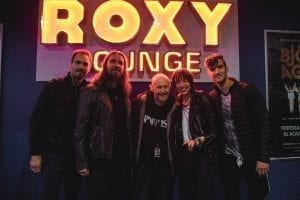 We said our goodbyes, then went back out to join the queue. Once inside, i didn't see the "Great Security guy". When i got up on balcony,i saw another security chap & explained to him i didn't want my seat to be in the disabled area & to start off he didn't agree to it. But i talked him round to it 😉 Got what i consider the perfect position, on the left side.
The first band "Rews", i'd never heard off (Same goes for the second "Avatar"). Rews didn't really impress me. Found them a bit repetitive. Avatar though were quite a fun band. They wore costumes, as did the roadies/techs. Quite liked some of their songs. So much so, that i even filmed a song :
Apparently Halestorm have been changing around their set list on this tour. I totally applaud them for doing this. I wish more bands would do the same. It was a pretty safe bet they'd open with "Black Vultures", so decided to film the opening song
Next up we get "I Am The Fire". Btw, i think the latest album is their best so far. They've really progressed, but it's still a rocky album.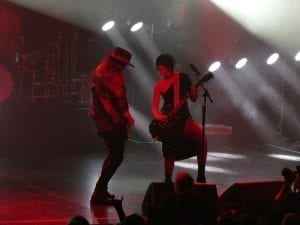 "Uncomfortable" is both great on the album & also great live. Only 3 songs in & i'm enjoying it all so much. We then get a full on rendition of "Skulls". Those guitars are so heavy. Love it.
Next up, Lzzy does a short Acapella version of "I Get Off" which melds into "Do Not Disturb". Very nice 🙂
Lzzy then says how happy they are to be playing Sheffield again & she asks "What can i get you to do?". So this is where we see how loud the audience can be.And yes, we were loud ! I'm pretty sure that they've extended "Amen" when playing it live (that's excluding the to & fro of the chants with the crowd)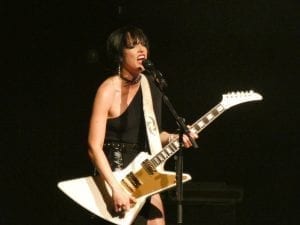 After "Vicious" it's time for Arejay to showcase his talents. Cool to see he's still using the big sticks 🙂 Years back, there was a time he didn't have the big sticks, so he used umbrellas ! What i sight to see 🙂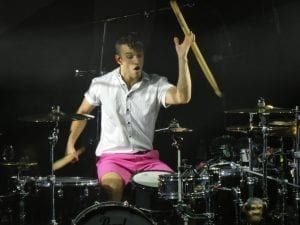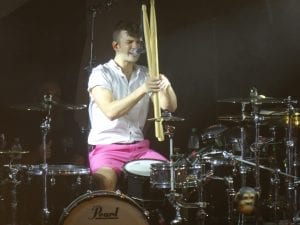 After that it's a song for all the freaks here tonight. Yes, you guessed it "Freak Like Me" 🙂 Damn this gig is just flying by ! We get some old classics such as "Love Bites (So Do I)", "Mz. Hyde" & the stomping "It's Not You"(from their debut album back in 2009).Sometime during the latter part of the show, Joe points to me & throws a guitar pick. It lands just in front of Kristina. it's only fair that she gets to have that. From the old, to the new, the main set is finished with "Killing Ourselves to Live" (from the latest album "Vicious")  Btw, When i think about the title of that song, i always think about the Black Sabbath song " Killing Yourself To Live" 🙂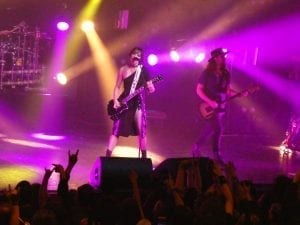 "Sheffield, thank you so much. I've got to tell you something. We've been a band for a while.This year marks 21 years of Halestorm (huge cheers from the crowd) Of course, i started it when i was two 😉 We've always,always, always dreamed of commin to the UK. We've always said that since we were little. Do you think anyone will let us go to the UK ever…Tonight, you are making our little dreams come true, thank you so much" Then both Lzzy & Joe sit on a box together & do an acoustic version of "The Silence". ( I wonder if this song is about their relationship?) Lzzy really sings this with such emotion.
Next it's another old classic Halestorm song "I Miss the Misery". Again fantastic stuff.
Last song of the night is "Here's to Us". This is & has always been, one of the main connections between the band & the fans. Music really does bring people together.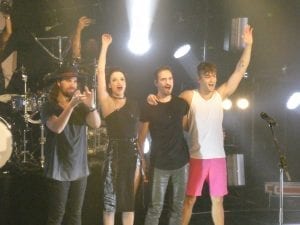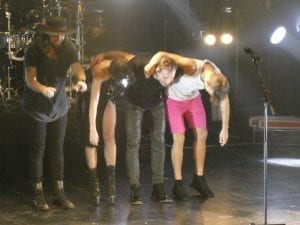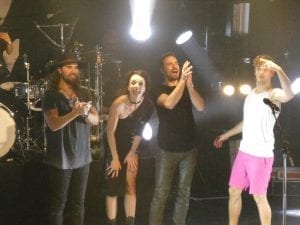 So that's it. Over & done. We stay in the venue until they kick us out. I decide to get one of the T-shirts. Very reasonable price as £20. When we go outside, there's a few people already hanging around to meet the band. We'd already decided to wait & meet them again.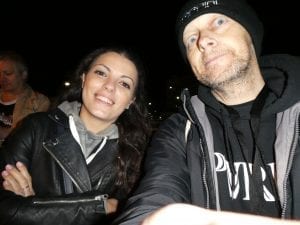 ( Me? Psycho eyes?"Psycho Killer" Qu'est-ce que c'est, Fa-fa-fa-fa-fa-fa-fa-fa-fa-far better Run run run run run run run away oh oh" Whilst waiting, i jokingly said to Kristina " I need £50 from you". Kristina "Huh?. I paid for lunch!". Me "C'mon you can't compare that to getting a free M&G!" Me again "Ok, just a thank you would be fine". Kristina " Oh, i thought i'd said that. Well thank you anyway 🙂 ". During this time, we see Detroit going back n forth to the bus. Kristina reminds me that i was too shy to ask for a photo with her years back 😉 I decide i need to have a chat with Detroit as we've not seen each other for so long. She's now been upgraded to the role of tour manager. Nice one. We have a nice chat about old Halestorm gigs etc. I tell her about my health problems & she said that she knew already as the band had been talking about it & told her. They're all such a nice bunch of caring people.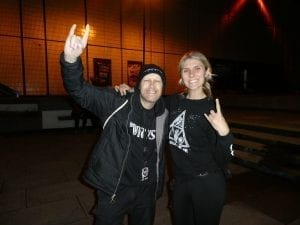 Arejay is the first of the band to come out. He does it in his typical quiet fashion….not! 🙂 Gets swamped with people wanting stuff signed or wanting photos. The big guy near him, who i assume is the bodyguard for the band, makes everyone form a queue. You can see he want's this to be over quickly. Dunno how "new" he is,but, he should realise this band will always stay chatting with the fans for as long as they want to. (I remember a time when we saw them in Oxford 2013 that Josh still stayed chatting even though it was raining!). Eventually the rest of the band come out to chat, sign stuff, have photos took. It was a nice way to finish the day.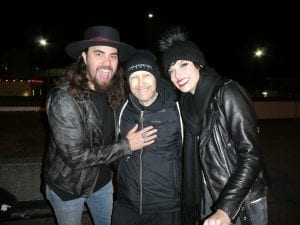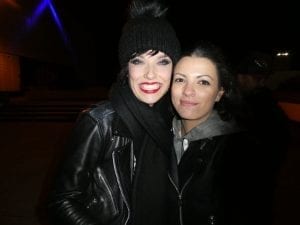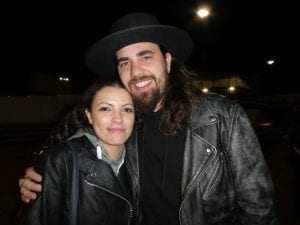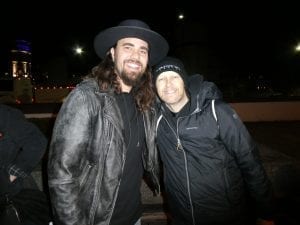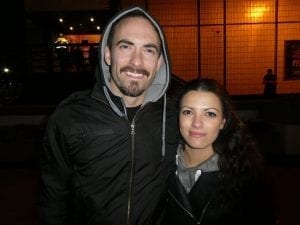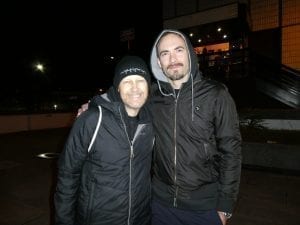 As everyone was going to the bus, Kristina spotted Judy walking back as well. She had a question for her. She's going to the Birmingham gig & someone let her down(?) so she doesn't have a ticket. Judy is so nice that she said "Give me your full name & phone number & i'll sort you out" (Or words to that effect). How cool is that ?
Shortly after that, we make our way to our respective hotels. Kristina has to be up early as she's going up to Glasgow to see them the following day. I would have loved to have followed the tour, like the old days, but there's now only so much i can do, due to the shitty chemo etc.
Following morning, my train home is at a reasonable time of 10.35. Walking to the station, there's still the fresh aroma of the horse shit from yesterday! In fact, they hadn't fully cleaned it up ! On the route back, i change at Nottingham. Once there, i automatically walked towards platform 2, where it usually departs from. This time though, it was from a totally different platform, 6a ! So over the bridge i go 🙂
On the way home i was thinking about the fact that on Sundays myself & me mum go for Sunday lunch. So i phoned her & asked if she fancied a late lunch at The Endeavour. Jobs a good un, table booked for 2.30.
All in all, a great weekend 🙂
The following day, i tried to download the photos that Judy had took. The link wouldn't work 🙁 Later i got an email from her saying "…I actually wanted to reach out to you to see if you were coming to anymore shows, Brixton if I remember correctly, and wanted to see if you could come out to that M&G(free, of course) and let's redo the group photo and make it a nice one worth framing, ehh? ". Around the same time, Kristina sent a msg to me saying that the photos were messed up, but we both thought they looked ok. So it now looks like myself, Kristina & Rob will all join the M&G for free at Brixton Academy on Friday.