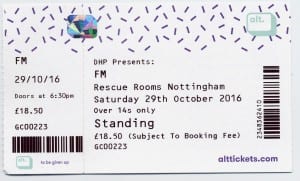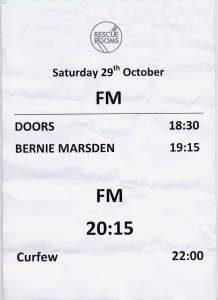 Ady picked me up around 4pm. Once in Nottingham, we parked on a side street which was free, but a bit of a walk to venue. Ady went off for a Subway whilst i went to sort out my bar stool in the venue. We went up the back stairs in the bar & she left me a stool there. Seemed silly to have to go back outside, but i guess it's protocol. Once outside, i bumped into Carl & Lisa. Wasn't expecting to see them, so was a nice surprise. Had a good old chat 🙂 Once we were let in i went straight up to balcony. My stool had gone! There was a couple on the right side with a stool & a bloke on his own on the left with a stool. Seemed obvious the bloke on the left wasn't disabled, so i asked him " Are you disabled?" His reply was " No". So i told him he'd took my stool ! He was fine about it. Easy mistake to make 😉
First act was Bernie Marsden (ex Whitesnake). Being honest, i wasn't looking forward to it! But, i found his banter was funny & he certainly sings a LOT better than Coverdale nowadays 😉 Ended up really enjoying his set as did most of the audience by the looks/sound of things.
It's quite amazing to think that " Indiscreet " was released 30 years ago ! That would make me 20 years old at the time. When i look back to that era now, i think how lucky i was to be experiencing the early years of acts like Metallica, Anthrax, Slayer etc etc Unique times for sure. But i digress…
FM start with the usual intro & go straight into "Digging Up The Dirt". Then it's an old classic "I Belong To The Night". Only two songs in & the whole crowd seems to be behind them. As always, Steve Overlands vocals are spot on. It's funny how some singers from the same era are sounding rough nowadays & yet Mr Overland is pure quality as ever.
We get a couple more old classics from the album " Indiscreet", namely "Let Love Be The Leader"
…..followed by the hit "Frozen Heart". I always associate "Frozen Heart" with a lass i was seeing back in the day during that era.
There's good crowd interaction on " Face To Face "
They play all the tracks from " Indiscreet " tonight & it's fleshed out by songs from the albums " Heroes & Villains " & " Rockville ". I found it interesting they encored with " Story Of My Life ". I always thought it "plodded along" tbh. However, i'd imagine a lot of fans like it as they may see it as an "anthem" & something to wave the arms about 😉
The strangest thing of the night for myself though, in a similar vein to what Heart did recently, was they finished the show with a couple of cover songs by Whitesnake (Heart did the same playing Led Zep) ! Ok, it's obvious it gives them the chance to jam with Bernie & the songs were great,but, i prefer bands to finish with their own songs 😉
Whatever, it was a great night !