As I'd been enjoying my mini Skunk Anansie tour, I decided to also go to the Newcastle gig. (Surprisingly, i felt really well, considering the circumstanses) I arrived back from Leeds on Saturday afternoon,around 15.30. Had a few hours at home. Then Sunday morning I got a train up to Newcastle.
I've gone up to Newcastle to see various bands at the "City Hall" & also "The Mayfair"(R.I.P) even one time the University.
I'm going to see Skunk Anansie in Newcastle for a couple of reasons. Firstly, I've REALLY enjoyed this mini tour. Secondly I've never been to the Academy. Lastly, I want to do a reckie for where The Riverside venue is. Reason for that is I'm going there later in the year to see "Berlin" there.
Got to Newcastle on time, then i went to find "Roomzzz". Quite close to the station. This version of Roomzzz is relatively new, even though it looks old outside.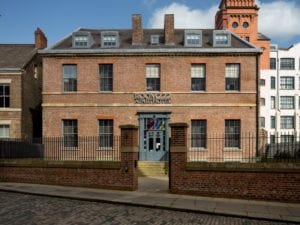 The "Grab & Go" breakfast is pretty much the same as other places, except for one thing ; there's no seating area to have the food ! But that should soon be sorted out, as they're extending the property. My room was great (Could I have been upgraded ?) :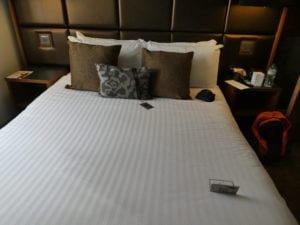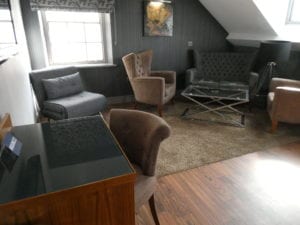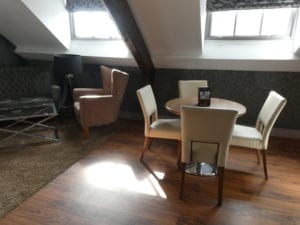 Asked the chap at reception how to get to the "Riverside Venue", it seemed pretty straight forward. Only thing was, there were a LOT of steps to go down to the quayside. But I was also told the best way back is to head towards the Castle & it's pretty much flat that way back.
Great thing was there's a Wetherspoons very close to the Riverside.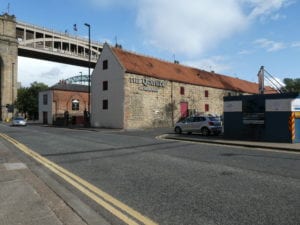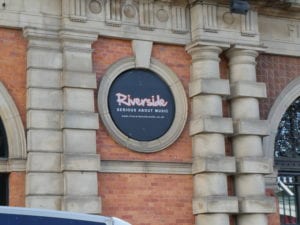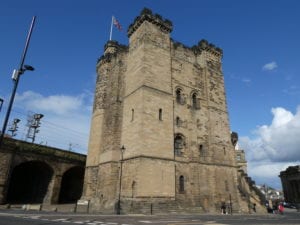 Jobs a good un !
Made my way back towards the hotel, then went to find the Academy venue. Was easy to find & again not far from Roomzzz. Think I got in the venue through a side door (It's great when you have a AAA pass) I had food from the bands catering again. Eventually, there was one table full of band members & crew (I was on a separate table). The young lad who had jammed with them, during the AC/DC cover, sat on the same table as me. He was quite timid, but as he's only 15 years old, it can be expected. I had a little chat with him. Seemed to be a cool kid. When everyone finished the food, all of the storage etc was took away to make room for the people that were attending the gig. (BTW, i must say, the cooks did some very tasty food. Totally appreciated it. Thanks to the band etc for letting me indulge 😉
Another great thing about tonight was that Queen Zee weren't supporting. Tonight it was the "Pearl Hearts". Really like them. I watched them
soundchecking (As Ace & Cass also did). This band once opened up for Garbage so i already knew I was going to enjoy them.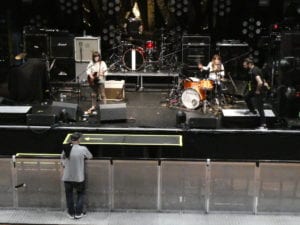 After PH soundcheck, there was a table put in the middle of the floor. What could that be for ?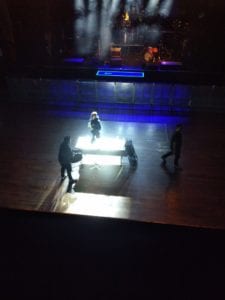 It seemed that the TM & security had a meeting about tonight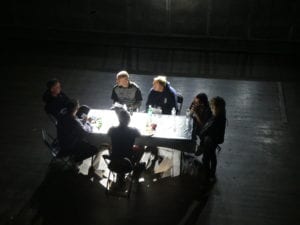 Skunk played pretty much the same setlist most nights :
Charlie Big Potato, Because Of You, All In The Name Of Pity, I Can Dream, Charity, My Ugly Boy, Twisted, Weak, Cheap Honesty, Love Someone Else,
I Believed In You ,God Loves Only You , Without You, Hedonism ,This Means War, Intellectualise My Blackness, Tear The Place Up.
Encore Secretly , What You Do for Love, Highway to Hell (AC/DC cover), The Skank Heads, Little Baby Swastikkka.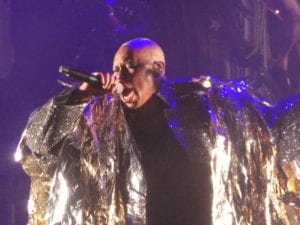 Here's all of the songs I filmed :
When they came back for the encore, most of the band were wearing T-Shirts relating to Cass. It was his birthday today 🙂
After the show had finished, there was an after show party. Pretty sure it was in the Academy 2, as it had a bar & a stage. I was getting quite tired by now, so I made my way back to the hotel. Little did I know about the problems I was going to face on my return journey ! The train leaving Newcastle was late getting away. Also late arriving into York. So I missed my connection 🙁 There was a Hull trains service, but, I couldn't use my ticket on that train. I got the next LNER train. When arriving into Grantham I also missed another train (due to be delayed earlier). So basically I was 2hours late getting home ! I applied for "Delay Repay", but they only gave half of the cost of the return journey. Bar stewards ! I didn't bother to go all through the forms contesting it. I certainly had a FUCKIN great time in Newcastle though 🙂
Tuesday  I'm  going to Rock City & my mate Andy T is driving there n back….few 🙂