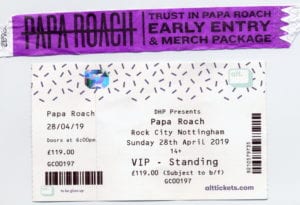 As is always the case, I took the earliest train out of Boston. But today, there was a 2 hour stay in Grantham. So I decided to go to The Tollmache & have some grub 😉 Wasn't as busy as I thought it would be, so a good start. Walked back to train station then got the 15.09 to Nottingham. I'd worked it out that I'd have enough time before early entry. Straight to my hotel, "Roomzzz". There was someone checking in before me, but once they were done, the chap looked for my booking (Didn't have to say my name, as they all know me by face nowadays 😉 )
Got up to my room & noticed they were cleaning room next to mine. Opening the door I head a strange noise. It was the dishwasher that had been left on ! Tried phoning reception, but was busy. So went out & found a cleaner. She didn't seem to understand English language, so I gestured to her to come to my room. She switched of the dishwasher…then switched it back on again ! Eventually, she got it that I wanted it off ! This was the start of my day going down hill….
I went to doors of RC at the set time, 5pm, & some people were queuing for the VIP M&G whilst others, like me, were waiting for the "Trust In Papa Roach" package. That cost £125. In the email I got about it, it said we'd get an autographed new CD & another merchandise item.
When the first VIPs went in, I noticed they were being searched. This is something that rarely happens at Rock City nowadays. They were being quite tight with the searches (I later overheard the head of security say it was a last minute thing as management requested it)
Later they brought out a load of tables. I assumed that would be so could search people quicker. I'm now stating to think "I wonder if their stopping all cameras in the search?". I mean, usually they'll let in any camera that doesn't have a detachable lens. So decided to ask security if my camera would be allowed it. He said no. So I took it back to hotel. ( To think years back I used to record audio & stuffed it down my trollies, and now I'm giving in easily. But hey, it was expensive ticket). When I got back to RC, there were a few more queuing for the "trust.." package. I even had 2 different people ask if I was security ! Not had that happen in a while 😉 After standing for so long, I decided I needed to sit down. So sat on one of the previously mentioned tables. Oh forgot to say, all the beginning of the queue were quite rowdy, singing out loud PR songs. So going back to the tables outside, I sat on one for 5 or 6 minutes & it collapsed ! I did like a backwards somersault, whilst sliding down the table. Yes, those guys singing away laugh when they saw it happen. I was little bit dazed by what happened tbh. I think then someone amongst them realized, whilst it might have been funny to see happen, there was also the possibility i could have hurt myself. (Whoever you were, Thank You). I was quite surprised that security didn't come rushing out, I was quite a clatter that happened. In the end, i had to tell one of them that the table had collapsed!
Another example of my day going downhill.
After a while, a chap comes out to give purple wristbands to the queue that's doing the "In Papa Roach We Trust" package. I'd been given one earlier so they waved me through in to the foyer. The same chap was handing out the merch that was included in the "IPRWT". From the email I received, I was under the impression we'd all be getting an autographed CD + a piece of merchandise. As is often the case nowadays, the other merch included was one of those rubbish "Tote Bags". (I did question him about it, but he said "That's it"). I then made my way into the venue proper. Guess what ? They DIDN'T search me or even check my ticket ! So if I'd had the guts, I coulda got camera in ! Oh well…
With not being able to take my camera in, I decided to see how well my mobile phone would cope. Needless to say, photos were grainy & the video clips i made were distorted. However, I must say that I really enjoyed both bands tonight.
I think I first saw Nothing More back in 2014, maybe opening for "Heavens Basement" ? I know that I saw them a bunch of times opening for "Halestorm" in 2015. Man, how they've progressed over the years ! I actually think they're headline material nowadays. Their set list was :
Let 'Em Burn , Christ Copyright ,Don't Stop , Go to War , Do You Really Want It? , Fadein/Fadeout , Jenny (STILL a standout song),Ocean Floor,
This Is the Time (Ballast) , They finished with a cover of Queens song "We Will Rock You".