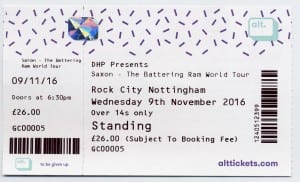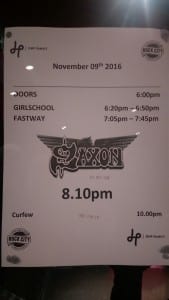 Andy drove us there in my car (i'm not allowed to drive now) so gave it a nice run again. Parked up at Park n Ride. Cheap tram ticket as going to an event (Only £2.00 return). Went to the usual place for food & then to the venue. Was nice to briefly chat with Hana (front of queue as ever & had done the V.I.P. M&G). Hadn't seen her in ages. Then went had a chat with my mate Gary (Pleased to hear all went well mate 😉 ) Soon enough, we were first people in venue. They didn't have any bar stools upstairs so had to wait a while for those to arrive. Still managed my usual spot 🙂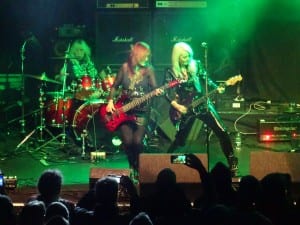 First band tonight was Girlschool. I've been seeing them live since 1982, with my first gig at Leicester De Montfort hall. In the mid '80s i traveled to a bunch of places around the UK to see them. Tonight, it's going to be a short set, 30 minutes or so. Personally, i'd sooner see them switch positions with Fastway & get a longer set. I guess it's down to "politics". Whatever, they played a great little set. They kicked off with "Demolition Boys" , from the debut album "Demolition". Then went into the title track of their second album " Hit & Run "
It was quite funny when Kim asked if anyone remembered "Rockstage". That was a tv show where they broadcast gigs from the Theatre Royal,Nottingham in the early '80s. Girlschool were featured on the same show as Motorhead which was broadcast in 1981. The general consensus was "…you really are far too young to remember it aren't ya !? ".
Kim dedicated the song " Take It Like A Man " to Fast Eddie as this was the last night that Fastway would be on this tour. Next they played " Future Flash". That's always been one of my all time fave songs of theirs. Enid then gets to sing the oldie " Watch Your Step ". The show finishes with " Emergency " (what else could it be ? 😉
Next up it's Fastway. Whilst there's no denying there's some legendary musicians in the group, it was a band i could never get into back in the day. Tonight i also thought Fast Eddies guitar was too loud. "What?" you're saying? It can never be loud enough ;-). Or maybe it was more a point of Tobys vocals seemed a wee bit too low in the mix? Either way, i'm sorry to say that everything just seemed to merge into one.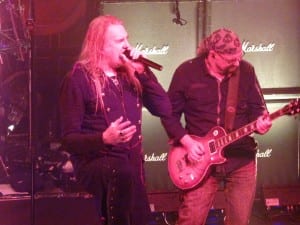 Finally it's Saxon. What a band & what a career they've had all these years ! The one constant during those times (even if there were a few weaker albums) is you know you're gonna get a great live show ! They always play nice long sets & often change the set lists along the way. ( A good example being, i heard it was very cold in Sheffield & the audience requested " Frozen Rainbow "…the band played it 🙂 )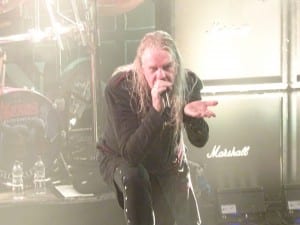 I'm not going to list all the songs they played, but you can be sure they covered stuff from all through their career. Interesting choice of intro tape ; " It's a long way to the top (if you wanna rock n roll)". I'll always associate that with Twisted Sister from back in the day 😉 When intro finished, they brutally hit us with " Battering Ram " followed by a nice fast one " Heavy Metal Thunder ".
Stand out tracks for me tonight were " See The Light Shining "(change to set list) ,"Strong Arm Of The Law " & " Princess Of the Night ".
They played something like 21 (?) songs tonight. Such great value. As a footnote, it's great to see that Saxon are (yet again) on the rise. Many dates have either sold out or been very close to selling out. Good on ya guys 🙂 Denim & Leather brought us all together…
EDIT 11-1-18 : With the news of Fast Eddie Clarke passing away, i thought it suitably apt to upload this song