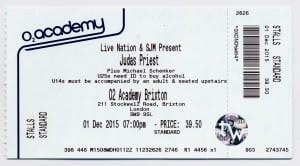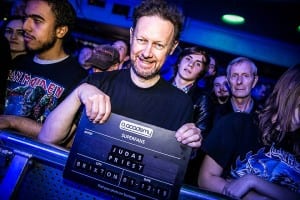 I got to London nice n early, went to the Beehive for grub & then went to queue at the Academy, 3 hours before doors opened 😉 My mate Jim turned up later, as did his mate Nick. O2 Priority is useful 🙂 I got front row on the left side, exactly where i wanted to be. Michael Schenkers Temple Of Rock were great, but, their set was way too short. I think probably about 7 songs & around 45mins. But Schenker was on fire. It's great to see him looking so into the show & smiles all around.
Just the intro of "War Pigs" as enough to set the tone for Priest ! The crowd were so bloody loud singing along. They started with "Battle Cry" & then straight into "Dragonaut" off the latest album. (There were 2 more played tonight off "Redeemer Of Souls"), then bam ! It's "Metal Gods". So many Priest classics were played tonight. Rob Halford was spot on with his vocal delivery….something that cannot be said of some previous tours, where it was patchy. The "new" guy Richie brings so much energy & enthusiasm to the show. He fits so well in Priest. Strangely, i felt it was during "Turbo Lover" when the crowd got really rowdy. There was a lot of pushing around (even though it might not be that noticeable from my video). was great 🙂
When a band is this on & playing to such an up for it audience, there's nothing can beat this. The show has just took second spot in my "best gigs of the year". (Garbage @ Paris is number one) For sure i will see them again on the next tour, whenever that is.