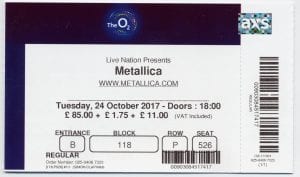 Originally, i'd planned to go see Placebo @ Brixton & then a couple of days later see Marmozets also in London. It seemed pointless & not cost effective to go back n forth to Boston a couple of times, so i was gonna stay at Hotel Rob for 3 days. I was umming & arring about if i should go see Metallica between the 2 shows or not. I don't really like the O2 Arena as it's just too 'kin big ! In the end, i decided that as Metallica were playing "in the round" (i.e. Middle of the floor) i'd give it a punt. There were not many tickets still available, but thought it might be ok as it's in the round.
Myself & Kristina made our way to the O2. Rob was gonna join later when he'd finished work.As we came up out of the tube, the station had a couple of signs which were quite cool :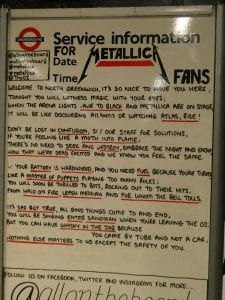 I knew my seat would be in the corner & reasonably high up, but what a didn't realise was that as it was an access point below. What i thought would be 16 rows up, ended up with having just one row in front of me ! It was a great view point.(Just two seats to the left & it would have been a rubbish view)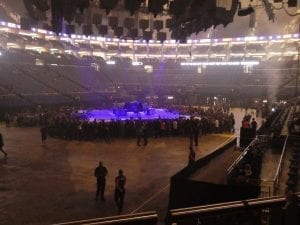 For a while, there were some empty seats directly in front of me. I just hoped no "big" people would sit there. (When i say big, i mean tall 😉 ) I was quite surprised no one came to those seats during "Kvelertak". Then i started thinking "They're probably on the piss & will come sit there totally drunk". Once again, i had another bit of luck : A couple of guys came to those seats. Whilst i don't think they were drunk, one of them was so big (I mean fat now lol) he struggled to fit in the seat ! After sitting there a couple of minutes, they both got up & walked off….& never came back ! Hows that for luck? I've now got a perfect view point 🙂 It was interesting to see the set up for the cameras that were down below. Seem like a mini TV studio !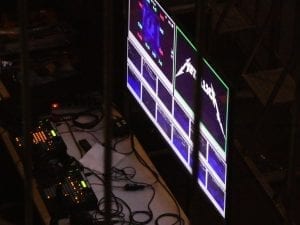 I thought to myself "This is just too good a position to not try filming a lot of the show". So i had a good go at it 😉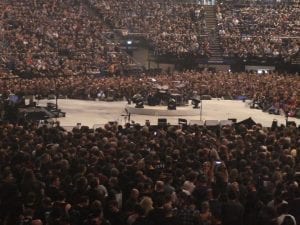 Things start with the old intro & they go straight into the first 2 songs off the latest album "Hardwired To Self Destruct", namely "Hardwired" & "Atlas Arise". After those, James says "Metallica feels very welcomed & loved by the London Metallica family ! So tonight, let's take it to another level huh? We're gonna play new songs, but now… old stuff !" They play the classic "Seek & Destroy". There's some great crowd interaction on the "whoa-o whoa-o whoa-o" parts. Damn, we're only 3 songs in & it's just an amazing night already (Btw, i think Hardwired is a great album !).
(Please note, whilst the audio from my camera is rather good, a friend synced up the soundboard audio to "Seek & Destroy")
James then quietly teases us " More old stuff?" Hell yeah we'll have that ! So next up is the super heavy "Leper Messiah"
Staying with the classic "Master Of Puppets" album, we then get my fave song from that album,"Fade To Black".
James mentions that the Sunday show set the highest attendance at the O2 ever & asks us "I hope everybody can hear everything all right? What about you way up there?" *queue huge cheers* "London ! Are you alive? You know if you wanna live forever, first you must die"! I then notice there's what looks like 4 boxes on the stage. We then get a couple more from the "Hardwired" album "Now That We're Dead" & "Confusion". During "Now That.." all the guys get drumsticks & start playing the said boxes.(On closer inspection, they seem to have 4 drum pads on them) That's certainly different.
Next we get what's probably my 2nd fave Metallica song ; "For Whom The Bell Tolls". It's heavy as fuck. Bloody love it 😉
Next another new one "Halo On Fire". That's followed by Rob & Kirk having a bit of fun jamming.They do parts of "Phantom Of The Opera Jam" (Which got off to a false start as Kirk had only learnt/jammed it earlier that day) "Ace Of Spades" (much better 😉 )
"Before we go any further…I've Got Something To Say". A Cool version of "Last Caress" which goes into the early song "Creeping Death". During "Creepin.." there were a couple of pissed up lads near me & they noticed i was filming the song. They got all gobby & totally out of time attempting to sing a long or maybe trying to ruin the sound of my recording? So there you go guys, your 10 seconds of fame, now fuck off ! (It's a funny coincidence that after the song, James says how everyone wants to be famous nowadays 😉 ) He then dedicates "Moth Into Flame" to Amy Winehouse. During this song, a whole load of drones came out & were hovering/circling above the band/stage. (After the gig, my mate Rob, who was on the other side of the arena, said one of them went haywire & crashed into the crowd ! )
After Moths, James seemed to talk to the crowd for quite a long time (Maybe there were technical problems? I dunno). One of the questions he asked was "How many people here tonight, is it your first Metallica experience?". I was amazed at how many newbies lifted their hands. "It doesn't mater what took you so long…it really doesn't….you're here now!" He followed that with "How many here have seen us one, twice, a hundred times?" *Loads oh raised hands* He also said "Technically, i haven't really see us so i cant raise my hand". Nice & humble self-deprecation 😉 This is probably the longest time I've ever seen James talk to the crowd. He talks with someone who's pregnant & then to a couple of kiddies. It's quite funny hows he's going on. It must have over 4 mins of chatter! Finally, he asks the question " London, do you like your music heavy ?!? Metallica gives you heavy !" They then chug along with "Sad But True".
Pretty much all the way through this, the boxes hanging from the lighting truss are going up & down. Oops! just realised i forgot to mention those earlier ! Basically the boxes sometimes have images projected onto them & they also have lights on them. It's a cool idea & i think it works really well. Now where was i ? Oh yeah, thats it, they finish the song with James being the last one on stage making his guitar scream…
Soon it's encore time. There were a couple of small guitar mess ups as "One" started up, but it still was good. They went straight into "Master Of Puppets" after that. I Love the classic old Metallica 🙂 (It's hard to believe that when i saw them on the Puppets tour at Sheffield city hall, back in '86, there were not many people there)
Next, we're in for a real treat : the live debut of "Spit Out The Bone"
It's great that they're changing up the setlists at different venues. I wish more bands would do this.
They all leave the stage for a short time. Kirk is the first one back & he starts the intro to "Nothing Else Matters". James then comes up & joins in with the harmony guitars. Cracking stuff. Once it ends, it then meanders into the last song of the night "Enter Sandman". Fuckin brilliant. Metallica at the top of their game.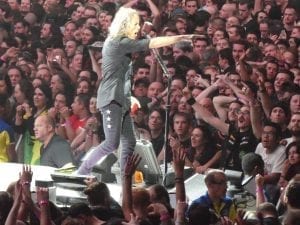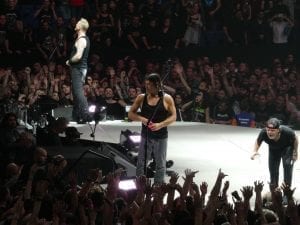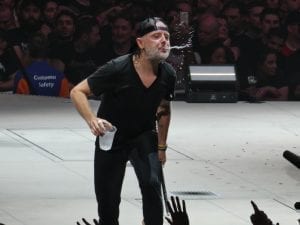 Even though i'm not a fan of huge venues,tonight, somehow it didn't feel as big as it actually was. I loved every aspect of the show. I'd probably even say it was in my top 3 gigs I've seen this year. I think something that really helped was that they were playing in the round. In theory, wherever you were sat, you'd get a good view. After it all finished, i met up with Rob & Kristina for the journey back to "Hotel Rob". The following day i decided to come back home to Boston (seeing as the other gig i was meant to be seeing had got cancelled, there was no point in staying down London another day/night)