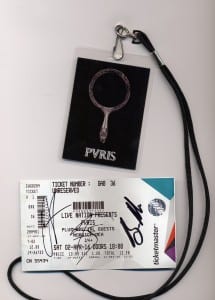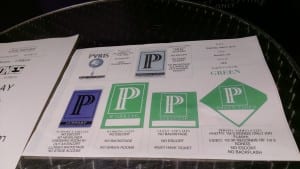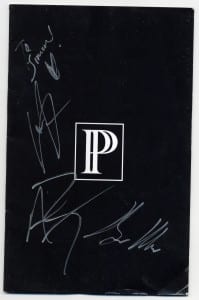 My first time seeing PVRIS headline (having previously seen them at SlamdRunk, Leeds last year). Today i'm taking my niece as she loves this band. Decent drive there, we met one of Alices friends who is pretty much following the whole tour. This girl also made jackets for the band, which she gave them during the M&G. The M&G was pretty good. We were about 10th position. I told the band we's travelled from the ORIGINAL Boston, Lincolnshire. When i said "It's only about 2 hours drive, it's nothing to me", Lynn said "It's so nice to hear someone not moaning about the journey to the show" 😉 The meet was very relaxed & the band were pretty talkative. The local UEA security organisation was rubbish whilst the other M&G peeps were going through as people were not getting lined up as per entry. One woman had a chat with security, but he basically washed his hands of it. Useless ! I got a short video of when PVRIS left the area…
Despite a few peeps jumping the queue, i still managed to get front row spot for Alice, whilst i dropped back to 2nd row. This was her first time ever to be on front row,so it was pretty special for her. First band up were the great " Bones". I'd seen them open for Skunk Anansie & i loved them. When i saw they'd open for PVRIS i thought "great bonus!". They were obviously new to many people, but they soon won over the crowd.
Next it was " K-Flay". Totally new to me. The singer kind of raps to the songs. It was ok. Then it's PVRIS time. The venue is heaving & the kids have high expectations…though some of them would probably scream at a fart in a crisp packet they're so excited lol. They kicked off with "Smoke/Mirrors & then White Noise. Good sound & Lynn was singing fantastic. The backing vocals from the crowd were also great (Apart from the bloke who was in my right ear who sounded as flat as a pancake!). I'd noticed 2 or 3 loud mouthed geezers quite early. One of them shouted something to Lynn about checking her shoelaces. They'd obviously had a few ales before the gig. Well, unfortunately, they couldn't hold their beer & were maybe even looking for trouble, but there was a little ruckus between them & a girl. Lynn saw this & stopped the song. Security jumped into the crowd & kicked the blokes out. Well done. Job done. The gig for the most part was great, if the set was a bit short. I'd imagine they only played for just over an hour. My niece really enjoyed the show, so that meant a lot.