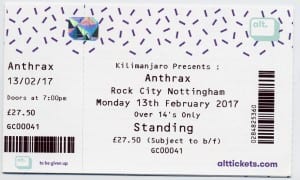 Originally i fancied the idea of doing a few dates on the tour. But because i had to wait around to see if i had any hospital appointments etc, i had to hold back. Unfortunately, a couple of shows sold out & it didn't make sense to do what was available. In the long run, it was probably for the better as i'd got a dry cough a few days before the show & i wouldn't have hacked it. Damn it bugs me sometimes that "my mind says yes, but my body says no". Whatever…
Got to Notts mid afternoon & checked into Rooomzz. Then just chilled as doors were not till 7pm tonight. Later i met up with a mate & we went for a quick drink. I'd arranged it so he could get in early with me. About 15mins before doors, we go to check everything is set up correct. The same dickhead security guy was there as the TPR gig …" i've arranged for a bar stool & early entry..". Him " You need to contact the venue manager about that !" Typical confrontational attitude from him ! Me "I've already done that…" He shuts the door. He's about as much use as a chocolate tea pot ! Undetered, i once again phone management. I get a very courteous reply & he says he'll come down soon to take us in. Got up on balcony & a bar stool was no problem.
Right now, Anthrax are in a very good position. They'd took their time before a proper Euro tour & released a great new album. Announcing they were going to play all of their classic album "Among The Living" was another factor to the interest this tour is generating. Most of the venues seem to be selling out & they totally deserve it.
The first act was "The Raven Age". I've seen them before & wasn't really impressed tbh. Whilst there's no denying their hearts are in it & they try to put on a show, i just don't see anything different or unique about them & a bunch of similar small bands nowadays. Sorry. I think their strongest song is the last one they played tonight.
Pre-Anthrax a bunch of classic songs are played over the PA. It seemed like everyone was singing the chorus to "Run To The Hills". The vibe in the room has gone up a lot.
The brief intro "Impaled" has a solemn & mournful sound to it. Almost like a funeral march. But tonight will be anything but that! It's a celebration of all things Anthrax. Going straight into "A.I.R." they set their agenda for the evening. It's heavy as hell & the crowd is into it straight away.
"We are the warm up band for Anthrax by the way. We have no name, but we go by the name of something close to the band…whatever" (Scott is kinda laughing as Joey says this) "Hey, how ya all doing?" *cheers from crowd*. "This one is Medusa!". An absolute classic to my ears. We're then brought up to date with "Blood Eagle Wings" from the latest album "For All Kings". This is such a huge ,huge song ! Probably the most epic song they've ever wrote. In the live arena things go to another level. I bloody love this song (no pun intended).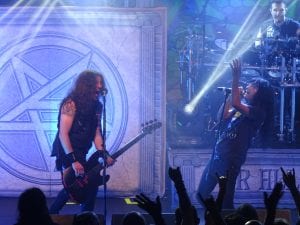 There's the usual crowd interaction as "Be All, End All" starts up. It feels like everyone in the place is singing the guitar/vocal part " Woah-Woah-Woah" ( & how someone near me sounds so out of tune/time on this i have no clue lol). The main set finishes with "Breathing Lightning". It's another typical "Anthrax riff" sounding song.
During the interval, the stage set is changed around somewhat. There are now various raised areas on the stage. It just fits perfectly – a big show in a small(ish) room.
Lights go down again & the classic Blues Brothers intro starts up, going straight into "Among the Living". Tonight they're playing the full album, though not in the same sequence as the release. It's like being transported back in time, yet the songs are still as vibrant today as they were back then.
I look down on the main floor during "Caught in a Mosh" & cannot help wishing i was in amongst it all. Looks like hella fun down there. It's great to hear these old songs played tonight. During "I Am the Law" i remember seeing them at this very venue & i was on the main floor. It was pretty crazy down there ( As an aside, i also saw them in Leicester & Sheffield back in '87. The covered "Living After Midnight" at both of those shows & Rock City got "Sabbath Bloody Sabbath")
It's pretty cool to hear these next few songs ,which i think have not been played much over the years : "A Skeleton in the Closet, Efilnikufesin (N.F.L.), A.D.I. / Horror of It All".
Charlie teases us by playing the drum intro to "Indians" a few times. The audience forms a circle pit & once again it's like being in 1987 ! Classic stuff.
The show finishes with "Imitation of Life". But of course, that cannot be all we're getting ! They finally come back for another encore & truly finish with " Antisocial" (A cover of the song by French band "Trust").
What a night ! Just quality abound. THIS was the Anthrax tour we've been needing for years. I think they are now at their peak (but would love for them to prove me wrong).
It's amazing when i think about seeing them open for Metallica around the UK back n '86 & how their career has ebbed & flowed over the years. Truly an amazing live band.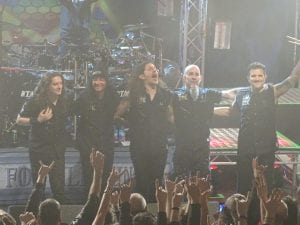 I quickly say goodbye to my mate & then walk the long distance (lol) to my hotel next door 🙂 For whatever reason i don't know, but, i had an awful nights sleep. Maybe it was the buzz of the gig or just some rubbish going around my head (there's been a lot of that recently). Following morning i go down for the "Grab & Go" breakfast quite early & take it back to my room. When i finally decide to check out & take an earlier train than previously planned, i go for seconds at the "Grab & Go" 😉