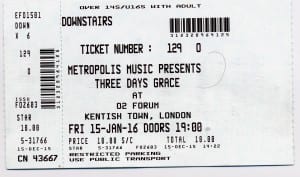 Originally i was meant to be seeing "Motor Sister" in London this weekend (would have been the 4th or so gig as was gonna follow the tour) but the tour got cancelled. As luck would have it, a friend was having a birthday party on the Saturday so i decided to go down a day early as could see We Are The Ocean + Three Days Grace. As  wasn't gonna get to London till around 7.30pm, i knew i wouldn't get a great place in the venue. Once there, i got a txt from Kristina saying they were in the pub next door. As the queue was going quick, i thought i'd go in the gig. Then i got a txt off Rob " Come to the pub. We are upstairs". Ah fuck it, a quick pint first i reckon 😉 Back in the '80s, the "Bull & Gate" looked really run down etc, but now the place is looking great!
When we got into the Forum, WATO were already a few songs into their set. As always, they were delivering a solid show.
Having never seen 3DG before (lol, not that i'll "see" much tonight) this was gonna be interesting for me. I enjoyed their set. Sometimes it came over as "a typical American act"…a little soulless & formalized…but it was a quality show.
However, we had more entertainment OFF the stage ! Near us at the bar, there was a couple who were arguing most of the night Was quite hilarious ! After the gig we had an unplanned drinking session back at Robs. Tried loads of different beers & ended the night sinking a bottle of Mojito. Finally, at 5am,  we called it a night 😉