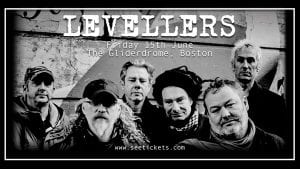 I really couldn't believe my eyes when i saw that The Levellers were going to play at the Gliderdrome ! To think that someone had finally took the initiative to book a proper real band for the Glider was mind blowing. I bought my ticket from Chris Cook Printers (no booking fees!) as soon as they were on sale in December. I asked most of my friends if they'd be going. Even if they're not fans of The Levellers, surely if there & many others who support this event, then hopefully this will be the start of big things to come. Also, if you didn't go to the gig, then you can't moan about there not being any local gigs. Yeah, you know who i'm talking about 😉
My own personal backstory about this event is this : Back in 1988 i was frustrated that this iconic venue, where all the greats had played (The Who, T-Rex, Elton John etc) was now only used for bingo nights ! I even wrote a letter to Boston Standard asking why they don't book concerts there any more. To my surprise, they actually published my letter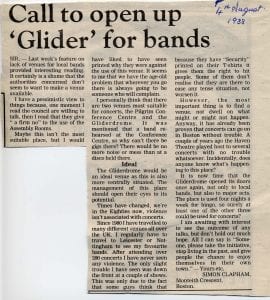 Unfortunately, there was no further discussion about it & i gave up hope of ever having proper bands at the Glider (They did start having "Tribute Acts", which apparently sold well. But still, why did no one even consider having proper real bands there ?!! )
So it's took 30 kin years for this to finally happen !
There's also a personally ironic thing about this gig. As i'd started a new Chemotherapy regime, my oncologist told me to not go to any more concerts (The Chemo makes your immune system totally drop. Even the slightest infection could get worse rapidly & could even get so bad as having Sepsis). As if i wouldn't go to a gig that I've wanted to happen for years ! Sometimes, you just have to live on the edge ! Absolutely nothing would stop me from going (well, unless i was hit by a bus whilst going there 😉 )
I started thinking how important it was for me. I don't know how long i have left to live, but decided i had to go no matter.
When it was announced that Ginger Wildheart would be opening, it was like the icing on the cake to me 🙂
I subsequently tried all the channels i know to try meet Mr Wildheart & ask him how he felt about being the first act to play the Glider in the modern era. But it was to no avail 🙁
I also contacted "Look North" to see if they'd report about the gig. Didn't get a reply 🙁
Never mind though; at least i'm going to the gig 🙂
I arranged with Steve Greenhough via "One Inch Badge" (the promoters/booking agents) to get early entry due to me disability. On the day of the gig, as i was going up town anyway, i thought i'd have a quick recce of the venue to see where the "White door" was.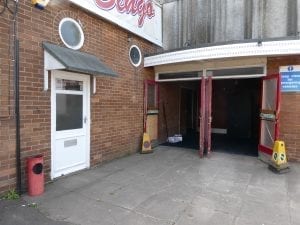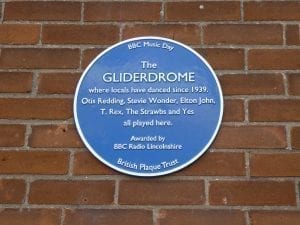 I then went back home for some grub & to relax.
I set off to the venue about 6.45, got there for 7pm. When i got there, there was a small queue.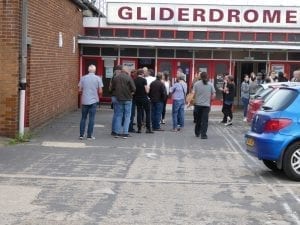 I headed straight to the white door & all ran smooth & i got in 30minutes before the official doors time. Got a great spot on the balcony.
A security guy was wandering by & i asked him if he knew the set times & how many tickets had been sold. We then had a chat about the venue etc. He was a local chap as i recognised his face. (Steve Greenhough had told me that they were bringing all their own crew & i thought it might include security. But it didn't go that far)
When doors opened,as is always the case, a few people headed straight to the front & others straight to the bar !
Whilst waiting, i got a txt from Andy. He said The Moon was rammed with Levellers fans. I Told him they opened doors slightly early & to get here sharpish if he wants a seat at the table. Both he & Dusty arrived a few mins later.(I had a few people ask if the seats were free & i replied "No, i'm saving them for some friends) Was great seeing Dusty again. Don't think we'd seen each other since some time last year. Alice arrived a bit later. I knew a couple more friends would be here & during the course of the evening Matt & Vicki came up then later on they brought Rachel with them. Great to see everyone.
Before starting, Ginger says to the crowd (pointing) "You know who i am ?" Then pointing to the back "You lot don't care. Let's see if we can change that". He kicks of by "Daylight Hotel". This is from his latest album "Ghost In The Tanglewood". There seems to be only a minority clapping after that. Maybe most of the audience don't know who he is ? But whatever, he knows it's an honour to be playing on this legendary stage which has previously had bands such as The Sweet, Elton John etc. He goes so far as saying "If it doesn't impress you lot, it impresses the fuck out of me !" The next one we get is "The Pendine Indecent". This is from his album "The Year Of The Fanclub". Later, whilst he's talking about "Golden Tears", he's obviously getting wound up about the audience. Or as he says it " The ignorant cunts talking". He still perseveres though. He then gets a bit political with "Toxins & Tea". Think it's lost on the audience 🙁 Another sign that he's annoyed by the audience is when he says "This is a very special night. So shut the fuck up! Or go to the pub. You don't have to be here…" There's then cheers from the people who get it 🙂 Good on Ginger for calling out the silly fuckerz. He really makes me smile when before playing "Paying It Forward" he says "This is a song about kindness…something that a lot of people just don't understand" It's pretty obvious who he's directing this at 😉
Finally, he gets a bit of audience interaction (GOOD interaction). One side shouts "Off" & the other shots "Fuck Off" 🙂
The night finishes with a song that all the Wildies love, namely, "Geordie In Wonderland". That goes down really well & the majority of the crowd seem to be clapping.
I think considering the circumstances, Ginger coped very well with an audience who didn't really seem to give a shit.(Maybe they'd never been to a concert before?) But also i have to say, there were a few in the audience who totally got it & i'm sure they loved it. Just a shame about the retards 😉
I'm not gonna write much about The Levellers. But i will say they played great, did all the classics, nice to see the Didgeridoo up there. They were consummate professionals & the crowd loved them.
Here's a few of clips that i recorded :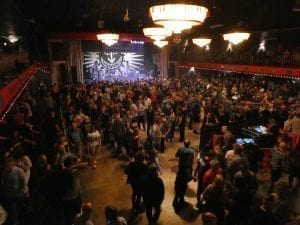 After it all finished Dusty was quick to leave (I said he could crash at my place if he wanted to, but didn't take up the offer). Matt, Vicki & Rachel came back up stairs. We had a bit of a natter, there was talk of going to the Coach for a swift drink (Oh btw, The Levellers were in the Coach & Horses earlier in the day. Later i was told a couple of them also went there after the gig) but i didn't fancy it as was quite tired. We took some photos & then went our separate ways.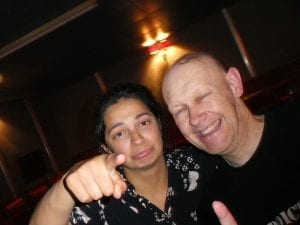 ("I can see a Major System Error in You"…Amsterdam angles Mr T 😉 )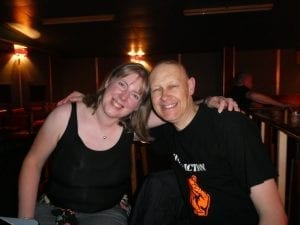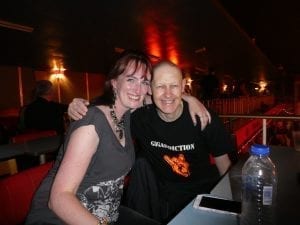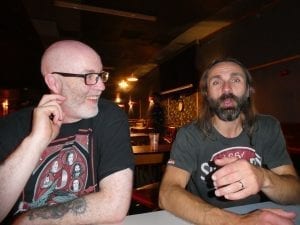 We somehow lost Andy T. 🙂 Alice offered me a lift back home, but i wanted to walk there to get some fresh air after it being so hot & stuffy in the venue.
This was a great night out. Amazing to think, finally able to see a gig in my hometown & it's within walking distance. The next day i saw that they'd sold 1500 tickets.(Which i think is around the official capacity of the venue). Lets all hope that this is the kick starter for more bands playing in Boston 🙂
Setlists (Think i got it right. If i didn't, please tell me)
GINGER WILDHEART
Daylight Hotel,The Pendine Incedent,Golden Tears,Toxins & Tea,The Words Are Gonna To Have To Wait,Caer Urfa,Paying It Forward,No One Smiled At Me Today,Geordie In Wonderland
THE LEVELLERS
The Game,Fifteen Years,Sell Out,Belaruse,The Road,Julie,(Didgerydoo song)This Garden,One Way,Another Mans Cause,Exodus,Hope Street,Men-An-Tol,
What A Beautiful Day,Dirty Davey,The Cholera Well,The Riverflow,Liberty Song,England My Home,Just The One.
UPDATED 18-5-20
A new video of a walk around has bee uploaded. I think this one is better than the first one :