For this one, there were 3 of us going. So either Andy T. or Andy G. would be driving there n back. Unfortunately, when we all went to curry club, Mr T said he'd got a course that day in Sleaford. So I left it to my mates how we were gonna get there. In the end, Andy G picked me up. Whilst Andy T took the train from Sleaford. When we were driving to Nottingham, we were talking about all sorts of things, including my sister. Upon arrival in Nottingham, we walked to the arena. I had to be there early (4.30) as was doing the M&G. It's a LOT more expensive than it used to be, but I just had to do it. (Thinking ahead, it might be the last time I'd have the opportunity to do so). Andy G knew what time Mr T would be arriving, so he went off to meet him. Soon enough, we were all grouped up & about to go have the M&G. I said to a security chap that I couldn't stand for very long, so he promptly went & got me a seat (Nice one mate). So I used that in the queue. There were a couple of people who arrived late, so I let them go in front of me. That would mean I'd be the last one doing the M&G. When it was my turn, I went though & they remembered me ! Asked how I was doing (heath wise) had a brief chat, then photos were took. I did have a request for them tonight " I know it's a cover, but, could you play "Hell Is For Children" ?? Joe said he couldn't remember how to play it (they haven't played it much live) whilst Arejay seemed up for it ! But in the end, they didn't play it 🙁 However, during one of the last songs of the night, Lzzy partially changed the lyrics & sung "Hell if For Children". Yay.
First band tonight was "New Years Day". I think I've  seen them before, but they haven't improved ! After there set, the Andys got in. Hmm, thinking about it, can't remember if the saw any of "In This Moment". No, scratch that, they saw a few songs cos I told them how Maria mimes a lot 😉 So it's not long 'til that act that we've all come for ; HALESTORM !  As always, they put on a great show. Lzzy mentioned that they'd played here before in this venue during the "Taste Of Chaos" tour in 2010. I was there. The other acts were ; Buckcherry, Papa Roach & Disturbed. I left before Disturbed came on 🙂
So back to tonight. They played a pretty balanced set, covering some old & some new songs. The most unexpected was a cover of  "Adele" called "Someone Like You" Hmmm.
The full set list was ; Freak Like Me , Love Bites (So Do I) ,Apocalyptic , Vicious ,
I Get Off , Familiar Taste of Poison , Amen (includes a video). Bass / Drum Solo
Black Vultures , Uncomfortable ,I Am the Fire , Chemicals Do Not Disturb
Encore:
In Your Room , Dear Daughter , Someone Like You (Adele cover) , Here's to Us,I Miss the Misery.
A couple of people decided to leave during Miss The Misery, so my filming temporally wobbles all over the place ! (but stick with it, as the rest of the song is good quality 🙂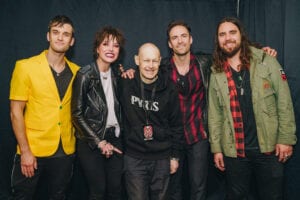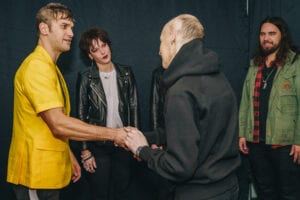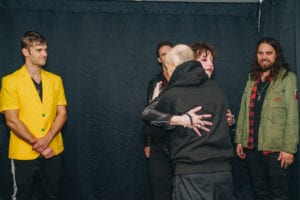 Was a great night out ! Whilst walking back to the train station (where the car was parked) there was a bit of drizzle. But I bad to ask the guys to slow down as I couldn't keep up with them 🙁 When we got there, I got my bag out of the boot & chose to stay on the back seat on the way home.The next day, my mum came round, to update me. It was very  sad news….my sister had passed away 🙁