Before i go any further, i'd like to thank my mate Rob for inspiring me to do this page & for setting it up. I don't know anything about programming etc & he's a pro ! I've spent many long hours inputting all the data of nearly 900 gigs & it's still no where near finished….& will continue to get bigger as i will ALWAYS be going to gigs 🙂
—————————————————————————————————–
So, Mr Gig Addiction….
I've always been passionate about music & as i've got older, i've come to realise the place i feel most "at home" is in the crowd at a gig 🙂
From a very early age, i just fell in love with music. My mum says that when i was a toddler & was really into a song, i'd bite the radio gram ! Supposedly, there were teeth marks in it from me! (Note i was VERY young lol)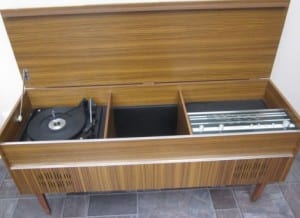 The earliest stuff i got seriously into was Elvis Presley. In the late 70s, i'd listen to just about anything. I've an older sister, so it was partly through her that i was exposed to the "classic rock" acts, such as Led Zeppelin, Rainbow, Genesis, Black Sabbath,Yes etc. I loved the "New Wave" & "Rock" acts the most.I'd collect 7″ singles by bands such as Blondie (who would become my favorite band in those early years), The Members,Sex Pistols, Siouxie & the Banshees,The Stranglers, Iron Maiden, UFO etc etc. Of course, i also religiously listened to "T.V. on the radio" on Friday nights 🙂
I always wondered what it would be like to go to a gig,but, living in Boston, there were no nearby concert halls.
In 1980, at the age of 13, i was very lucky as my dad took me to see Blondie in London.I was so excited about it. The thing that really stood out for me at the gig wasn't the obvious (Debbie Harry) but Clem Burke! I was amazed at his drumming. So, even early on, i was picking up on the not so obvious….or looking at things from a different angle 😉
I wanted more of this stuff.
Next, whilst at grammar school, there was a chap who organized gig trips. At the age of 14, i went to see Saxon at Leicester. That was fantastic & totally different to the Blondie show. I was sat up in the balcony, taking everything in.
In the early '80s, my dad started taking us to a few shows at Leicester De Montfort hall. Once my local mates could drive, we started branching out with the venues we visited. Nottingham soon became a favorite.
In 1984 i went to my first gig abroad : Monsters of Rock in Karlsruhe, Germany. It was pretty similar line up to the UK show.( AC/DC ,Van Halen, Gary Moore, Dio,Motley Crue, Accept) This was a bus trip & damn was it a long tiring journey! At the time, there were a couple of companies doing these trips. As it was something different, we decided to give it a go.The borders were still up then so that made for interesting happenings along the way.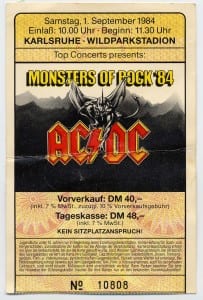 Maiden Powerslave'84 was THE coolest Maiden tour. Great thing about that one was that they changed the set list a bit, as on some gigs they'd add an extra track to the set. The extras were Wrathchild, Murders In The Rue Morgue,Children Of the Damned, Phantom Of The Opera,Die With Your Boots On. Basically, i think they were rehearsing these tracks for the Hammersmith shows. Each Hammy gig got 2 extra songs. They were recording those shows for a live album. At the time, i'd be 18 years old. It was such a rush to be following my fave band around the UK. Back then, there was no internet, so there was a lot more "work" involved in planning the trips.People nowadays don't know how easy they got it !
Late '80s if there was a band i was really into, i wouldn't just go see them in one place on the tour. Often i'd see bands like Iron Maiden, Black Sabbath, Metallica, Magnum, Voice of the Beehive at multiple venues such as Leicester, Sheffield, Nottingham, Norwich. Yes, i was already addicted to gigs 🙂 Whilst i was still living at my parents place, i collected the tickets & stuck them up on my bedroom door. Soon the door wasn't big enough, so i started putting them in photo albums.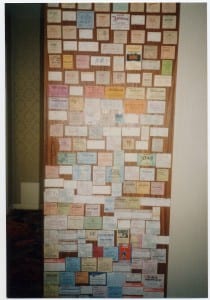 A great thing about the travelling etc is that i've met many people along the way.The next biggest change to my activities was due to meeting some Garbage fans. After doing a bunch of UK dates, it was suggested we try some dates abroad. So in 1999 we went to "Rock Am Ring" in Germany. This was a great experience. Cool line up including Skunk Anansie, Garbage, Faithless etc etc. Garbage headlined the Alternatent….this held about 15000! One of the funniest memories of the day was when someone tried to push their way onto the front row. Believe me, after we queued for many hours, there was no way we'd let anyone in! Anyway, this girl kept working her way along, trying to get in. Finally, she was behind Mel…the girl got the message when Mel kicked her & said something like " I'll rip your fuckin head off ! ". We were lucky going to RAR then as the festival has really got too big nowadays. But for sure, realising how easy it was to do gigs abroad, it certainly inspired me to do a lot more.
Somehow i heard that Garbage were gonna be on TFI so i contacted them to try to get tickets. I dunno if it had any bearing on getting them or not,but, i told them that myself & friends followed Garbage around the UK/Europe. Well, someone phoned me from TFI to say we had tickets ! He also said that as it's the strongest line up ever, there's people coming out the woodwork from everywhere try to get tickets. So we were super lucky. I mean, Garbage, Aerosmith & Red Hot Chilli Peppers ?!! Bloody amazing. When filming was finished we had a quick chat with Butch & Shirley. The Chillis were playing a gig at Camden Palace (now Koko) & some of the Garbage peeps were going. The only way to get tickets for the show was via a radio1 competition i think. Anyway, we all traveled over on the hope of getting in. We didn't manage it 🙁
I'm still friends/in touch with those Garbage friends. In fact, the "Garbage family" has grown over the years. Not only that, but, there are various circles of fans of different bands who do a similar thing.
Finally, one of the biggest changes i had was seeing "Guano Apes". What started as getting there early, to try meet the band & get autographs, ended up with me hanging with them all day long, & the beginning of some great friendships. Thanks to Henning, i managed to live everyones dream of traveling on a tour bus, being given the magical AAA laminate passes, the opportunity to meet other bands etc etc. It was one hell of a ride & i will forever be in his (& the band/crews) debt. I'll never forget those great times from 1999 onwards. Thank you.
The internet has really opened things up. Now it's very easy to book tickets flights etc. I'm constantly meeting "new" people along the road & i love it.
As i have mostly collected my gig tickets over the years & sometimes made video clips etc, i thought it would be cool to have an online blog/diary to record my travels etc. I really don't know how interesting this will be to *you* but i hope it's enjoyable in some small way. Feel free to comment on gigs, especially if you also attended one of the gigs.
Some quick things :
First band to see more than once on the same tour ? :Motorhead the "Iron Fist tour" 1982 (2 nights in Leicester).
The band i've followed on the same tour the most ? : Iron Maiden 1984 (11 times) 1986 (17 times)
Best gig i've ever seen ? : Impossible to answer as there's too many variables.But stand out shows include Blondie as it was my first, Maiden Leicester 82, Queen Knebworth, Skunk Anansie Aston Villa, The Cure Birmingham, Metallica Sheffield 86, Maiden 84 tour, Guns n Roses rock city, Tesla Marquee , Heart Newcastle 88, INXS Leicester mainly because they opened my eyes to Voice Of the Beehive, Nah, there's just too many 🙂
Regrets of gigs i didn't see ? Oh yes, there's many ! The stand out ones would have to be Manic Street Preachers early years. I remember dates at Leicester Uni, Northampton Roadmenders etc, but i didn't go due to changes in my lifestyle. A similar thing was Nirvana. I was more than aware of them & yet i didn't go for two reasons : 1. I was going through my "I don't like Rock City " stage. 2. The gf didn't want to go 😉
Bands/artistes i'd still like to see ? Rolling Stones (though i wont go Stones unless i get a freebie or win lottery!). Patti Smith.
P.S. I didn't always fully document everything so all entries on here are from my memory. I may get some aspects wrong ! If you were at the same gig & you saw things differently, or if you feel i need to add stuff, please let me know. I've also nicked loads of photos of various sites etc 😉 If any are yours & you want them removing, please say so.
UPDATED 2017
2016 was a rough year for me. In April, after playing squash (something i've done regular for 30 years or so), whilst in the changing rooms, i suffered a seizure. Subsequent investigation proved i had developed a couple of brain tumors. One was to be treated as being "grade 4 out of 4". The supposed prognosis was that i have about 2 years left. I commenced radiotherapy + chemotherapy & my world changed. No longer could i just decide to zip off to various gigs whenever i wanted to. I'm not allowed to drive now, so have to take trains & use hotels (assuming i feel fit enough). Having not worked for so long, it's very hard financially. During this time, i've had some great support from family, friends, work colleagues & the many Facebook friends i've made along my journey. You truly find out who are your REAL friends in these situations. As of February 2017, i have finished my chemo treatments. They will continue to observe any tumor growth via regular MRIs (approx every 3 months). One thing is for sure, the last couple of MRIs it had grown & it seems it will continue to do so. From day one it was all about trying to slow down the growth. There was never a miracle cure for this. So, all along i've tried to be as positive as i can & try to continue my passion for going to live gigs. I've had some amazing gestures from a few bands that i've known for years. As examples, Guano Apes paid my expenses to see them in NL. They really looked after me. Skunk Anansie gave me guest seats & early entry etc. Again, everyone was so nice to me. There have been quite a few nice gestures & it's really meant a lot to me. Along my journey over the years i've met many great friends. I wont say names,but, please be aware your friendship has been appreciated so much. Thanks for all the great times together. I've lived my life to the max & pretty much have no regrets….hell, i've had some amazing times over the years & they cannot be took away from me.
I still hope to get to the magical gig number 1000….
UPDATED OCTOBER 2017
I've managed to hit 1000 gigs seen ! The band that had the honour of that was VOICE OF THE BEEHIVE (When they reunited & played The Lexington). It was suitably apt that it was them 🙂 ) Still getting out to gigs & will do so for as long as i can do.
UPDATED 2020
The years 2018 & 2019 were all about highs & lows. Some days I'd be "Fit as a fiddle" yet other days I had no strength physically & mentally. So it goes on…
UPDATE 2020 (part 2)
There's a new virus. It's called "Corona Virus". When I first saw it on the news, I thought to myself "This has the potential to go pandemic". It happened. Gigs started to be cancelled/postponed. Believe it or not, I thought to myself "What is the point in living, if I cannot get to gigs?" Whilst we're all in self isolation, I've been buying more & more CDs Blu Rays. There's only so much TV I can manage. Just wondering how this will all end. Also, will I still be alive to see the rescheduled gigs ?