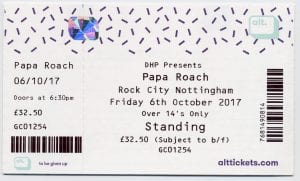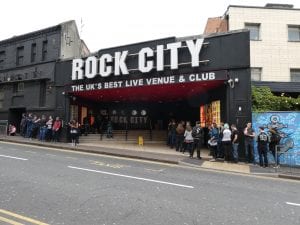 Once my train arrived in Nottingham, i made my way to the hotel via The Roebuck Inn 🙂 Upon checking in, the receptionist said to me " Ah, that's a name i remember. You've stayed with us a few times haven't you?". I confirmed this & told her i've a bunch of bookings coming up & could she make sure my room is at the end of a corridor, away from the lifts. I told her that Emma,the manager, had agreed to this after i had a bad nights sleep due to a herd of elephants walking by. She smiled knowingly 😉 (The "herd of elephants" was in fact a very noisy bunch of women,i assume on a hen night 😉 ) I then spent most of the afternoon in my room.
Doors were at 6.30, so went down to rock city about 6.15. Spoke to security about getting a barstool & all went fine. There was already somone in "MY" spot (lol) so i had to move a little to the left. Pretty sure there had been a M&G earlier & that's how my fave position got took. After a while, my Nottingham friends Jason & Kirsty joined me. Had a bit of a catch up & prepared for the opening act. Tonights show is sold out. It looks very packed on the main floor.
The support act, " Ho99o9 , were pretty terrible. It seemed most of the audience didn't like them. The singer (I use that term very lightly lol) seemed to take offence as someone in the crowd voiced his opinion of them. I couldn't believe it when he went down to the barrier & took a couple of punches at said audience member. I think that security were caught off guard as they couldn't believe what they were seeing. But they soon swamped him (the band member) & pushed him back to the stage. The perpetrator is on the right in this photo :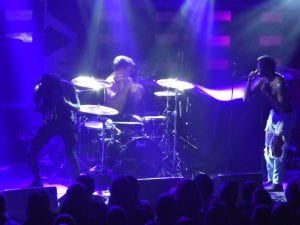 Personally, i think their set should have been cut short & he should have been kicked out of the venue due to what he did. I mean, if the tables were turned, the audience member for sure would have been ejected. He needs to understand that being up there, not everyone (anyone?) is going to like what they do & there will be certain knocks along they way. His shouldn't be punching an audience member.I won't say anymore. This incident even made the local paper :
http://www.nottinghampost.com/news/local-news/man-rock-city-punched-member-594308 Finally it was time for Papa Roach. The intro music plays then there's an announcement saying " Attention This is a serious announcement. Full participation is required. Now put your middle fingers & repeat after me ,FUCK PAPA ROACH ! FUCK PAPA ROACH ! YOU MUTHA FUCKERZ !". The audience duly complies 🙂
The band kick off with a new one, which is also the title of the latest album, namely, "Croocked Teeth". There's plenty of audience interaction with fist pumping the air claping & sing a alongs. Bloody love it
Next it's an old classic "Getting Away With Murder". I soon realise that the lighting is a bit of a pain as they are using a lot of lights which are pointing out towards the crowd. This seems to be the norm nowadys. Hardly any bands use follow spots at the back of the room unless it's in a huge arena.
Next song is "Between Angels & Insects". About half way through, Jacoby gets the crowd to part. Will it be a "circle pit" or a "wall of death" or just everyone going crazy??
You guessed it; the latter 🙂
Tonight there is a good balance of new & old songs. The next new one is "Born For Greatness". Pretty much all of the floor gets bouncing along to this. There's also some great vocals from the crowd. Everyone together & having a bloody great time. A chap goes to the pit/barrier & films it all. Jacoby says "You guys are insane!"
A couple more older songs follow. The audience sings along to "She Loves Me Not". Then another classic "Scars". That's followed by another new song "Periscope". Seems to go down well. Jacoby then tells the crowd they've been a band since 1993…also, "Some of you fuckerz weren't even born then " LOL He then asks if "Everybody wants to get rowdy". Next it's something unexpected; a great cover of Blurs "Song 2"
We get a couple more new songs ; "Traumatic" & "American Dreams" & it's soon encore time.
What a way to finish the night ! We get "None Of The Above"(new song), then two old classics which are part of Papa Roachs DNA ; "Dead Cell" & "Last Resort"
Wow! What a night !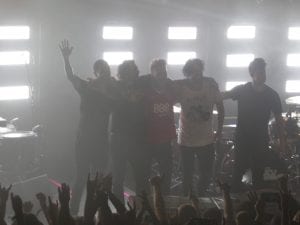 I quickly say my goodbys to Jason & Kirsty, then make the long journey to my hotel….ok it wasn't really that far ! In fact it was next door to Rock City 🙂
As they had the usual club night on after the gig, it meant i could get a bit more sleep. That was needed. Especially as the following day i was travelling down to London for "Indie Daze" all dayer !