I did consider going to see the show in Bristol, but as i also wanted to see The Mission, it made sense to go Sheffield & then have 2 nights in Manchester (The 2nd night was meant to be The Cranberries,but unfortunately, it got cancelled). In light of the atrocity that Manchester suffered earlier in the week , i knew this one would be emotionally charged for EVERYONE, but didn't expect it to be quite so amazing as it turned out to be. I have so much respect for da Skunks for not cancelling the show…but then i always knew they wouldn't because their hearts are in the right place. Terrorism will not break us.
My train from Sheffield to Manchester ran on time & i was met by Jim at the station (Incidentally, he was meant to be seeing Maiden in London on this day, but ditched it after i told him i had a +1 for Skunk. A very wise choice mate 😉 ). Went & checked into the hotel,then grabbed some food etc. After that we went to the venue. I was surprised to see Theo so far back in the queue ! Aliya was the first in queue (well done) & then the Italian Skunk Army followed. As i was working my way along the line, saying hello to everyone, the band arrived, so we followed Ace into the venue. I noticed there was some bird shit on my t-shirt ! Good luck ? (Cheers to Sylvia for the wet-wipe to clean it off). Whilst waiting for our passes to be sorted, most of the band walked by to their dressing rooms. I had a real nice chat with Erika. She said i had more colour in my face than last time we met at Brixton. Those small words are so huge to me & it helps to give me strength & positivity.
Passes sorted we checked out the balcony for a good position. Soon enough the band started soundchecking. They play various songs including full versions of "Ugly Boy" & "Weak". There's a funny moment when they tried out the smoke machine….it just kept going on & on till the stage was filled with smoke! Someone said " I think we've got enough smoke now!" Closely followed by " Well that was a real Spinal Tap moment 🙂 ".
After a while, we go downstairs to watch the remainder of soundcheck.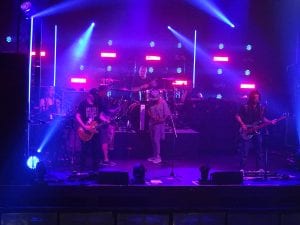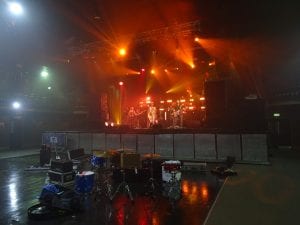 A few minutes after they'd finished, Ace comes back & asks if we'd like any food from catering. We decide on just coffees….or in Jims case, tea mixed with coffee 😉
Have a nice chat with Ace. I ask why he needed me to send the audio of "Feel" to him recently. (I'd wondered if they'd add it to the set or something. Turns out it could be used in a film 😉 You heard it here first… We talk about all sorts of things such as how much it's a struggle for "new" bands to make an impact & being able to survive on the little money they make (if any)
Mark asks me an interesting question : "When you follow tours around for multiple dates, do you not get bored of the same thing every night?". My reply is that no two nights are ever the same. There's many reasons why i do it. Some bands change set lists around, there are good & not so good audiences, there can be "off nights" due to illness or whatever. The list goes on. I love meeting new people who have a similar passion about music (or just one band) as what i have. Travelling around the UK & Europe i've met many people who have become great friends along the way. But overall, a gig is about many different people coming together to have a great night out & forget all there worries for an hour & half or so. Going slightly off track, i mention how i used to record gigs (audio) & back in '84 Iron Maiden used to change set lists on a few shows. (Though i think it was just to warm them up for Hammersmith gigs,which they were recording for a live album). Of course, back in the day, i traded with other people doing the same. It's funny when i come across a boot CD & i can work out it's my recording. Mark then jokingly asks "Have you got any Skunk bootlegs?"…then quickly says " …oh you've already sent them to me haven't you 😉 ". (Which is true 😉 )
I mention how it was such a loss when Chris Cornell died recently & that it was so unexpected. I guess you never know what's going on in someones mind. Mark says a big problem is there are not enough support groups for musicians etc to tackle their addictions, anxiety or depression. He then tells me of his work with "Music Support". I have so much respect for him doing this. He's seen the other side, so knows how to truly help. (Later, during the gig, he tells the crowd "Every tour we have a charity & the charity of choice on this tour is Music Support…they've already helped some of the survivours from the bombing..so..(cheers) there are some signed drum heads & all the money will go to Music Support..)
I have a brief chat with Leigh ; she asks how i'm doing (health wise….she was very supportive to me when i was first diagnosed…. ) then we go take our positions up on balcony. I see many friends rushing in for those first row positions.
The opening act tonight are "The Vryll Society". My first time seeing them. Their singer looked like a cross between Liam Gallagher & Tim Burgess…but didn't sound anything like either of them 😉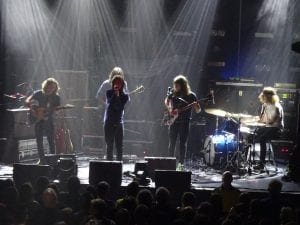 The first song was quite cool. But overall, they didn't really do much for me (sorry). Anyway, lets face it, like many other here tonight, i'm here for the mighty Skunk Anansie…
House lights go down & there's the familiar sirens sound over the pa. The guys casually walk on stage to cheers from the crowd. As ever, the biggest cheers are when skin appears 🙂 The go straight into "And Here I Stand" then "Intellectualise My Blackness" from their debut album all those years ago. They're both still so powerful & relevant after all this time. The crowd is already jumping along like crazy. Skin seems to have an extra skip to her step & is feeding off this great audience. Already, i can tell this is gonna be one of those really special gigs.
Skin introduces Eri as she comes over to middle of the stage. She says " This is from the acoustic thing we did & it's quite poignant tonight." (I can see her gritting her teeth as she says it. This is "I Will Break You ". I love this song nowadays. The vocal "fight" between Skin & Eri is kinda mesmerizing.
Damn it's a LOUD crowd tonight. Skin seems impressed saying "There's so much love in this room". She also has a question…the immortal one; " Are you ready to dance ?!!". If you've seen Skunks before, you'll already know it's the classic "Twisted (Everyday Hurts)"
They carry on with another "bouncy" song, "My Ugly Boy". It's hard to believe this song is already seven years old already ! Next we get an absolute classic from their debut album, namely, "Weak". After all these years, i'm still astounded by the quality of skins vocals. After "Hedonism" she notices a wee girl on someones shoulders & asks how old she is. She's only 10 ! Skin then says "Start em young,that's what i say" & dedicates the next song, "Victim" to her 🙂 If ever there was some good parenting, this girls parents certainly are good. They chose wisely taking her to a Skunk show 🙂
We get a few more of the more "recent" songs which just seem to fly by. All the time, the energy & love in the room is just amazing. When they get to "God Loves Only You", skin basically says how appropriate this song is in the light of recent events. For myself, this is the song that stood out the most tonight. I don't mind saying i had a few tears of joy for this one.
The next one, "We Don't Need Who You Think You Are" probably works in a similar way. Standing against the terrorists & others such as Mr Trump. You could go so far as to say "Yes It's Fucking Political" 🙂 The main set finishes with "Little Baby Swastikkka". Skin comes out into the crowd & gets everyone to crouch down. As ever, she has the crowd in the palm of her hand. It's about mutual respect. I bloody love it when i see her doing this. When she gets the crowd to jump up, she stays in there amongst them. I briefly cast my mind back to a few days previous when a certain American guy split the audience down the middle & walked amongst the crowd. But he didn't stay there for the going crazy part. Think of that as you will, but i'll say skin has more balls than him 😉
In a slight change to the setlist, the first encore is "The Skank Heads ". The adrenaline rush is amazing. They then slow things down with the beautiful "Tracy's Flaw". After that, skin says that Mark has something to say. As i previously wrote, he mentions the Manchester bombing from a few days back & how they're doing a charity thing called "Music Support" this gets big cheers. Skin then introduces the band members ; "The Horse Boy ", "One of the best bass players….on this stage", "In the beautiful corner,Eri" , "Big love goes out to our manager Leigh", " Last & exceptionally least…is this lovely streak of piss….the riff meister himself..Aaace !". They all do a little jam & then it's my fave Skunk song ever : "Charlie Big Potato"
They briefly go off stage & i'm sure they're lapping up the adulation from this fantastic crowd tonight. What a night it has been. Of course, that's not the end though. We get one more final song "You'll Follow Me Down".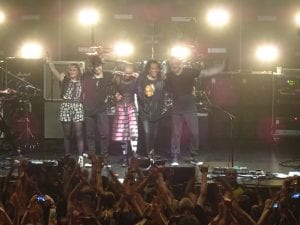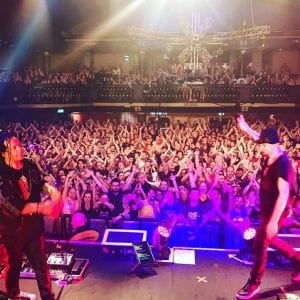 (last pic stolen from Skunks FB page 😉 )
Tonight has been magical. After seeing loads of Skunk gigs over the years, i'd say this was the best one ever. Band & audience were as one. We all showed that terrorists cannot & will not beat us. As the crowd is leaving, we notice someone flicking the Vs at me ! I send the same message back to him 🙂 It's my mate Nomis from Leeds 😉
We then start making our way downstairs & bump into him half way. Have a quick chat & then Nom & Liz are off back home.
I finally get the chance to have a chat with Anastasia ! Our paths have not crossed since we first met in Portugal quite a few years back. I guess i was the first Skunk Head she met 😉 Just a shame we didn't get a photo together tonight 🙁 Cass takes everyone up to the bar. Tonight it's a free bar! Maybe that's why it was so busy up there haha. No, they look after their fans 🙂 I also get to catch up with Laura. Again, so good seeing you my dear 🙂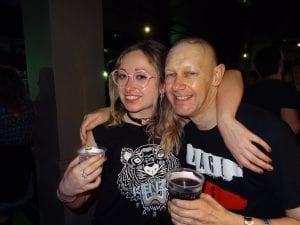 As is always the case, the band get swamped by their friends & fans. I hang back as always 😉 But saying that, we did get a couple of nice photos & i kinda got one with Anastasia when she did i nice photo-bomb out of Eris shoulder lol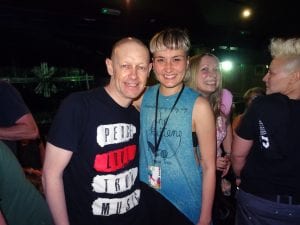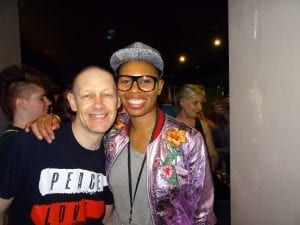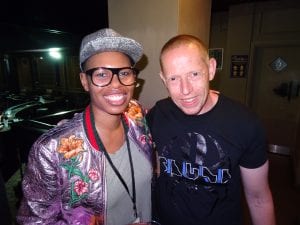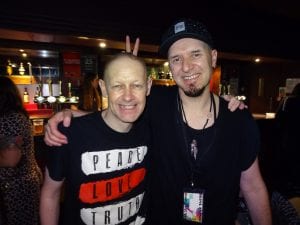 I was getting tired so had to leave. Sorry for not saying goodbye to everyone. Couldn't believe it when we got outside; it was chucking it down. At least i'd got a close hotel. Jim walked with me to said hotel ( "….make sure Simon gets to his hotel ok…" ). We have a quick chat and arrange a meet up next morning. He then leaves to go to the guest house he's staying at…. that has budgerigars ! lol
Following day i suggest he has breakfast here…well, i had prepaid for 4 of them (The 2nd day i didn't bother staying. With the Cranberries cancelling, there was nothing to keep me in Manchester). It was a decent breakfast. Said our goodbyes at the train station & now looking forward to Camden Rocks next weekend.