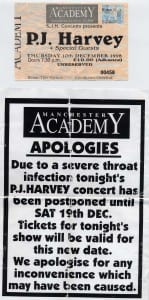 10-12-98 (original date)
When i arrived early afternoon, there were a few people hanging around & i heard people say they'd seen PJ crying during sound check. This got me worried. Well, eventually, out came the info the show was cancelled due throat problems. Now i have the dilemma, do i go to the Bristol gig tomorrow ? Crap! I cannot remember how long i waited,but, eventually i saw PJ as she was leaving the venue. She didn't want to talk,but, i asked if tomorrows show in Bristol would go ahead. She said maybe. Well, i had to chance it.
19-12-98 (The gig was rescheduled to this date)
So later than planned, the gig was slotted in at the end of the UK tour. I cannot remember much about it !