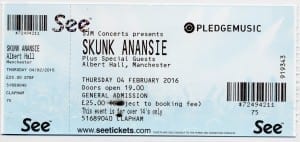 My journey got off to a bad start when my first train was cancelled in Sheffield ! But transferred to another train (company) it worked out ok. Got to the venue early afternoon & said hello to the band as they arrived. Met a couple of cool guys from the Netherlands who had drove over for the UK dates. Queued for a couple of hours to ensure those front row positions. Didn't know anything about the support act "Bones" & i wasn't gonna find out anything tonight as they didn't manage to get to the gig in time! Even though nothing was announced,to say they wouldn't be there, i'd already worked it out as the drum skin uses on "Tear The Place Up" was onstage. So we knew the first song of the night already 😉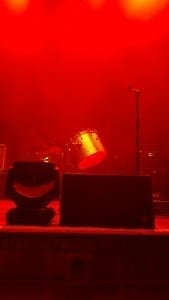 So, tonight is the first night of the tour. They can often be a time of many small errors during the show & tonight will be no exception. TTPU is a great song to start the show with. No messin, head on & full rockin. There's no lettin up for the next songs "I Believed In You", "That Sinking Feeling ", " Because Of You".  skin was quick to stage dive early in the show..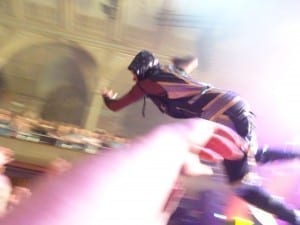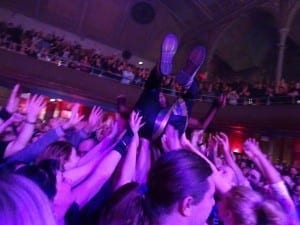 Tonights show is a decent mix from various albums & obviously, the songs from Anarchytecture are being pushed a lot. Incidentally, i LOVE the album. It has different sounds/styles & i really think this is the album they shoulda made last time to "move forward". Typically, skin came out into the crowd during "Weak".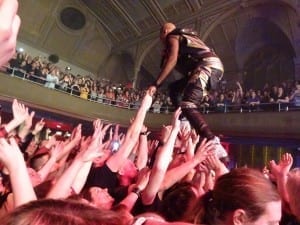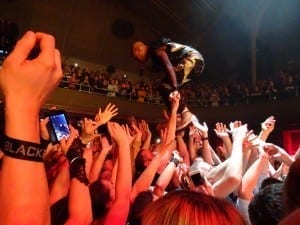 I have so much respect for her that she does this seemingly without fear.
Somewhere during the show skin totally forgot the lyrics to one song. I think if she'd not mentioned it later, she would have got away with it as well (no, actually, she DID get away with it lol). The main set is finished with the classic "Charlie Big Potato". That's my fave Skunk song.
To come back with an encore of "100 Ways To be A Good Girl" was just great. Yet another old classic.In fact, the whole encore was perfection (song wise) The show finished with  "Little Baby Swastikka" along with the biggest balls up of the night! Anyone who's seen this performed live before, will be aware of the lighting when skin comes down the front of the stage. I dunno if it was a new lighting guy or what,but, when skin said "Red light" firstly there was just WHITE lights! She then said " that's not a red light". Which was hilarious 😉 The night ended with a few mates in the bar next to the venue. Overall, a great start to the tour. Damn, i had missed seeing Skunks live !