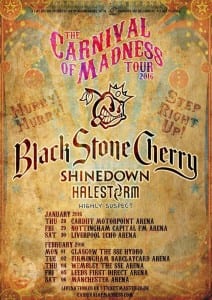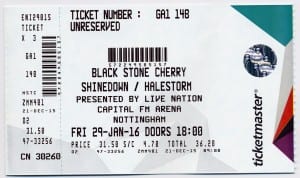 Yet again, the arena has new sponsors. It's now called "Motorpoint Arena". Over the years it has been the arena, Capital Fm arena, Trent FM arena. It's hard getting used to it being called Motorpoint arena as the Sheffield arena used to be Motorpoint arena! So there's a little confusion for me when i see Motorpoint arena on tweets . I digress….My first stop in Nottingham was the Tourist Information place, to buy some tickets for Rock City gigs. Since the closing of the box office at Rock City (a very poor idea as it now costs so much more ordering through the post) they've started stocking a few tix here. Again, seems pretty stupid that RC /Alt-tickets don't really advertise they do this… I managed to get in the arena only a few minutes after doors (no real queuing) &started off about 6 or 7 rows from the front in the centre. Then, bizarrely, i got a phone call from my doctors! Eventually i put it to the back of my mind & was set for the first act of the night, "Highly Suspect". Whilst they went down reasonably with the crowd, myself, i just couldn't get into them. It was just a bit "meh.." lol Next it's the band i bought todays ticket for ; Halestorm.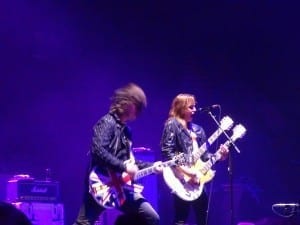 Interesting they opened with "Sick Individual". I'd never have expected that.
They've all got new hair cuts since the last time i saw them (well, except Josh i think 😉 ) & everyone still has that fire on stage. I cannot really say much about tonight except they were great as ever & of course i wanted them to play longer 🙂
Shinedown is a band i love. They have some fantastic songs. But nowadays i always have a problem with Bretts "preaching". It's obviously all very genuine, but, i just wish he wouldn't go on yapping so much. Also, the last few shows i've seen, he does the same lines about saying hello to you neighbour next to you. Time to change that i think.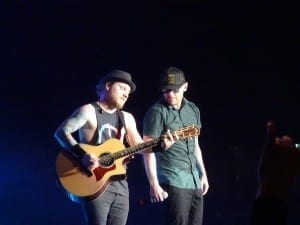 I'm still unsure how much of the show is live & how much is off tapes, but it's quality. Don't get me wrong, i LOVED their set.
Black Stone Cherry told the story of how they started in "The Basement" at Rock City & then they moved upstairs to the main room. Now, they're in the arena. No mean feet. They're such a quality act that their rise is totally understandable.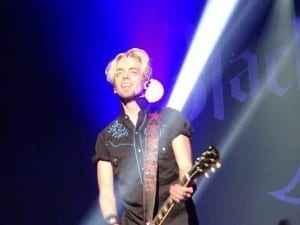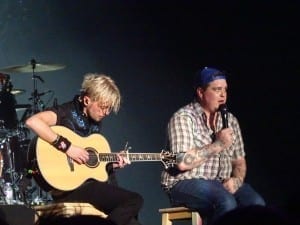 Lzzy joined them for "Peace Is Free ". Apparently, tonight there were also a couple of live debuts of songs. It was very nice to see at the end of their show, they jammed "Ace Of Spades ". So much love for Lemmy. They were a great way to finish a fantastic night out. Wish it could be like this always.
P.S. The only downside was afterwards it was pissing it down for the majority of my journey home…but it kept me awake 😉