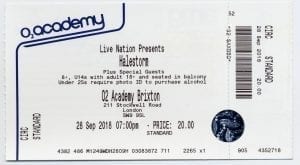 Back tracking a little bit…When i purchased the M&G package for Sheffield, there was a link for downloading the photos that were took with the band. Somehow, it didn't seem to work 🙁 So i tried to contact Judy via FB. Pretty much at the same time, she emailed me saying "I actually wanted to reach out to you to see if you were coming to anymore shows, Brixton if I remember correctly, and wanted to see if you could come out to that M&G(free, of course) and let's redo the group photo and make it a nice one worth framing, ehh?". Yeah, i'm up for that ! A bit later, i found out that she wasn't happy with the photos she took that night & was going to offer anyone else who was there a free M&G on the next tour. So this worked out fine for doing it again in Brixton.
Rob was meant to be going to tonight's gig, but also today he was having an operation on his wrist.I had my doubts that he'd make it to the gig, so sent a msg to him asking if he could give his ticket to Kristina so that it wouldn't go to waste.(He told me he'd already thought of that. Great minds…) The thinking behind this is that Anette is coming over from Norway ( to do a kind of interview with me) so maybe she could use said ticket. Oh yeah, Kristina had also managed to work it out with Judy that Rob could join for the M&G. So if he couldn't make it, then obviously Anette could do it.
I'd already booked my trains a while back & i left Boston quite early. As Rob would be having the op & Kristina would be at work, i realised there wasn't a chance to drop my bag off at Hotel Rob. So i took a smaller one as i'd have to take it into the venue.I'd arranged to meet Jim at Montagu Pyke later in the day (again, why change with tradition).When i changed train at Grantham, they'd cancelled the train i was taking to London! (Hull trains!) Barstewards! Managed to get on the next one, LNER, was super lucky to get a seat ! Got to London & one of the tube lines was closed, but didn't matter as it wasn't as i was in a rush 😉 Also, totally unexpected, i got a msg from Jorge that he'd be in London later on & was meeting with Kitti. Said they'll try get tix for the show. I headed to Camden market for a look around. Wasn't as busy as i thought it would be.Then went down to Tottenham Court Road to have a wander around. Ended up at FOPP & they had an absolute bargain (which i didn't buy,as already have it)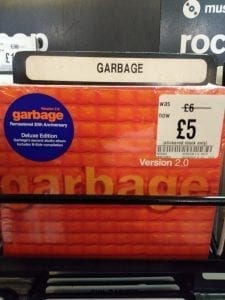 Had a bit more of a wander, reminiscing about the old LP/CD shops such as "Shades". Really should have visited "Reckless Records" & "Sister Ray" but i didn't want to wear myself out, as it was going to be a long day. I did consider going to "Flat Iron" for food, but as i was on my own & as ever, there was a wait for a table, i decided to not do it. 
 Eventually went to Montagu Pyke, Jim & Paul were already there 😉 I'd not met Paul before,but he knew a lot about me as Jim had told him. He's a decent chap, with a good sense of humour. Eventually we made our way to Brixton & for a change we went to the Beehive. Time was getting on & Anette hadn't arrived yet. Think she got there around 5pm & the M&G was for 5.30. Couldn't believe how much luggage she'd brought with her ! ( "Just the essentials") There was quite a few people doing the M&G, so once again, i suggested we go last. When Judy was checking off peoples names, i had a quite word with her that i'd got something for the band, so would like a couple of extra photos if poss. Going in, bags were searched, it seemed to be quite a quick M&G today. Maybe cos of the numbers? We all had a group photo, then individual photos.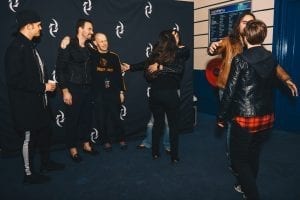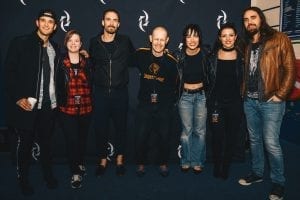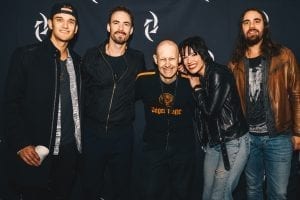 Then finally a photo of me giving the band a present 🙂 I'd previously done this before when i saw them at Glasgow 2015 ( Read about it here https://www.gigaddiction.co.uk/halestorm-nothing-more-wilson-barrowlands-glasgow-scotland-6-3-15/ ).
I'd got them some marshmallows with photos of them ! The band seemed to again appreciate it & i doubt they'd last long before they were consumed (The cakes!)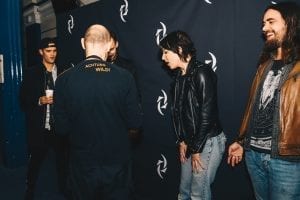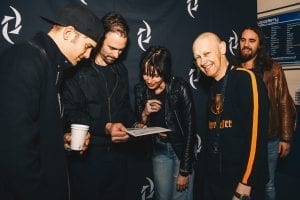 Once again, huge thanks to Judy for the great photos. I hadn't took a proper pic of the box, so took one on the train down to London haha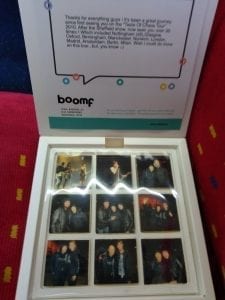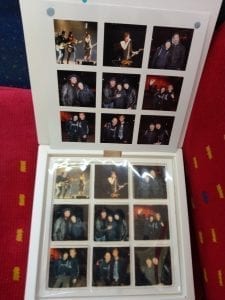 After the M&G we were all kicked out of the venue (as usual) & formed a queue again. Of course, if you had a bag with you, then security search it again. I still don't get it how we can't just stay in the venue,but gotta follow the protocols 🙂
I got a decent place on front row of balcony (well, i thought i had). As most times, i get talking with people near by. The lass next to me was moaning about how hard her life is…seemed to be making a mountain out of a mole hill…pretty sure she wouldn't be able to cope with what I've been going through for the last 2 & half years 😉
Once again, "Rews" didn't do anything for me. Seen it all before. Sorry. Sometime during the night, Jorge & Kitti came to see me. They then went to try get some seats, but i think the seats they went to were already occupied (Probably went to get merch or go for a pee!) So didn't see them any more till briefly after the gig.
Once again, i really enjoyed "Avatar"! They're great showmen. I even filmed one of their songs tonight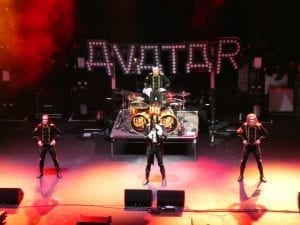 So, to the main act & what we're all here for : Halestorm !
I think it's great that they're mixing the setlist up. Changing the order of songs & sometimes adding extras. I'm pretty sure it makes it more fun for the band & of course anyone who's seeing multiple shows. Tonight they start with "Vicious", then go straight into "Love Bites". The screams/reaction from the crowd, when everyone realises they're playing the classic "Love Bites" are quite amazing ! (However, i do have to say, from where i was, the sound wasn't yet dialled in as it should be)
Next up, from their latest album "Vicious", it's "Skulls". I've only managed to get to two shows on this tour, but I've noticed both times that "Skulls" goes down very well with the crowd. I'm pretty sure that for future tours, this will be kept in the setlist.
After that, they go back to the album "Into The Wildlife". They play "I'm The Fire". It's a great song & really shows of Lzzys vocal prowess.
Next they play "Do Not Disturb". Personally, i'm still a bit unsure about this one. Can't make up my mind if it "plods along" or is "really heavy" ! Obviously, the subject matter of the lyrics is interesting though 🙂 I think it really works well on the album,especially as it's followed by "Conflicted", but still unsure about the live setting. Hey, maybe i just analyse stuff too much ? 😉
Lzzy then says to the audience "London, what can i get you to do? Anything ?". "Alright London, i want you to go yeah yeah". It's the typical call & response. Whilst doing this, she noticed a little skirmish down the front. From where i was, it looked like a lass with a pony tail headbutted a guy. But straight after that, they seemed to hug each other. Lzzy ; "Are you alright?" "Shall we continue?". "Now let me hear you go Hell Yeah!" Audience reacts as they should. Lzzy then steps it up a bit "Now let me hear ya say fuck yeah!!" Audience is even louder 😉 Then Lzzy finally says " London..can i get it…can i get a A-a-a-men?" Now what i like about "Amen",in the live setting, is how they have a jam towards the end of the song & they really extend it. You can tell they're all having so much fun up there doing this! To think on the album the song lasts just shy of 3 minutes long, yet live, it's getting on for 9 minutes ! Fantastic stuff 🙂
After this, it's the irrepressible "Mz Hyde" followed by Arejays drum solo (Which as always, includes the "Big Sticks").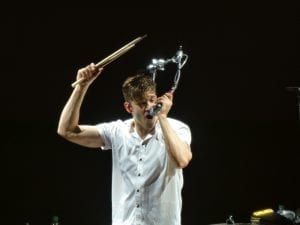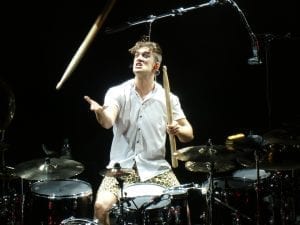 They then go back to the album "Strange Case Of.." & we get "Freak Like Me". Again, fantastic stuff 🙂 I love how fast the start is on "Uncomfortable"…straight ahead rock n roll. But also, if you listen to the lyrics, Lzzy is really making a statement. I love this new song.
Next it's a total change & totally unexpected. From the live ep "One & Done" (which is hard to find at a reasonable price,as it was released in 2006) they do "Takes My Life". Wow !
They finish the main set with "Killing Ourselves to Live". Already, to me, this sounds like an anthem.
The encores were the same as they previously played in Sheffield. Namely, "The Silence" , "I Miss the Misery" & "Here's to Us".
The lighting seemed a bit better (than Sheffield) for "The Silence", so i filmed it 😉
As is always the case, the last song , "Here's to Us", finishes on a high with everyone swaying their arms in the air. So yet again, it was another fantastic night out. Once again, i still had the thought "I wish i could go to more shows,like i used to", but my useless body won't let me do it. I suppose i should be thankful for the fact i can still get to a couple of gigs…but i'll always want more 🙂
Afterwards we met up at The Beehive again.I think there might have been a queue for the cloakroom as it seemed a long time before Anette etc got to the Beehive. Briefly said our goodbyes to Jorge & Kitti, then got on the tube to Hotel Rob. Once there, it did seem a little strange that Rob wasn't there. Had a good nights sleep (i needed that) & following morning we were all up early-ish. As is always the case, left Hotel Rob with plenty of time before train back to Boston. Once at Kings Cross, there was still a bit of time to kill, so myself & Anette went into the Parcel Yard for coffees before we left. I'd prebooked my seat on return journey, whilst Anette just booked a ticket in the hope we could sit near each other on way back to Bostonia. It totally worked ok as someone didn't make the train in time (or some other reason).
When we got back to Boston, walked the route to my place. This way Anette could see the various photo opportunities. Over the next couple of days, Anette did the video interview with me,took photos of my memorabilia etc. Looking forward to seeing the finished article.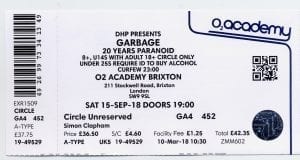 Something i should say is that Hotel Rob is great! First thing in the morning, the barrista (Rob!) always serves up a nice coffee for his guests!
But not only that, the chef (Rob) provides a nice breakfast if required. I don't want you to think that i don't appreciate it or take it for granted, so i'm saying it here : Thanks Rob for everything 🙂
After having brekky, some of the guests go purchase some beers from the local shop. All different kinds of beers! They even got "Tramps beer" aka Special Brew (yuck!). I guess they need it as will be watching the footy later 😉 Rob handed out some wafer snacks which had chocolate in the middle. Unfortunately, Greg didn't realise they also included nuts so he had a bit of a scare as he's allergic to nuts. Rob offered to take him to the hospital, but Greg said he'd just wait here to get over it.
Eventually we all set off to have a meal. Today we go to a Mexican restaurant in Soho, called "Wahaca". This is a first for me. Gradually, pretty much everyone arrives.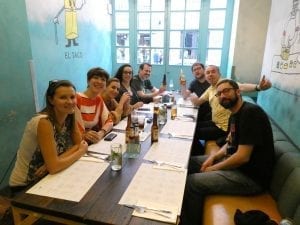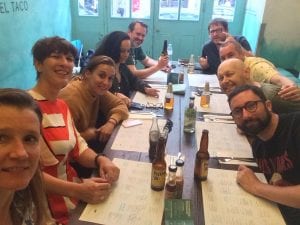 After the meal, we make our way to Brixton. Would you believe it, we again all met up in the Beehive ! As i had checked in, i'm pretty sure Neil saw that, so he also joined us all. Time was getting on, so myself & Neil went to the Academy. Unknown to me at the time,someone (Anne ?) had took a photo of me & then everyone in the group took other photos of them with said photo. I've seen this happen a few times & it can be quite funny.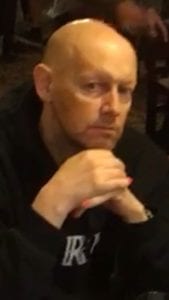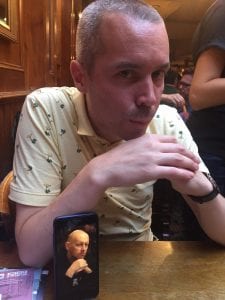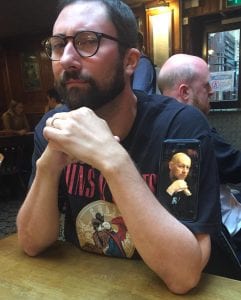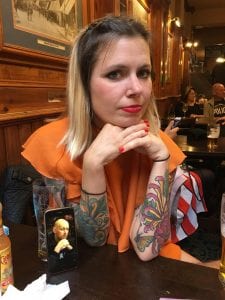 Same as yesterday, the M&G peeps were in a queue to get back in. When we were going in, there was someone in front who seemed to be taking an age to get their tickets ! (Annoying) But thankfully, we still managed to get the front row of balcony. Unlike last night, the balcony had some lights on, so you could actually see where you were going down the steps! (After the darkness or an accident waiting to happen last night, i took a small torch with just in case 😉 ) During "Dream Wife", we couldn't believe what someone was doing sat next to Neil : A guy had a video camera & was openly filming a song ! He then later filmed quite a bit of Garbage, again openly ! Surprised he got away with it. Sat to my right was an old chap. We got chatting & he told me he was a sound engineer. This was also his first time seeing Garbage live. After Dream Wife had finished, he said that their sound wasn't very good. I guess that's one of the traits when your in the business 😉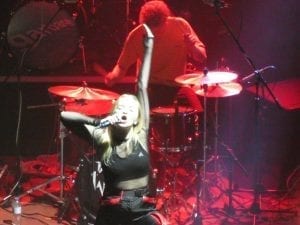 Even though i'd not drank much, i was bustin for a pee ! Managed to nip out & back before Garbage started. Phew. My mate Neil didn't quite time it as well, so i decided to record the first song "Afterglow".
Tonight's gig was pretty much the same as last night, so i wont go into depth reviewing it all. I'll let the photos/video clips describe it 🙂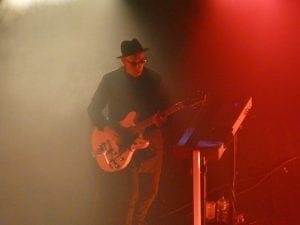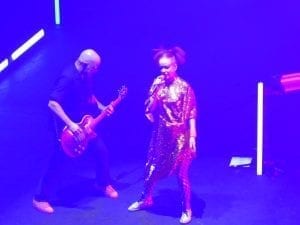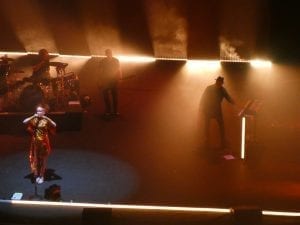 There was only one slight problem, which was during "Lick The Pavement" Shirley had monitor problems. She stopped the song, then they restarted it.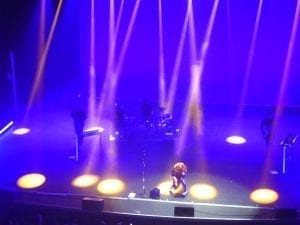 Again, like the previous night, they played the extra "No Horses". For the last song of the night, Shirley gave the crowd a choice out of 2 songs. It was either "Starman" or "Cherry Lips". The crowd made themselves heard to decide which one 🙂
So it was another great night. The chap next to me said he'd enjoyed his first experience of seeing Garbage live. My mate Neil had a nice uncomplicated evening. I myself had a great night also. Out of the two nights, i reckon that the 1st one had the edge. Once again, we agreed to meet at The Beehive (This time Anne didn't have Robs keys). Whilst waiting, i briefly saw Diletta. Been a while since we last saw each other.
Some people stayed for the after party, but i think most of us head back on tube pretty quickly.