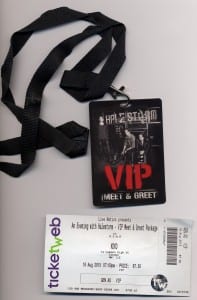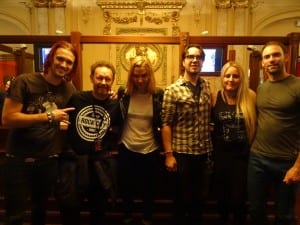 A Wild Evening With Halestorm
First a little rant : It was inevitable that Halestorm would get bigger/more popular. With each tour ive noticed it.
The problem now is that if you want to get on that front row,you've pretty much got to pay the extra & do the VIP Meet & Greet. Compared to other bands, their VIP ticket pricing is very good,but, it's still expensive. After the previous Glasgow gig, i doubted i'd do VIP again. Then they announced the special "An Evening With Halestorm" shows 😉 Yup, this is special, i've got to get either front row or front row of balcony. This will be the last time….famous last words 😛
When we first arrived at Koko, there were about 10 people there. So beer & food time it was! When we got back, the numbers had swelled slightly & pretty much all were familiar faces.During soundcheck, we heard them play "(I Cant Get No) Satisfaction". So lets hope they add it into the set..(Yesterday in Liverpool they covered the Beatles "Hard Days Night", so the Stones in London would have been apt). The M& G went well, the band told me the cakes i gave them in Glasgow had lasted seconds. There were a few in the venue before us & we had to decide either front row at the side (poor angle, in front of pa) or balcony. We went for the later. Security was surprised we went up there, but, he agreed, where we were *originally* stood (left side), it's one of the best vantage points in the venue.As things got busier, it turned out they needed more room for disabled spaces…so they moved us to the other side! (& in turn, even that position was made smaller). But as Arejay said, as the band walked by returning to backstage, "You've got the best seats in the house there!" He was pretty much correct. If you get that front row, you have to do everything in your power to save it for yourself/friends ;-0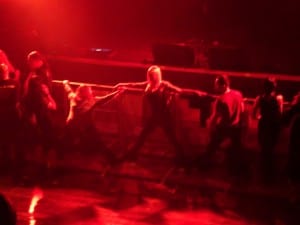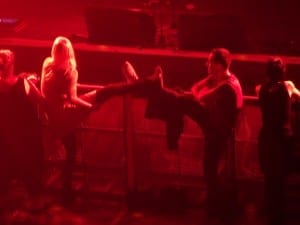 Eventually the main punters were let in & we soon had Jim & Diana behind us, shortly followed by Rob & Kristina. With no support act, it seemed to take forever for Halestorm to take to the stage.
The first 5 songs were acoustic. First up was " Mz. Hyde". I loved the totally different vibe how it realy had a "swing" to it. Kristina was quick to say that tonight was already way better than Liverpool, due to the great crowd (& company 😉 ) Was really strange to be hearing "Heres To Us" so early in the show.Damn the crowd was really loud .
A short break & they were back to play all of "Into The Wildlife" album. The crowd was pretty quick picking up the scream parts of..erm "Scream" 😉
I was quite amazed how damn heavy "Sick Individual" sounded compared to the album,especially the starting jam part. In our prime position, the sound was just full on in your face & great 🙂 3 more hard rockers then the tempo is brought down with "Dear Daughter", which was just beautiful. I'm still unsure about "New Modern Love", especially in the live setting, but praise be we had "Mayhem" to turn things back up to 10 🙂 Everything seemed to flow on stage, but, i felt the audience got quieter as the show went along. It was certainly nothing like at the start…
The UK has been very lucky with the amount of live debuts we've had on each tour they do here. Tonight was no exception as they debuted "Jump the Gun". It was quite hilarious when Joe had the line "Babe I think I love you", especially when we got the explaination of how many takes it took in the studio . Obviously, Arejay & his big sticks made an appearance, shortly followed by the old classics "Love Bites" & "It's Not You". This was the only time tonight i missed being downstairs on the front row as you just gotta jump around to those & it just felt a little strange on the balcony.I missed the old dynamic (in more ways than one). I loved "Unapologetic", there was a great vibe to that.
Finally another couple of classics "Freak like Me " & "I Miss The Misery". Damnit Freak is another you just have to jump too!  After those, Joe & Lzzy seemed to have a bit of a conversation, then everyone bowed & off they went. I was rather disapointed we didn't get no Satisfaction (pun also intended) but overall it was a great night out. I'd hoped to see my mate Kevin who had last minute come over from the States.(He didn't have a ticket as the show sold out in 8 hours. Luckily, the Freaks network is pretty good..i asked Lucy if she could find a ticket & sure enough she came up trumps).Well i didn't see him in the gig, but, managed to find him outside afterwards. Had a little chat before we set off on our journey back to Boston. Oh yes, ya cannot beat those 2am Maccy Ds stops…