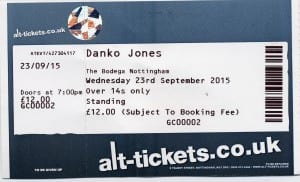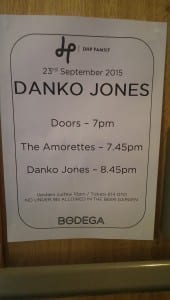 Well that's 3 out of 3 ! Last 3 gigs i was the first person in the queue. Tonight,as i didn't leave work till 4.30, i didn't get to the venue till 15 minutes before doors & yet i was still first there!
Gotta say, i enjoyed The Amorettes much more than when i saw them at Camden Rocks. The sound was way better @ Bodega & i got right down the front 😉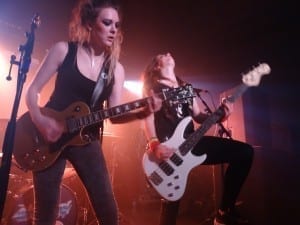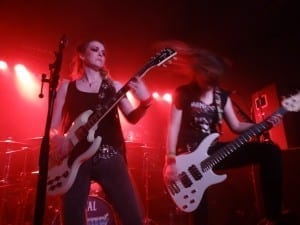 This was the first time i'd seen Danko Jones headline & strangely, it seems it's their first headline gig in Nottingham ! Old Danko was very annoyed about this. So much so that he ended up wanting to do a run of 9 nights at Bodega 😉 Well, the show was full on rock n roll. It was also quite hilarious with some of the stuff Danko was coming out with. It was a great night out & i'd certainly go see them again.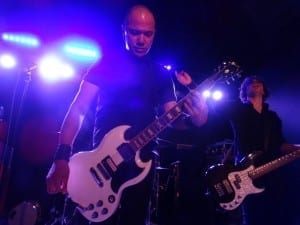 Had a great time at this festival with Rob last year,so, it was pretty much a given we'd do it again this year. ( Myself & Andy had traveled down the previous night so we could go see Republica. Ronald also came over so already i could see who were the real drinkers gonna be this weekend 😉 )
Saturday we also met up with Cat before heading into town. Again, the wristband exchange was pretty smooth, even though we got there a bit later than 2014. First band we all saw was The Armorettes. They were just "ok". A rather over used formula to the songs & they soon got a bit boring tbh. Rob & Ronald were the first to leave 😉
Poor old Andy was suffering from the start. Had an injury on his foot & it seemed to get progressively worse as the day went on. Even going to the pub didn't really help ! 🙂
I really enjoyed the Love Zombies. I like quirky stuff like that. Ginger was pretty cool, especially as i'd not managed to get to any of the "Songs n Words" shows. We went to try see Black Spiders but Electric Ballroom was (seemingly) way to busy for a short arse like myself to be able to see anything. We might have gone back to the pub again haha. Eureka Machines at the VERY tiny/intimate Cuban was just fantastic. Easily my band of the day. I'd hoped to see Heavens Basement, but i kinda realised it would be crazy busy putting it in the Underworld. Needless to say, when we went there, the queue was going round the venue ! (Only good thing was a happened to bump into Nina as she was in the queue). So decided to go back to Proud to watch Richie Ramone & get a good spot for Michael Monroe. Andy had had enough & went into town ! I didn't see Cat/Rob/Ronald till after everything finished.