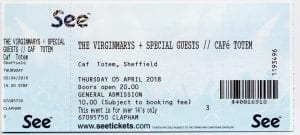 This gig & the next one were kinda hanging in the balance. I'd recently got my last M.R.I. results & they were not good. Tbh, to start off with, i wasn't in the right frame of mind to be going. After speaking with my nurse, i decided to go. As i'd never been to this venue before, i wondered if i'd be able to SEE anything or not. When i emailed them about having a seat, it all seemed a bit sketchy….
Last time i visited Sheffield i checked out where Cafe Totum was, cos i'd never heard of the place ! (It used to be called "The Rocking Chair")
I left Bostonia at 11.50. Changed train at Nottingham & finally arrived at Sheffield around 14.45. Stayed at Jurys Inn this time. A nice room, at a reasonable price & pretty close to the venue 🙂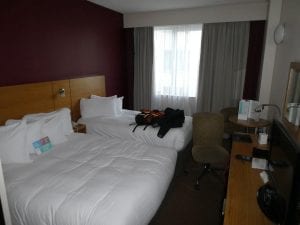 After checking in, i had a walk to "The Waterworks" & had a late lunch. As it was Thursday, i had to have the usual Curry Club deal 🙂 On the way back i decided to have a look in Cafe Totum & confirm about the seat for later. The lass at the bar said the manager was downstairs in gig room, so i went down. Door was locked though! Luckily, i could see in the room & caught the eye of Gareth. We kinda sign languaged lol, Telling me to go back up stairs. Met him there then he took me into the gig room. The guys were finishing off sound checking. Even though i thought the room would be small, it really surprised me just how tiny it was. There was no way, even with a stool, i'd be able to see the stage. I noticed a kind of ledge right at the back, so decided to try perch myself up on there. Simon (another one ….too many Simons!) said he'd already took a snap from up there. It was a bit of a balancing act once up there, but seemed ok. Gareth got me a stool so i could use it to get up there (+ also put a note on it to say it was reserved. Nice one mate). Myself & Danny then went up to the bar for a drink & a natter. There was a slight problem at the bar 😉 During which time Stuart also came up. So i bought the round of drinks. We had a real good chat about "the business & contracts" etc (Hey Danny, don't forget about those master tapes i filmed 😉 )
The closer to doors time, the more busy the bar got. I later saw, Gary, Ross et al turned up & they went over into a corner. Do i smell bad ? 😉 Then i saw Helen Tate & her clan arrive. She came over & had a chat with me (Maybe i don't smell that bad after all lol). Always nice to see her & Lauren. Again, we briefly talked about the music industry & how hard it is for small bands to make it big. She mentioned about how Facebook has changed. Apparently, if they paid something like a tenner the posts would get more views. HOG have around 14,000 subscribers, but after the change, the most recent announcement for a new gig was only seen by about 160 people. What a load of rubbish is that eh? After a while she went back to her kids. I then noticed the room wasn't so busy. Most peeps had gone downstairs to the gig room. So i went down. as expected, it was pretty rammed. I was surprised that no one had pinched my stool. I sat on said stool for the support acts; neither of which really did much for me.
There was a lad near me who was already pissed up. I told him i'd be going up on that "perch". He said "Yeah…reckon i'll do that as well". I'm thinking to myself "I can see him having an accident just trying to get up there!"
The guys kicked off with "Portrait Of Red" & then went straight into "Dead Mans Shoes". I then realised that the lighting in this venue is REALLY poor. Basically, i could see Ross & Danny ok, but there wasn't any lighting on Allys side. Trying to film a clip, the camera just couldn't see Ally. So i ended up just filming Danny, Ross & Garry ! Garry? Yes, he was nicely lit up on front row 😉
Next it's "Free To Do" & then, one of my faves from "Divides" "I Wanna Take You Home". Again, due to poor lighting, the photos i tried to take are pretty naff.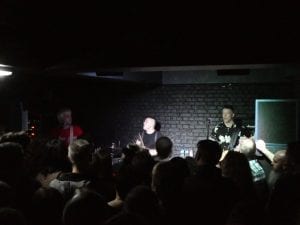 A bit later, they played a new song called "Don't Wanna be Free". Was interesting to hear that. About half way through the set, i noticed the pissed up guy next to me was wobbling on the perch & then he started knocking me. Sorry to say it, but, i was thinking "Just fall down already!" 🙂 I think i lost my focus then as was bothered about the chap next to me ! The guys played a lot of good uns, namely "Running For My Life", "Into Dust", "Blind Lead The Blind" etc. Again i had a go at filming another song:
When they got to "Lost Weekend", i thought i'd try my mobile to see how it picked up the band in low lighting (I've never used mobile to film stuff as i'm sure sound would distort) As it was, it did pick up Ally better than my camera, but the resolution was a lot lower. Was an interesting experiment 🙂
"Sitting Ducks", from the last ep they released, always goes down well. Then another classic VM song is played, namely, "Motherless Land ". We're then treated to another new song "Look Out For My Brother". Lovely stuff 🙂
The main set finishes with "Just A Ride" & "Ends Don't Mend". From my perch, i didn't see much jumping around during the gig & also the crowd were not over loud. I think waiting for the encore even had a brief time when no one was clapping/cheering for them to come back ! 
Eventually they return & we get "Northern Sun" & "Bang Bang Bang". Tonight they didn't use the gong though 🙁 A few people hung around for a little while in the gig room, whilst others made their way up to the bar…or left ! Oh yeah, earlier in the day, an old local friend from the '80s sent a message to me about meeting up as he was working in Sheffield. We ended up meeting after the gig had finished. He came down into the gig room, then we went up to the bar. Had a real good catch up. Hadn't seen each other for years! Was great seeing you again Graham 🙂 .Before i went to my hotel, i said my goodbyes & got a quick photo with Ally & Danny.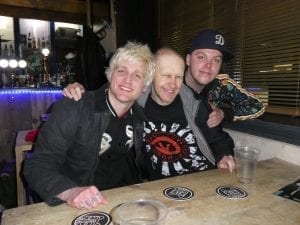 P.S. The Hero of the evening was Ross. Why ? Because he'd not been well recently but battled though the lurgy & played the gig. Good on ya Ross 🙂