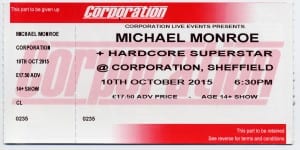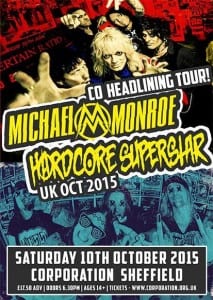 A few friends were also going to this one, so nice to briefly hook up with Lisa + Carl, Nomis + Liz & also Scott. Whilst i was the first in the queue, i wasn't the first there as a couple of nice German girls were actually waiting at the wrong door. I soon put them straight though. First band was "Chase The Ace". They had plenty of energy up there. They said they were also not getting paid for tonight, which is a sign of the times. Yes folks, that's why it's always important to support bands buying the merchandise.
This was a co headline tour between Hardcore Superstar & Michael Monroe. Those German girls i mentioned were following the tour to see HSS. Oh yeah, there was also a lass i met from Finland who was following the tour to see MM 🙂 HSS i've seen a few times before & i always felt there was nothing that really stood out that was different or unique. But saying that, they are good at what they do & tonight was the best i've ever seen them. Really enjoyed their set.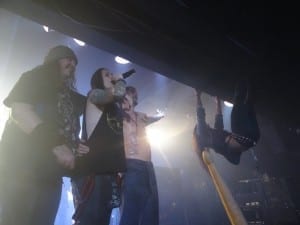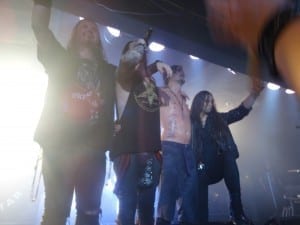 Mr Monroe is always entertaining. Within a couple of numbers, the sweat is just running off him. The band all seem to be having a great time as there's little in jokes with each other etc. MM is just all over that stage & down on the barrier. It's what full energy rock n roll is always about. Something i loved though was despite the craziness, he still took a few seconds to go down in the pit to tough base with someone in a wheelchair ( I think it was a "mate of a mate" Mark Hodgkinson) such a diamond geezer. I wouldn't really say that the show was much different than it always is….just quality rock n roll delivered very professionally by all involved.