I honestly didn't think there could be a "proper" Voice Of The Beehive reunion during my lifetime. Just imagine my excitement when the news started filtering through that it was going to happen ! There were two key elements to making this happen. Firstly, Grant Holby using his tenacity over a couple of years to try make it happen. Secondly & probably the key element, was that Woody would come back into the fold. Tracey has already said, it was down to Woody playing that she agreed to doing it.
So special thanks must go to Woody for agreeing to do it & of course Grants persitance at trying to get it together 🙂
Obviously, where ever they were going to play, i'd be there….
Oh yeah, must say, this gig was not only special to me for the band doing it, but also, since seeing my first gig, Blondie in 1980, this was the 1000th gig i'd been to !
I've seen many bands around the UK & Europe over the years, made many friends on my travels & have had a great life. Life without music to me is unimaginable.
I'd never been to The Lexington before,but knew it was a small pub venue. I was hoping there would be some sort of raised area,so i could SEE the show properly.
After recent visits to venues that had been "updated", such as The Borderline, which is now absolutely useless, it was nice to go Lexington & see some positives !
Raised area at the back near the bar. A nice small room & as we later found out, nice sound.
My day began with a train from Boston to Grantham, then Grantham to Peterborough where i met an old school friend & we carried on to London Kings X. I had the forethought to walk from Kings X to the venue, just in case there was any problem with the Tube. (Guess what…) Went in the Lexington & there was a lone bartender who seemed bored 😉 He told us that load-in was to be around 4pm. So we left & went to the Angel (Wetherspoons) pub. Angel Tube is just across the road. Perfect!
Had some nosh & a good catch up before making our way back to The Lexington. Outside, we saw a chap waiting around like an expectant father looking for his children coming home from school. Soon realised it was Grant 😉 Whilst i've been in contact with him via FB, this was the first time meeting him in person. We had a quick chat & it turned out he was still waiting for the T-shirts & backline to arrive. Could already sense he was getting stressed 😉
We went into the pub to chill for a while. During that time Martin & Mike arrived (Woody was already there). Had a nice chat with Mike. Hard to believe we'd not talked since the first reunion back in '03 ! Robert Graves arrived & he sat with us for a chat. Whilst i'd known him for years, due to his great VOTB website he used to have, we'd never met in person. So that was cool. We had a nice chat about all things Beehive & was good to see we were both "on the same page" about certain aspects of VOTB web presence etc 😉
Time seemed to go real slow. Later whilst sat there, we saw/heard a few cop cars go by. It turned out there was a suspect package at nearby Angel. They closed the station & evacuated everyone for the Angel Wetherspoons. I guess we had timed things perfectly.  The Lexington got busier & could see that Grant was getting a bit stressed.
Eventually, we went upstairs to the gig room. Got the perfect spot & the room quickly got packed out. Seemed an eternity before the familiar old intro tape snippet from " I Love Lucy " started. The excitement level increased so much then. It was like time travel back to the old days, seeing them multiple times around the UK….
Mike leads the procession on stage ,closely followed by Woody. Once sat down behind his drums, he does a little dance around waving his arms. Happy times 🙂 Missy says "Thank you so much for coming. it means a lot!" Then as the intro dies, she says "We love London !". Then it's the familiar strains of "Beat Of Love". Smiles all around. Some of the audience bouncing around already.
Not a bad start to the show eh? Next up it's the old classic "Trust Me". Whilst there might be some kind of problem with Traceys guitar, it's great to see her smile at the "..Lets go Boys.." part of the song . Before " Adonis Blue ", Tracey gave shoutouts to Robert Graves , Missy did the same to me 🙂
Next we get a nice version of "Man In The Moon". Things then go up a notch with the rocky "What You Have Is Enough ". This is followed by a nice surprise. I'd hoped they would play it and they did : "Playing House". It's one of my faves & don't think i'd seen them play this before. We all interpret the songs in our own different ways, but this one i used to play a lot & i related to it when i was having a bad time & my relationship was breaking down. It's kinda strange that i love this song so much, yet it was at a low point in my life i really got into it.
We all know how much Tracey loves London, so hearing "Just a City" again was most apt. Next they played the fantastic " 7 Shocks ". Back in the day, i used to always go a bit crazy jumping around to this one. It was an interesting choice to play "Look At Me" & "Perfect Place" back to back. As Tracey had recently posted, "Look At Me" was ahead of it's time & most certainly i can relate to how social media such as Facebook is a modern day version of this. Whatever though, i've always loved the song & the lyrics are so apt nowadays. The next song, "Perfect Place", i've never managed to decide if it's a song for hope or it's about being stuck in a rut, wanting to change, yet the dreams don't come true. I've always felt a touch of irony when i hear the lyric " I walk the earth my darling but i never feel at home" Then thinking of the song "I Walk The earth" with the line "I walk the earth my darling, this is my home". Maybe i just analyze stuff too much ?
"Just Like You" is just pure pop passion with an edge to it. It's always been one of my faves when performed live. The mood is brought down a little with the "waltzy" "Sorrow Floats". "Little Gods" is VOTB perfection. "Monsters & Angels" has a really big sound to it. I always imagine people swaying from side to side (or arms raised) like this is an anthem. "Pocketsized" has always been a fun song live. Love when Missy does the strange quirky vocal scream type thing in it 🙂
The next three songs are true Beehive jems : "Don't Call Me Baby", "I Walk The Earth" & " I Say Nothing ".
The encore was totally unexpected & it certainly mixed things up. Just Tracey & Missy performing "Tattoo Song". I don't think this has been done before, but i loved it.
Of course, the gig had to finish with "Barbarian" ! What a great night. Classic Beehive just like the old days. Sure, there were a couple of little errors along the way, but it proves that it's all real & heartfelt. I don't think they managed many rehearsals, but once again, it proved they were soon back into the groove & everyone was enjoying it.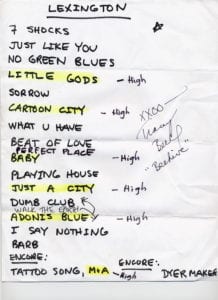 The only downside to the day was that we didn't get the chance to meet the band afterwards as we had to dash off to catch our train home. I'm hoping that will be rectified at the Indie Daze gig on Saturday 😉