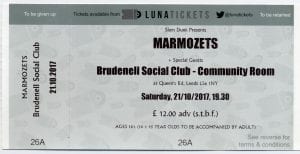 My train got into Leeds at around 15.30. Nom & Liz picked me up (i was staying at their place tonight) & on the way there, Nom stopped off at Brudenell so we could have a quick look at the new "Community room". As we were parking up, i noticed Becca was just going into the venue. Once we were inside, saw that Becca was doing some kind of interview & one of the guys from Marmozets was goofing around behind the camera…i guess trying to put her off 🙂
This place is an extension to the Brudenell. It was only completed recently. Yet strangely, the floor already feels sticky ! It's a decent size room. Perfectly suited for Marmozets. After a while, we continued our journey to Noms place. Always amazes me how he gets his Jeep into such a narrow driveway ! We have a bit of a catch up & then decide to go over to The Original Oak pub for some grub. Whilst it's only a short walk,it's raining quite a bit. (How different the weather was last time i was here…sunny day & even sat outside ! ) Eventually we decide to take a cab to the venue. There's not much of a queue. I'd arranged to get a seat & it all went smoothly.
However, after a while a couple of people in wheelchairs came in & we had to move down a step (That's not a problem). I did feel sorry for those behind me as even though they were slightly higher than me, i doubt they got a very good view of the stage. The room did take a while to get busy (incidentally, there was another gig in the other room at Brudenell, namely, "Sham 69" ).
Marmozets started their show with the new song "Play" (like they did in Hull a few days earlier). Next up was "Move,Shake,Hide ". Thinking about it, just realised they played same set as in Hull. So it was a 13 song set, which included 5 new songs "Play", "Suffocation", "Meant To Be", "Major System Error" & "Habits". The rest of the songs were the old classics. I won't get in-depth with this write-up as it was all pretty much the same as the show in Hull. Though i will say, i prefered the sound in Hull. Also, of the 3 recent shows i've been to, Sheffield had the loudest crowd to me.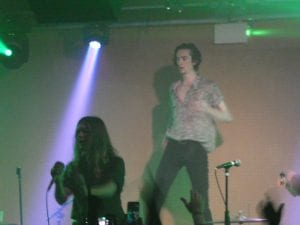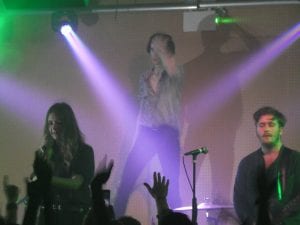 Nom seemed to have liked his first experience of seeing Marmozets, whilst Liz wasn't really that impressed. After the gig we hung around for a while. Nom met a lot of his mates & was chatting away for a while. I noticed a chap nearby had got a copy of the setlist so asked if i could take a photo.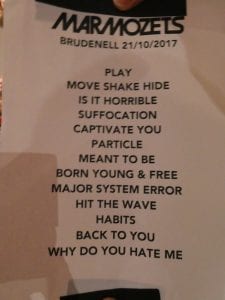 I noticed a couple of Marmozets came out & Nom said "Do you want to get photos with them?". It's strange as i felt very "stand-off-ish". In fact, Nom said "I've never seen you so shy!" Haha. Well we went over & got a couple of photos. Both goofy & straight photos 😉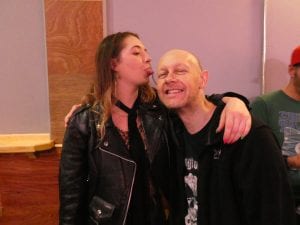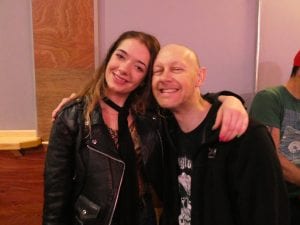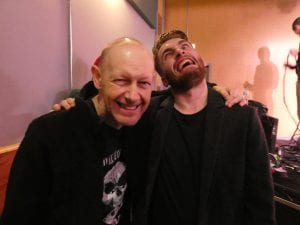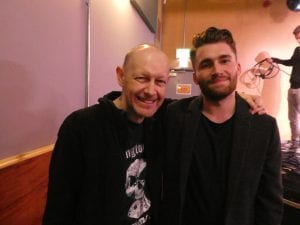 As Becca walked away, she said to me "aww you're so sweet". Unsure if she thought i was Noms son or something…i mean, i do look young haha , no offence Nom! Chatting with Jack, I found out what the plans are for next year…did someone mention Rock City ? Or maybe even Brixton Academy ? Lets see how 2018 goes for them 😉
We eventually got a taxi back to Noms place. Must confess, i was pretty tired by now. So it was pretty much straight to bed for me ! Following day Nom gave me a lift to the train station. Everything was running on time until i got nearer to Grantham. I was thinking "I hope i don't miss my connection again !". Made sure i was near the exit when we pulled in to Grantham. Literally had to leg it down the platform, over the footbridge, then onto the other platform. The guard was ready to close the doors & i just made it ! Phew ! If i wasn't tired before, i most certainly was now ! I just had to endure the "people" on the train journey who were going to Skeggy 😉 Once back in Bostonia i trudged back over the other side of town where my home is. Once inside i went straight to bed for a while !
Overall, it was a great time away. Nice to see Nom & Liz again. They're true rock n rollers 🙂
P.S. Another thing about tonights show ; i did record a couple of the new songs, but won't upload them. Why? Because when i uploaded the new stuff from Sheffield gig, i got a "copyright strike". I really should have realised i shouldn't have upped songs that are yet to be released. More importantly, for me, is if i get more copyright strikes Youtube will close my account 🙁 I've got over a thousand video clips on YT & if they were took down, this blog page wouldn't be half as good as it is without the clips.