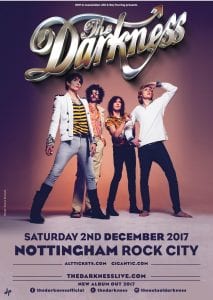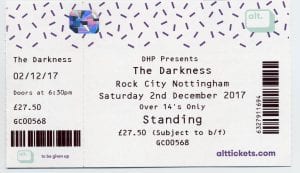 The previous night i should have been seeing Royal Republic at Koko in London. I decided to skip it as was already getting a bit tired after the few shows i'd seen in a row. Gave my Royals ticket to my mate Rob.This way i could relax a bit more before the next gig.
As my sister had been admitted to hospital,i was initially unsure if i should go to this gig or not. In the end, i decided to go in the hope that it would take my mind off how my sister was & cheer me up a bit. Got to Nottingham a bit later than usual, but still had time to check in my hotel, go out for food & then relax a bit back at hotel.
I won't bother going into depth about this gig, but can surely say it was "just what the doctor ordered" ! The venue was rammed & everyone seemed to be having a great time. Ok, there a couple of sound issues here n there, but nothing enough to ruin the show.
There were some real funny moments from Justin (as always).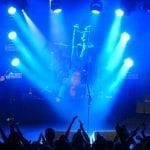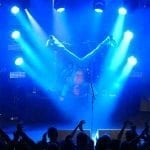 They played a lot of the old classic Darkness songs & it was a really long set.(Probably getting on for 20 songs).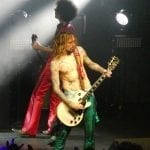 It still puts a smile on my face when they play "Christmas Time (Don't let the Bells End)"…we even got fake snow showering down into the crowd.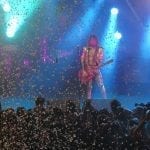 It was cool when they jammed snippets of "Immigrant Song","Sweet child Of Mine" (with the crowd doing i fine job of singing) & "Thunderstruck". The show finished with "I Believe In A Thing Called Love". Yup, a great night out !