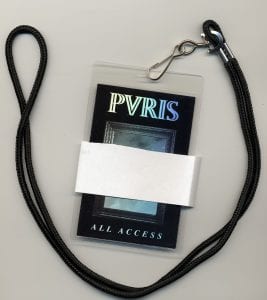 I met Alice at the train station & we were soon on our way to London. Changed trains at Grantham & we had been booked seats in 1st class ! First time been in 1st class. As i expected, there was a very loud man near us who let everyone know how "important" he was. The couple sitting opposite us were totally down to earth & they too were laughing at "important man". We had a nice chat. Once at Kings X we went straight to the hotel that had been booked for us. Upon checking in, they said it hadn't been prepaid, so i put it on my credit card to avoid any confusion. We had a very nice room with 2 double beds.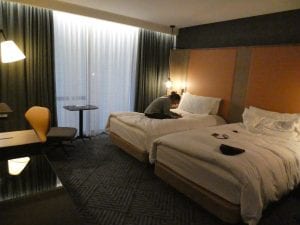 Eventually, we set off for Brixton.Nathan had arranged that when we got there, i should phone him & he'll come out to take us in. As luck would have it, PVRIS were doing their soundcheck, so we got to see that. Alice was given her AAA laminate, but it was minus a lanyard. I thought to myself, the "O2 Angels" always have them, so we could nip out & get one later. However, in the end, didn't need to do it as Matty kindly gave us his lanyard 🙂 We watched the soundcheck from downstairs mainly.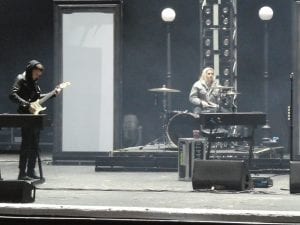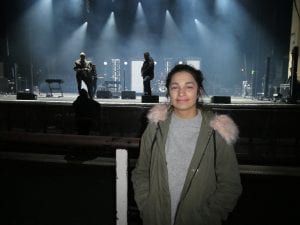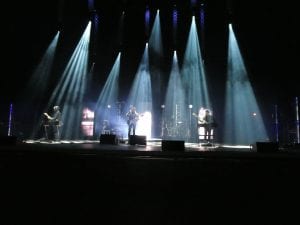 Had a quick walk around to find way up to balcony & watch some more from there.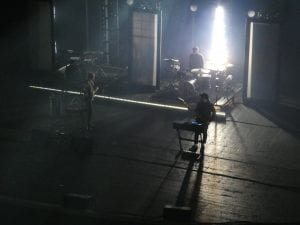 Went back downstairs & saw Matty again & he took us backstage. The band were having some kind of a meeting, so we stayed outside their dressing room. A few minutes later, Brian came out & took us to another room. (Or did Matty take us there & Brian came in a few mins later? Can't quite remember). There were various drinks laid out & we could have what we wanted. We had a nice conversation with Brian. Told him a bit more about ourselves & where we live etc…."We're from the ORIGINAL Boston 😉 " (Funny coincidence eh?)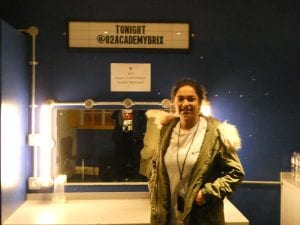 Time was getting on & Brian needed to be at the M&G session. So we all went out to find where it was. Again, it was busy like in Birmingham a few days back. Matty kindly let us get photos with the band 🙂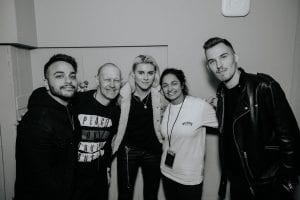 We then sat watching everyone having the M&G. Was interesting seeing how some of them had pre-planned how they wanted their photos with the band to be taken. (Then there's the other exteme of a few people who were nervous about meeting their idols). The band got a lot of gifts from the people they met.
Once the M&G was finished, Lynn asked us if we'd like a cup of tea! Actually, she wrote it down & showed us as she was trying to rest her voice 😉 (She was still suffering like in Birmingham. Respect to her for soldiering on & not cancelling any of the shows) There was a little confusion if we should hang around there or not. We went up to the balcony to find our seats. By now, the bands allocated seats had "Reserved" on them. That is except for 2 seats which were reserved in my name 🙂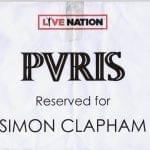 The "Big Mama security woman" asked us if we'd got wristbands. We waved the AAA laminates at her & took our seats. She then came over to us & said "You need wristbands !". I said to her " Look, these seats are reserved in my name….i can show you proof of my identity…blah blah". Then i thought, "Ok, i'll go back downstairs & get the wristbands if only to make her happy" lol. As i started walking back along the balcony, another security guy turned up. I explained to him what had happened & he said "Just go to your seats". He was a nice chap. Had a bit of a laugh with him. Once sat down again, "Mama security" came back to us & apologised for the earlier hasstle. That was nice of her. We watched the support bands & somehow missed getting that cup of tea we were offered earlier haha. So later we went backstage again & were told we'd missed 2 cups of tea ! Now, they'd run out of tea bags, so someone was sent to get more teabags from the bus ! (Americans prefer coffee i guess. That's why they ran out of tea so quickly) We were told to go back to our seats & someone would bring our cuppas to us !
**Now i'm sure some of you reading this might be thinking "This story is quite long winded". yeah, maybe so. But, i like to document my experiences as much as i can. However, the main thing here & i hope people get it, is that the band/manager/crew are just great people. I mean, even something as small as a cup of tea, they go out of their way to make sure it happened)** Sure enough, a while later, i big burly crew guy brought us our cups of tea. Thank you 🙂
Sometime during the night, i got a tap on my shoulder. I thought "Here we go…round 2 with security!". But it wasn't security, it was my mate Rob! I asked how did he get up on balcony considering they'd got stalls/standing tix? He told us that Jim had booked a seating ticket, so he used that to get up here. And where was Jim? You guessed it, downstairs ! The old trick never fails 😉 I told Rob we'd meet him downstairs after the gig. I'd also give him my ticket for the Royal Republic gig which was the next day (I decided it was best i didn't go as was already under the weather & have finally realised i can't do as many gigs in a row as i used to, due to my condition)
You could feel the excitement in the air for when PVRIS were about to take to the stage. Same as in Birmingham, they opened with "Heaven". Again, this was followed with "St Patrick"
Tonights setlist was the same as Birmingham (& i assume the rest of the UK dates). So i'll let the photos & video clips "describe/represent" the evening.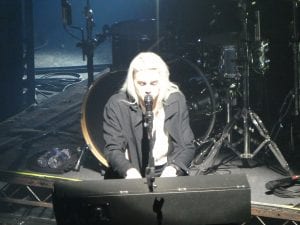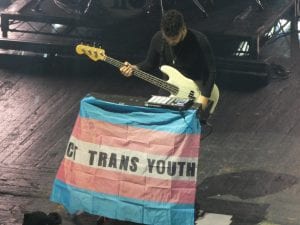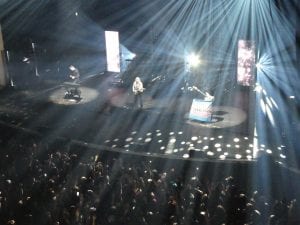 When the gig finished, we went downstairs so could meet Rob & i gave him the Royal Republic ticket for the next day. Said our goodbyes then made our way back up to the VIP bar. Thought the band might be there, but they weren't. So went back down,backstage, to try find everyone. Brian invited us into their dressing room, so we hung there for a while.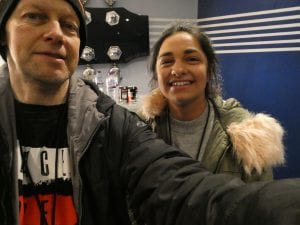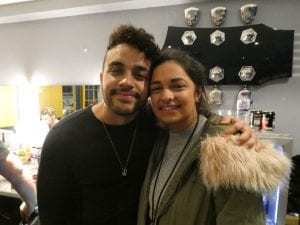 Nathan went off to get the money to pay for the hotel. (I'd Never seen Irish currency before!). After a while, we all went out into the corridor. Chatted a bit more with the band etc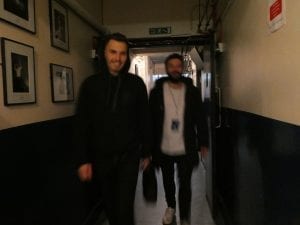 .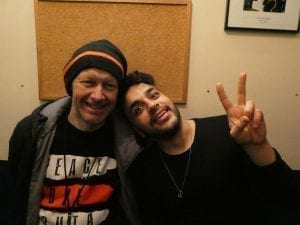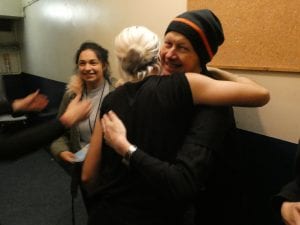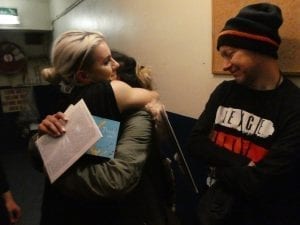 Alice had brought a card with her to thank the band for everything they'd done for us. She read it out & didn't falter doing so. As she was reading it out, i saw Lynn had slight tears in her eyes 😉 Alice handed over the card & also another picture/postcard of St Botolphs Church, Boston (Which is known locally as "The Stump"). we then got a group photo.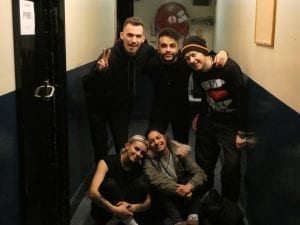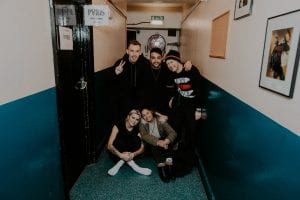 Time was getting on & i was wondering if we'd still be able to get the tube back to our hotel. Didn't need to worry about that though,as when i mentioned it, Nathan said "We've already booked you a cab for your journey back to the hotel".
Seriously, the generosity & kindness from band/crew etc etc was quite overwhelming ! We got a couple more photos with the band, Alice had a bit more of a chat with Lynn & then Nathan said our taxi was waiting outside. Final hugs of the night & both Nathan & Brian walked us out to the taxi. Oh yeah, as we were walking i asked Nathan what the plans were for next year. He told me about a couple of big things that will happen, but said i need to keep it to myself. I really hope those plans happen & that i'm still around to be able to make it to those shows.
So, summing up, it was a fantastic unbelievable day/night. I'm sure i also speak for Alice when i say Thank You for everyone involved who helped make this happen. Sure it was the best "Early Christmas Present" that Alice will ever have & when i'm gone, i hope it will be a memory she will treasure forever.
EDIT : After i'd finished writing this up, i thought i'd ask Alice if she'd like to add her own comment/memories of the day. This is what she wrote ;
" I enjoyed the train journey to London with Uncle Simon, as we were waiting at Grantham for our connecting train there was a very light dusting of snow floating in the air and it was so magical. We arrived at the Hotel lobby and it was all decorated for Christmas. It smelled like spices and cinnamon which made me feel warm inside. The cold was biting as we arrived at Brixton academy, we walked in with Nathan, one of the lovely PVRIS managers, just as 'Half' was being played at soundcheck; which is the song that reminds me most of my Uncle, I felt like the universe was aligning. We met Matty and he was very kind and looked after us really well. The show was beautiful, the sounds, the lights, the colours, the energy. After the music had finished we met with Nathan, Matty, Brian Lyndsey and Alex, to create what would become the most meaningful memory for me. AS everyone gathered round I read out loud some heartfelt words I had written on a Thank You card for everyone who helped make the day happen. The corridor was still and I think even the air particles stopped to listen. We all connected in that moment, with love and altruistic understanding that we had created something so special. My gratitude is eternal and I cannot wait for us all to meet again".