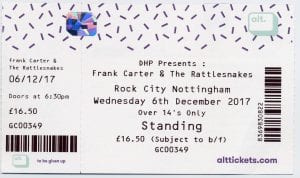 I must confess, i'm a bit late to the Frank Carter party. Maybe it's because i didn't like the previous band "Gallows"?. After seeing some great live footage of FC&TR on TV & Youtube, i decided i had to go see them. What better venue than Rock City 🙂
Did my usual thing ; train to Nottingham, stayed at Roomzzz hotel, went for grub, back to hotel to relax, then off to the gig.
Before going to this gig, i'd seen online that Frank had not been very well recently (Both mentally & physically) so i wondered how the show would go.
I got my usual spot on the balcony & the place soon filled up (It was sold out).
First up was "Ecca Vandal" (spelling?) I'd never heard of her before. The short set was ok, but nothing to get much excited about.
Second support was "Basement". Again,I'd never heard of them before! They got a great reaction from the crowd & it was during there set that the first circle pit of the night was formed 🙂
So, to Frank Carter & The Rattlesnakes…
From the off, it was a high energy rock n roll show. Frank was all over the stage & i couldn't really tell that he'd had tonsillitis (or whatever it was) for some days. Hell, he probably spent as much time OFF the stage, amongst the crowd, as he did ON the stage !
During the first song "Primary Explosive" there seemed to be as much energy onstage as off the stage. The crowd went mental ! Whilst i did take a few photos, i didn't film any clips till about 5 or 6 songs into the set. I was just taking it all in & was in awe of the energy in the room !
During "Juggernaut" Frank comes out into the crowd. He was held up, standing on the shoulders of people in the crowd. But not only that, he even did a handstand ! Very impressive 🙂
He dedicates a song to all the people working at this legendary venue tonight, it's called "Vampires"
Before "Wildflowers" Frank invites the girls to crowd surf up to the stage. By the end of the song, the stage was absolutely packed! (It was nice seeing the security helping them onto the stage etc. I've a feeling that they might have got rid of some of the previous security guys as i didn't recognise many of the faces)
During "Modern Ruin" Frank goes out into the crowd & up on the balcony. He ends up finishing the song on the level where the bar is.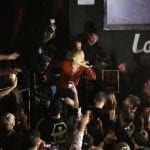 There was a cool moment when the guitarist went into the crowd…complete with guitar!…& Frank just had to join him :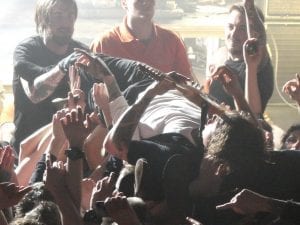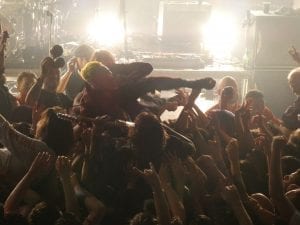 Something that i really liked about this show was the straight talking from Frank. When you first look at him, you probably see a feisty crazy mofo (Which of course he is 😉 ) but he also showed his vulnerable & caring side. He talked openly about his mental health problems. I have a lot of respect for him by doing that. Maybe , by him being so open, members of the crowd will take that away with them & they will be brave enough to share their demons with family/friends. Don't get me wrong, i'm not saying everyone in the crowd had issues,but lets face it, we all have certain aspects in life that we bottle up & don't let out.
The main set finishes with "Paradise" & it's dedicated to the victims of terrorist acts at music venues etc. It's not long before the encore. They play "Devil Inside Me" followed by "Snake Eyes". After "Lullabys" Frank tells us " You have no idea how much this means to me! ". He then explains his journey/progression from the band Gallows, to Frank Carter & The Rattlesnakes & how they sold out the rescue rooms & have now sold out Rock City. He's a very happy man 🙂 When he's asking everyone to give a round of applause to the security, a girl is lifted over the barrier. As she goes over, some idiot in the crowd punches her ! Absolutely despicable behaviour by that numpty. Fortunately, the security saw him do it & they kicked him out. Frank wasn't aware what had happened, so he asks "whats happening?" The security/crowd explain that a lass was punched. He says he's so sorry for that happening. Also "This is an event for love, for peace" That's followed by "..well we know who we'll be singing this song to don't we?!" Next he says "No more crowd surfers, everyone find a partner or someone strong & get up on their shoulders". The crowd then pretty much sing the words to "I Hate You". It's a great sight & sound , just a shame about how it came about.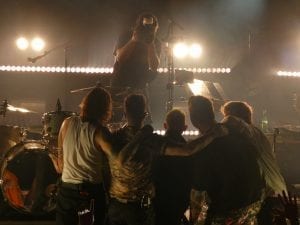 So, all in all, my first experience of seeing Frank Carter & The Rattlesnakes was a good one. Will certainly go see them again 🙂