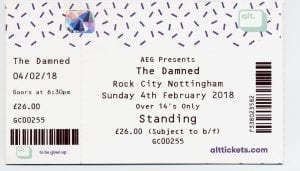 My mate from down London came up for this show. For a change (as they had an offer on!) i stayed at the Premier Inn. I thought i did well booking that for £31, but Neil out trumped me as his hotel was £27 ! (And by all accounts, it's a decent hotel). So once we were both in Nottingham, we met up at the Goosberry Bush pub. Was good seeing each other & we had a good catch up.We got to Rock City about 20mins before doors.The usual thing, make security aware we're here so they can sort out a seat for me & get in before the mad rush. But tonight something strange happened. Whilst chatting away, a woman came over & had a go at me ! She said "I've been in the queue since 5pm & it's not right what you're doing". I replied "Don't worry, you'll still get your place on the front row. I'll be going in the balcony & I'm not queue jumping…". Again, she said " But i've been queuing since 5pm "! I suppose that if you see me you wouldn't know of my illness, but she could have gone about it a different way. In the end i told her i've got brain tumors & (supposedly) only about a year to live…& she still came out with that same phrase she'd been using! Some people should think before they speak…
Anyway, after that stupidity from her, a security chap came out & walked us in, sorted out a seat (the new rubbish LOW ones) & i went downstairs to a place i could see the stage. Neil had a bit of a laugh with me about the womans attitude. I'll say no more on that.
The opening act tonight is "Slim Jim Phantom". He who was part of "The Stray Cats". It was all decent enough, but i was here to see The Damned.
Crazy as it sounds, this was the first time i've seen The Damned ! Always been into them for years ,but somehow never got to see them !
The lights go down & the intro tape is played over the PA. (It's Gustav Holst "The Planets"). Having previously looked online to see what their set list is, it seems they usually start with a pretty rigged set. They play "Lively Arts" , "Silly Kids Games", "Standing on the Edge of Tomorrow" etc. It's all good. The new songs sound good & the old classics sound even better. Something i quickly noticed was that whilst Dave Vanian & Captain Sensible don't seem to have aged much, i couldn't believe how much Paul Gray had aged! (Sorry to say this)
Tonights show comprised of a few new songs from the yet to be released "Evil Spirits" & a bunch of the old classics like "Neat,Neat,Neat".
For myself, the highlight of the show was when an old chap named "Johnno" got up on stage. I was surprised he's still alive if i'm honest. Whilst i've never met him, i was made aware of him back in the '80s. How? Well, back then i used to visit a bunch of "Record Fairs" around the UK. I often visited Leicester, Sheffield & sometimes even London to see what they were selling. Well, one time in Leicester, i bought a fanzine which featured Crazyhead,Ghost Dance etc. There was also an interview with Johnno where he told them how he loved the Damned & would go to multiple shows. He really inspired me. So, to see him up onstage tonight was pretty amazing.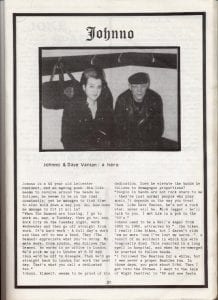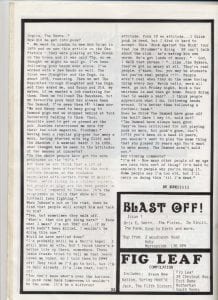 I think he's about 73-74 years young & he's still doing his favourite thing. I have so much respect for the guy.
He actually got up on stage towards the end of "Evil Spirits" & introduced "Smash It Up".
They came back for a second encore of one song, a cover of "Jet Boy, Jet Girl".
When the show was finished, we once again went to the Goosberry Bush for final drinks of the night ! All in all, a fantastic night out.