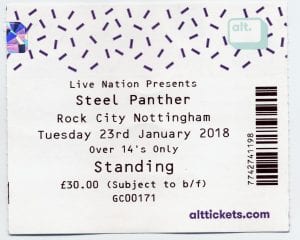 Took a train from Bostonia at 13.50 & arrived in Nottingham 15.23. Was wondering how the station would look after the recent fire there. Couldn't really see any damage tbh. I surmise they did a quick clean up job. Straight to my hotel. Dropped off bag then out to get food. Decided to go to The Gooseberry Bush as thought it would be quieter than The Roebuck. Had a nice meal & a pint, then off back to hotel to relax before tonights gig. Once at Rock City, it's the usual drill ; make myself know to security, explain I've prearranged to have a seat/stool & in we go. Probably got in about 12mins before main doors. Security chap walked me upstairs, no one was at the bar (back of which is where the stools/seats are stored), so he went to storage place & all he could find was a very small seat. He even said to me " I don't think this will be much use as you won't be able to see over the barrier !" He then went off to try find a better stool/chair….but never came back ! To give an idea of how useless this chair was , height wise,i took a photo at eye level whilst sat down :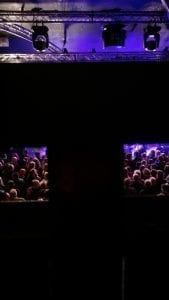 Yup, what a load of rubbish ! Venue soon filled up. Later, another disabled person turns up(with a different security chap) & again he has a useless seat like myself. I say to security number 2 " Can you find some better seats/stools than these please? Usually it's high backed seats or stools that we have".
" Yes, i'll go find some for you both". Again, he didn't come back ! Honestly, i just don't get it ! Surely they won't have thrown away all the seats/stools they previously used ??!? (Tomorrow I'm gonna phone RC & speak to a manager & let him explain what went wrong)
So to the show…Tonight was the first time i've seen "Wayward Sons".This is Toby Jepsons latest band.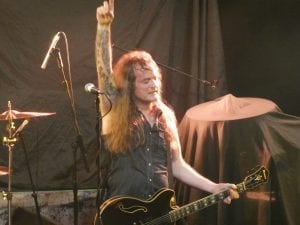 Back in the '80s, i saw quite a few shows by "Little Angels". I might even have seen their first gig in London, when they opened for Tesla @ the Marquee. Tonight, at rock city, Wayward Sons set is rather short. Lasting about 30 minutes,they crammed in about 7 songs. Toby also announced that they would be playing Download Festival this year. (He's know "Coppo" for years 😉 ). I'm pretty sure that tonight, even if most of the audience don't know much about Tobys previous bands (or indeed this one) they picked up a few new supporters tonight.
Next it was "Inglorious". Don't think i've seen them before….& couldn't see much tonight due to the rubbish chair!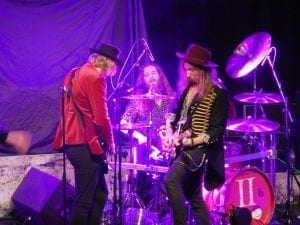 Both bands did a decent job of warming up the crowd, but obviously, everyone was waiting for the headliners ; Steel Panther 😉 Oh yeah, when SP announced their tour for the UK, there were only a few dates & nothing that was suitable for me. Luckily, they added another 3 dates which included Rock City, so i had to go to this show 🙂 (I've a mate who bought tix for Manchester & was a bit pissed off when they announced Rock City)
So, Steel Panther tonight…The lights went down & over the PA they played Van Halens "Everybody Wants Some".It fades out at the guitar solo, then another tape is played, which i assume is an updated version of "Into the Future". The narration sounds like a typically British public service announcement lol.
Stixx is the first on stage & then the rest of the guys amble onto the stage & kick off with "Eyes Of A Panther".
After "Eyes.." we get a new song, "Going in the Backdoor". Whilst a Steel Panther show is full of innuendo, they do back it up being great musicians. They always entertain. Of course, there's also the self depreciation between the band members, where they often rip the piss out of each other. Tonight, i felt the chit chat between Satchel & Michael Starr just went on a little too long (especially as it was only 2 songs into the set!)
Next up it's the classic laugh of a song "Asian Hooker", closey followed by "Tomorrow Night"
They then have a little fun jamming "Living On A Prayer". They get some dude out of the audience to help sing it…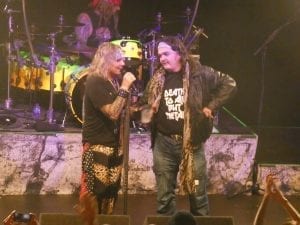 Afterwards Satchel says the dude should stage dive ! Thank fook he didn't do it as he woulda probably broke a few necks in the crowd (Assuming they wouldn't spread out & he'd fall flat on the main floor lol)
Before they play "Poontang Boomerang", a lass in the crowds asks to get up on stage. She tells them she's here with her mum…she then gets up onstage & says to Michael Starr "I wanna f**k you !". *smiles & laughter all around*.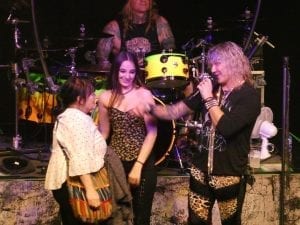 The lass then says her twin sister is in the crowd..yup, you guessed it, she got onto the stage. Satchel made some joke about a 3-way or something 😉 After the song finished, Satchel did a guitar solo & played various riffs from other bands songs. These included; "Breaking The Law/ Rock You Like A Hurricane/ The Trooper/ Enter Sandman/ Paranoid/ Iron Man ". Once again, he showed he can really play the guitar.
Next song was "That's When You Came In". Apparently there was a guy in the crowd who sang for "Surreal Panther". They invited him to get up & sing the song. A nice touch. We're getting close to the end of the main set now… Keyboards brought onto the stage which means they're gonna do "Weenie Ride".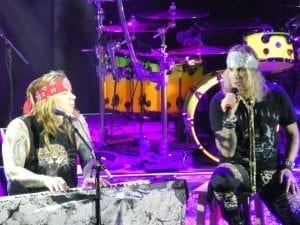 During "17 Girls In A Row" the stage is totally filled with girls from in the crowd. It was nice to see the security were helping them over the barrier & up onto the stage. (Oh something i forgot to say about RC security, i think they might have fired a bunch of them after there was some real bad behaviour by them recently. Their job is to look after people, not batter them. I think recently Rock Citys reputation has been let down due to some of the "old" security. Pleased to see they've done something about it, finally 😉 )
The main set finishes with "Death to All but Metal". A hilarious classic 🙂
Back for the encore, they get the crowd singing along to "Community Property". It's a great sight to see & hear. This is what Rock city is all about. The crowd coming together (no innuendo there, lol) singing their hearts out to what they love.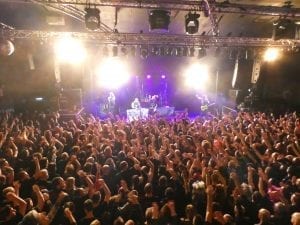 The night finishes with "Party All Day (Fuck All Night)".
All in all, an entertaining night out. Only thing that spoiled it for me was the crappy new seats 😉 I got back to my hotel in about 5mins. Was ready for bed as towards the end of the gig i was getting a bit tired.