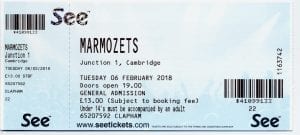 I've been to The Junction a few times over the years, but was unsure if there were any raised viewing platforms or not. I know that when i saw Voice Of The Beehive there in '91 there was something higher at the back as i filmed it, but nowadays i don't know. So i went not having a clue what to expect!
Obviously in the past i drove there, but now i have to take the train.The journey seemed to take so damn long Boston>Grantham/CHANGE/Grantham>Ely /CHANGE> Ely>Cambridge. Took around 3 hours, but seemed longer). When i arrived in Cambridge i went straight to my hotel, which was very close to the station. For an Accor hotel, it seemed a strange set up for checking in. It looked like a bar with no check in desk! I had a nice room, which was at the end of corridor (so wouldn't hear people walking to/from the lifts). Even though the hotel was virtually next to the train station, couldn't hear the trains.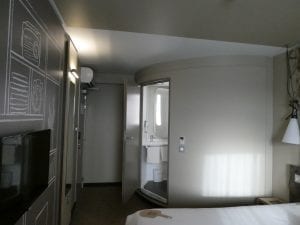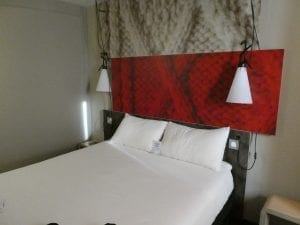 As i'm going to see Saxon at the Corn Exchange on 24th, i thought i'd walk the route from hotel to Corn Exchange so i know exactly where to go (again, it's totally different to driving!). The online maps said walking time would be 23 minutes, i did it in 17mins 😉 Along the way i passed a Wetherspoons pub "The Regal" (took 15 mins), which i visited on my way back 🙂
After grub at The Regal, i walked back to the Junction. There was just one solitary chap queuing. I had a quick chat with him & made sure he remembered me. After the experience in Nottingham where that silly bitch thought i was jumping the queue, i thought it might be wise to mention it to said chap, so he wouldn't think i'm jumping the queue when i come back 😉 So i walked back to the hotel & relaxed for a while.
Later when i got back to The Junction, there was only a small queue, which surprised me. When doors opened i explained i'd arranged to have a stool/seat.
What they gave me was pretty strange. Hard to describe, but nearest thing i can equate it to would be an upside down skittle ! Yes, it wasn't much cop lol
This stool was placed on the periphery of the venue & of course, someone stood directly in front of me, so view of the stage was pretty rubbish. Wasn't impressed by the support act. Just waiting for Marmozets to hit the stage. Won't say much about this one. They played a decent set including the older classics & a few more from the latest album (It was the same set list on all 4 shows i saw). I just wish i could have SEEN more…this venue is no good for people with disabilities.
After the gig was over, i hung around for a while as wanted to try get the band sign some photos from a previous gig. Whilst waiting, a couple of kids commented on the hoody i was wearing (PVRIS) had a short chat with them & i think due to that, i missed seeing most of the band as they weren't out for very long ! However, i did still manage to get a quick photo with Josh before i went back to hotel. (Thanks to the chap that took the photo)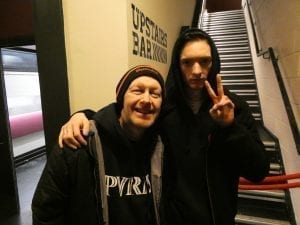 The following day, i had a scrummy breakfast before travelling down to London to see The Marmozets again…