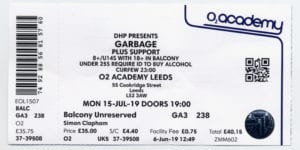 After the recent problems with trains, I decided to take an earlier departure from Boston. Left at 09.42 (1 min late)
Arrived Grantham, where I needed to change trains. Fortunately, the train going from Grantham was slightly delayed, so managed the change over.(There was originally a 10 min change). Upon arrival in Leeds, as I'd not been there for a while, I dropped off my bag at Clayton Hotel. (Couldn't checkin till 2pm). I then walked to the venue & timed how long the walk was 😉 I was surprised to see a guy putting out barriers so early. There was also some work going on at the venue; pretty much all of the front was enclosed by scaffolding etc. Had a short chat to the guy, to check where I need to  queue up. Once that was sorted, I went to get food 🙂 The Cuthbert Brodrick was the closest to the venue. After the grub, I made my way back to the hotel.
Forgot to say, somewhere on Neville Street, there were a group of protesters. The road was closed off to traffic & there was a high police presence. Once back at hotel, I could now check in. Decided to stay there & relax 😉
When I got back to the venue, there was still only a small queue. Someone said "Hello Simon". It was Jonathan. Had a short chat, then he went back in the queue.
Getting in the venue was quite funny. Security had wands. I took my camera out of my pocket, then was wanded again. It beeped. I had a torch in my pocket. Wanded again, it beeped. Wanded again, it beeped. I had a small packet of mints in my pocket!
Wanded again! Finally I could go in ! I was took up to the balcony, couldn't have expected it, but the front was reserved for disabled guests! I chose to go on left side & the lass said "Why don't you go centre?" That was because there's glass there on front row 😉 The Garbage set was pretty much the same as normal, opening with "Control", followed by "#1 Crush" & the always present "Stupid Girl". Just 3 songs in & the crowd is VERY LOUD ! Shirley says "Whoah ! Leeds this is so crazy ! Thank you so much." She that talks about the last time they were here. Gestures to Steve & said they were talking backstage about the last time they we here was '95 or '96 ? Thanks to Radio 1, I can confirm it was in 1996. There are multiple bootleg versions of the gig at Leeds Metropolitan University from '96.
Here's a couple of scans of the boot CDs :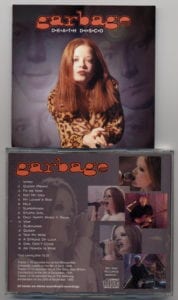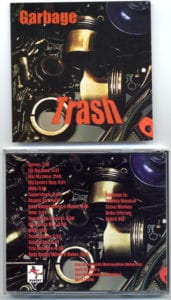 They then play "Temptation Waits"
After that, we get the funky "Wicked Ways". Then the more serious "No Horses". Followed by "Dumb".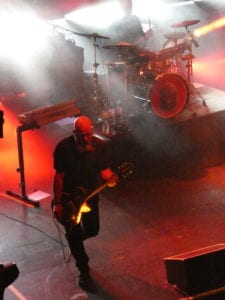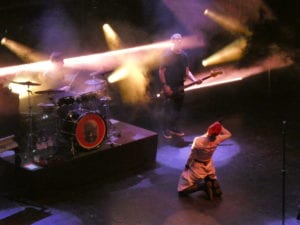 Whilst Shirley is having a problem with her in-ears, she takes the piss out of the guy trying to put them back in. She then has a little whiskey (Here's hoping that this is not the start of messing thing up 😉 )
They then play "Special". For those that are observant,towards the end,Shirley adds a few lines from The Pretenders song "Kid".
Next up it's "Blood For Poppies"(oof) followed by "On Fire".
During "Empty", Shirley REALLY sings it out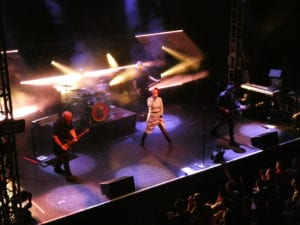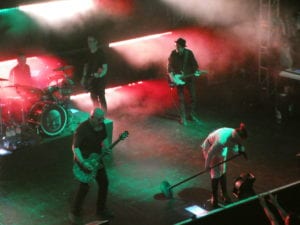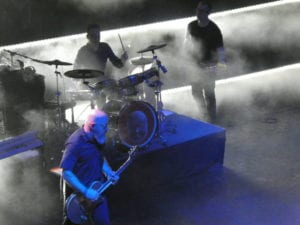 Next we get an old clasic,"Vow". Next up is "Bleed Like Me". Must confess, it's not one  of my favourite G songs.
Thankfully, it's followed by an oldie but goodie "(I Think I'm) Paranoid" 🙂
Seems like we're getting towards the end of the show now & they play a song that is timeless to me, "Push It".
It gets the crowd up & jumping
They the play the early song "Only Happy When It Rains". Looking down on the crowd, everybody seems to be going for it!
We're then brought back to (the sad) reality of "Even Though Our Love Is Doomed". I can certainly relate to this one 😉
They then walk off stage, during which, Duke gives a little wave to the balcony. But hey, don't be sad & gloomy, there's more to come !! What better song to finish the night with than "When I Grow Up"
So that's it. Thought it was a great gig. Now I've got the 15minute walk, out in the cold, to my hotel. Btw, I'm not into Garbage as much as I used to be & was thinking "If this gig goes tits up, I doubt I'll go see them again". This gig semi-restored my faith in them 😉