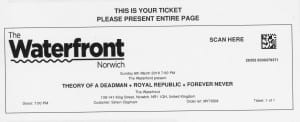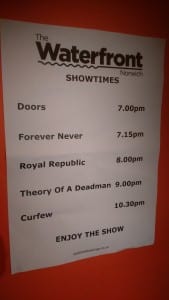 When it was announced that Royal Republic would open for TOAD, i was a bit pissed off as i couldn't make any of the dates. However, they added a date in Norwich, on a Sunday, so that was perfect for me! I think i've not seen the Royals since 2012, so well overdue. First band up tonight are the typical Essex lads Forever Never. I've seen them before, maybe in the same venue? opening for someone. They're all about having "Fun" (like on his t-shirt 😉 ) They're decent enough, it's just that their top song is a cover of John Farnams "The Voice". It's a great version & always gets crowd interaction, but after that i feel they cannot top it. Either way, they're a good support act, no denying it.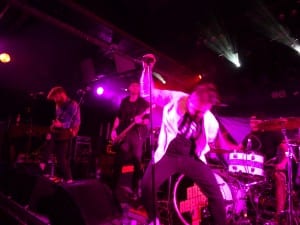 Next, as far as i'm concerned, it's tonights headline act ; Royal Republic ! It's gonna be a short set, of mainly new songs, but i know i'll love it 🙂 They start with " When i See You Dance With Another" & then pretty much straight into " Walk". Fantastic full energy stuff as always. During " Make Love Not War ", Adam has a laugh with someone in the crowd, who is now named "Bob". He has to look into his eyes as he sings the lyrics with heartfelt emotion 😉
Before "Baby" we hear the story of how Jonas has had surgery on his knee. Respect to you for carrying on with the tour dude!
After "Kung Foo Lovin", they finish with the old classic " Full Steam Spacemachine". Damn did that 30min set go quickly !
Next up it's Theory Of a Deadman. I've seen them open for a couple of bands in the past. Must confess, i wonder if i'll be able to stay for all their set 😉 All i can say is they were good at what they do, but none of it is really groundbreaking stuff for me. Funniest thing during their set was some woman kept shouting at Tyler. Dunno if she was drunk or just in looove 😉 Overall, a good night out & the 2 hour drive was worth it 🙂