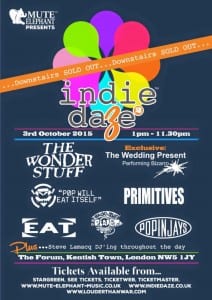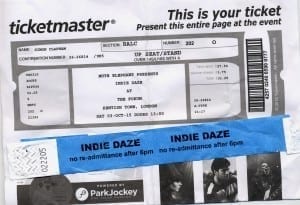 I was slow getting a ticket for this one so ended up in the balcony.I've never been in balcony before at The forum, so was interested how it would be. Knowing it was unreserved seating, i made my way there early-ish, about 45mins before doors opened. Guess what? I was the first person there! hahaha. Well, i'd get the seat i wanted 🙂
For the money, this was a great line up. I've seen 3 acts before & the others are all "new" to me. First up, its The "Popinjays". A guy, a girl, a guitar & prerecorded tracks. It was ok but didn't really interest me much tbh. Next was "Back To the Planet". Again, i knew nothing about them. They were a LOT of fun. Really got a groove going & i'll try check em out more. I'm actually annoyed with myself that i didn't video anything 🙁
Next it was "Eat". Hadn't heard anything by them etc but i was aware that Malc Treece (ex Wonder Stuff)  was a band member, so that peaked my interest. A nice set but the sound wasn't fantastic. The vocals seemed a bit too low in the mix.
Next it's The Primitives. I've only previously seen them one time before, back in the old days, at Rock City 1988…where they were supported by Goodbye Mr Mackenzie (Hello my Garbage friends 😉 ). Todays showing was as if the clock had stood still. Tracey was still the same diminutive lady from years back. Dancing around most of the time,pulling shapes & playing the tamborine as well. I saw online that someone thought she didn't seem too happy though, due to lack of smiles. Whatever, it seemed fine to me 🙂
PWEI were bloody great. First song in & i really wished i was downstairs amongst it jumping around with every one else. They really brought the party to the Forum tonight. Best band of the day for me so far.
So The Wedding Present ? Strangely, for whatever reason, our paths didn't cross "back in the day" ! So this is all totally new to me. They were also going to play all of their "classic album" "Bizarro"…so even a classic was new to me haha. They were ok. A few moments really rocked, where i wasn't expecting it tbh. I absolutely LOVED the Bass sound 😉
Finally, the Wonder Stuff. I've seen them many times over the years & my journey started where they opened for (& blew off stage) Zodiac Mindwarp back in 1988. I've never seen a bad show from them (even when there were internal tensions within the band). I fucking love this band ! If ever there was a statement of intent said, that would sum up a gig,then the opening words of Miles said it all about tonight " I'm fucking well up for this ! ". Starting with "Red Berry Joy Town", then straight into "On The Ropes", it was hit after hit…ok, they might not technically all be "chart hits" but in my heart they are….& i'm sure it's just the same for many others in the crowd.
Miles really seems to be in a very good place nowadays. He's one very happy geezer. As ever, i loved the little stories about a couple of songs.
"Friendly Company" was good if you're a foodie, but, i loved how he dropped Erica in it by saying she didn't like "Cartoon Boyfriend" ! *queue the boos* .Apparently, when she auditioned for the band, she "Didn't bother to learn it"
as she didn't think much too it! She likes it now though & Miles "Finally has a member of The Wonder Stuff who will answer me back!"
We got a brand new song which will be on the next album released next year, "Days Of the Feast" & it sounded great.The last 6 or so songs were absolute belters from the early catalogue. Finishing with the irrepressible " Ten Trenches Deep", what a fucking great show that was !