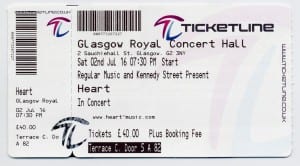 My train journey ran smoothly & after i'd checked out what was happening next day (there was gonna be a train strike) i soon checked into my hotel. Then arranged to meet my mate Gebs at a drinking establishment 😉 Had to put it off for a while though as my guts were doing summer-salts. Eventually, we met up in a different pub. I got introduced to a bunch of Gebs mates who are hard core Rush fans. It turned out i'm a bit of a legend among them seeing as i filmed Rush in Sheffield way back in '92 😉 I'll take that 🙂 Had a laugh with a couple of lasses who plonked themselves down at our table. Somehow the subject of age came up & one of them guessed my age at 28 ! I guess there's gotta be positives to losing the hair due to the chemo etc 😉 Eventually we left for the venue, which was pretty much across the road ! I realised that Gebs had had a few more beers than i thought when he was walking/wobbling 😉 Once inside, it was exactly as i'd thought : a nice old school venue & my seat was PERFECT. Front row on the side, raised & couldn't have asked for more. I got chatting to a couple of lasses to my right. They were a good laugh. When i told them i'd already seen the show in Manchester, they wanted to know which songs they'd played. They couldn't believe it when i told them that they didn't play " Alone ". Luckily, the band have been changing the set list around a bit though 😉
FM were quality as always. Don't think i really need to say anymore than that !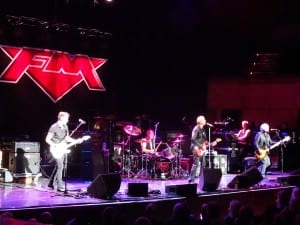 Heart changed the set around a bit & started with " Wild Child " (A cover of a "Romeos Daughter" song). I've always loved that song, especially the original version by R.D. Next up it's " Magic Man ".
We also had added extra of the classic "Bebe Le Strange " early in the set list. This was closely followed by " Sand ". I funny moment before they started " Sand " was when someone in the crowd shouted something to Ann. Don't think she could make out what was said, but, she commented " People who are not patient, don't get desserts " (So i'm guessing said person wanted a particular song to be played )
After the classic '80s hit " These Dreams ", the girls near me got the song they wanted, " Alone " 😉 The rest of the setlist was the same as in Manchester; lots of classics & finishing with the 3 Led Zeppelin songs. This was a great show. Changing set list & adding songs made for a better night. My seat was in a perfect position to take everything in & capture great moments. Bloody loved this trip. Now hope we wont have to wait years again for their return 😉