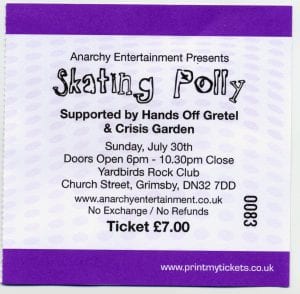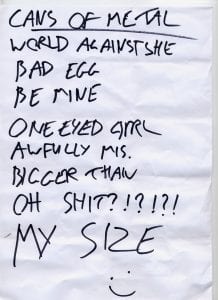 With Grimsby being only just over an hour away, i was frustrated that i couldn't get there due to not being able to drive anymore. Fortunately, a good friend i've known for years, offered to drive there. Thanks Andy G ! I'd prearranged with Scott to have 2 tickets held on the door & it worked out fine. As ever, cheers Scott 🙂
We got there around the time that doors opened. It was obviously kinda quiet inside. One advantage of that was we could get a couple of decent seats for a while.
First band on were "Crisis Garden". Never heard of them before tonight. Didn't take me long for a "Yay or Nay". Being brutally honest, there was nothing that stood out from them that peaked my interest. But good on them for getting up there & giving it a go.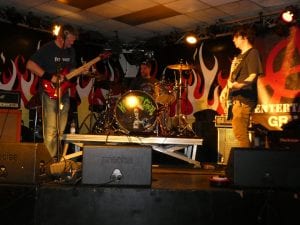 Next up, as far as we were concerned, it was the headliners ; Hands Off Gretel 🙂 By now the place had got a bit busier & i'm sure there were a couple of faces in the crowd that i recognised from previous HOG gigs. I saw an old guy with what looked like a monopod & at the top he had some kind of recording device 😉
The kicked off with " World Against She", closely followed by "Bad Egg". Tonight they had a stand in bassist since Joe recently quit HOG.* EDIT *: Bassists name is Becky Baldwin. I gotta say she pretty much nailed it tonight. Seems she's a Professional bassist who has played in various bands. She teaches. (Later Helen told me there's another temp bassist doing other gigs). Oh a funny moment was when the bassist was really rockin out, in the moment & accidentally whacked her microphone with the bass guitar. Dunno how many saw it, but she was cracking up afterwards 😉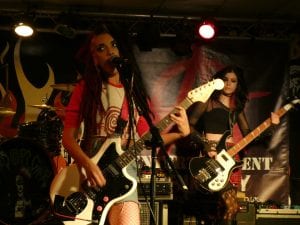 Before the next song, "Be Mine", Lauren had to tune up & she told Sean to talk to the crowd…for one second…well, see it here, he's a funny fooker 🙂
Next up they do "One Eyed Girl". I already consider this to be a classic in their set 😉 The crowd seem to be enjoying everything. The rest of the set flew by.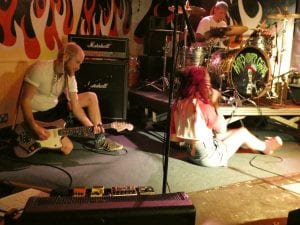 They finished with "My Size"
After HOGs set, the place seemed to almost seem empty. But i think a lot of peeps had gone out for beer/fag breaks. Before Skating Polly took to the stage, it did get busy-ish again. This was the first time i'd seen/heard them. All credit to them for making the journey over from the States. I also think they work well on some bill as HOG. Personally, i need to hear more studio recordings before i decide if i like em or not. We didn't stay till the end of their set as i was getting a bit tired & both myself & Andy thought we'd seen enough to get a good idea of what they were about. As previously said, we really went there just to see HOG…& anything else was a bonus 😉