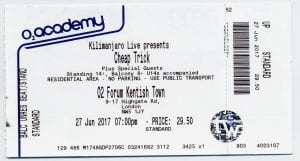 Got down London early afternoon. Visited the usual places which obviously included The Montague Pyke 😉 The weather was pretty rubbish with intermittent  rain.
Around 5.30 i met Rob & we went for a drink in The College Arms (which is close to where he's working at the mo). Had a catch up & then he was on his way home. As Rob didn't want the comp ticket for the gig, i let Neil have it. Got to The Forum about 30mins before doors, sorted out the tix quickly. We had the option of going downstairs of upstairs disabled area. Chose upstairs as better view up there ( maybe not the best choice tonight ? 😉 ). Managed front row centre, so perfect position.
Got chatting with a bloke from Northampton. Couldn't believe he'd never visited the Forum before (or "Town & Country Club" as it used to be called). We exchanged stories about how hard it can be getting to gigs if you cannot drive. He was a decent geezer.
The opening act tonight were called "Stone Broken". Don't think i'd seen them before. Seem to be a youngish band &I liked that the vocalist did SING. There's so many young generic acts around now that do the shouty vocals & i find that boring. They were entertaing enough,but, obviously i was here for Cheap Trick.
The last time i went to a Cheap Trick headline show was back in 2010. But that same day, Skunk Anansie were doing a production rehearsal at LH2 studios. Obviously, Skunk took priority ! By the time Skunk had finished, i thought it would still be cool to catch what i could of Cheap Trick at Shepherds Bush Empire. As expected, the place was rammed & i couldn't see a thing ! So finally getting this chance to see a headline show in 2017 was a nice prospect.
Tonight was my first time trying out my new camera. I really should have looked at the instructions better as i wasn't well enough prepared. Some buttons on the Panasonic are in different places to my previous Sony camera & like a total idiot, i kept swithing the thing off when i wanted to make video clips! So what i managed often had a few seconds missing at the start !
Whilst it was nice to finally see a Cheap Trick headline show, i was a little disapointed with the setlist. For myself, there were too many of the mordern songs & not enough of the older classics. Also thought they didn't need to play so many covers ! But that being said, it was a decent night as the show clocked in around the 2 hour mark.
The highlights for me were towards the end, when the classics were played 😉 ( Oh yeah, going back to the chap i was talking with earlier, he even left early as wasn't so impressed with the new stuff!)
Afterwards, i said my goodbyes to my mate & went out into the rain. I was bloody knackered after this long day. By chance, at the tube staion, i bumped into my old mate Dave Ling. We had a quick natter & i updated him about my general health (or lack of it lol). By the time i got back to Stratford i was totally shattered. Think i managed about a couple hours sleep & then work up with a massive headache which lasted for over an hour. Tbh i was unsure if it was a result of being knackered/dehydrated of if it was to do with the brain tumors. It actually scarred me. Didn't get chance to say goodbye to Rob as he was out to work early (i heard the door closing). Once Kristina was up, we had a chat about the gig etc & i said i was unsure if i'm fit enough for the next proposed gig. Left Hotel Rob around 10am for my train home. Oh what fun was ahead of me !
Back tracking a bit, i'd booked my return train some time back. Then i recieved an appointment from Oncologist on same day i was returning. So i had to get another ticket so could be back in time to keep appointment. Guess what? She only cancelled the appointment, so i wasted money on the earlier, more expensive rail ticket!
So, back to the (no) fun & games… My train was due to leave KingsX at 12.08. All seemed fine, got on it set to go & they cancelled the train. The next one was at 12.35, so got on that one. Sat on new train ready to go, i checked the train app on phone to see what time my connection would be in Grantham. Would you believe, it showed this one i'm now on was showing cancelled ! Sure enough, a few minutes later the announcement was made train is cancelled ! Eventally got on the 13.08 train & was on our way. Only 7mins in Grantham to change trains. Managed it ok but then there was another announcement saying theres a problem with the line about 3 miles from Boston ! Honestly, what more could go wrong with this trip from hell ?!? As luck would have it, they got the track mostly sorted so we could carry on slowly. Think it arrived about 5-10mins later than should have been.
When i finally got home i was so damn knackered with what i had to contend with this trip i seriously thought about ditching ALL the gigs i've got booked up already !