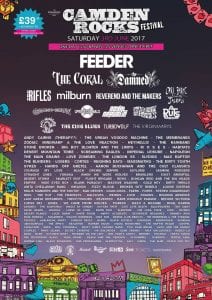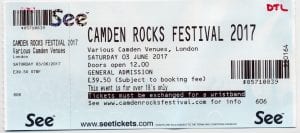 As always, we got to Camden early. Once we'd got the tix exchanged for wristbands, we hung in Worlds End pub for a while. Whilst there, various friends turned up. Quite a shock to see Benoit as he pretty much never visits the UK ! I'm guessing it had something to do with meeting Kitti 😉 The ever present Jim also joined us as did lovely Eva. The rest of the "VMs family" were in the other part of the bar, but we gradually said our hellos. Couldn't help goofing around a little 😉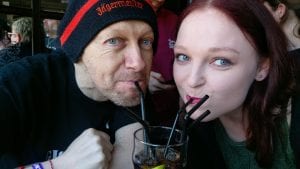 There were a few bands i was looking forward to,but, generally i think the lineup for the day wasn't that great. Obviously VMs headlining, Ally solo, Royal Republic, Hands Off Gretel were my priorities…anything else would be a bonus. Whilst sat in Worlds End, watching everyone go by, someone noticed a lass outside wearing bright purple/pink glitzy trousers. Soon realised it was Lauren from H.O.G. Great idea for the band to hang around there giving out flyers & posing for photos & drumming up more people for their set (Not that the extra bodies were really needed. I mean, they're kicking up a storm & have already got a great following….but i suppose it was a good idea with a personal touch to turn peeps onto H.O.G. ). As the window was open, i had a quick chat with Helen (Laurens mum) as hadn't see her for awhile.
Can't quite remember what we did after the Worlds End pub ! But the first band i saw was Hands Off Gretel in the Underworld (probably saw last minutes of the act before them). The place was rammed, as expected it would be. It was interesting to see the varied age of the audience. H.O.G. obviously appeal to all ages, so that has to be a good thing. Lauren thanked the crowd for choosing their gig instead of any of the others. As ever, they played a great gig. At the end, the crowd really wanted more & kept shouting "one more song,one more song"! Unfortunately, due to time restraints, it wasn't possible. Managed a couple of videos.
Next we went to the Crowndale to catch a bit of The Kut. Rob spotted a great place in a mini balcony, which was perfect to see it all. I'd not previously heard anything by them before, but i enjoyed what i saw.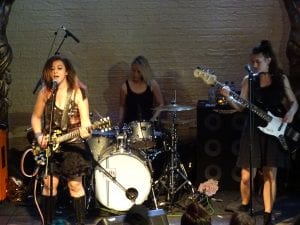 We then made our way to Koko to see the amazing Royal Republic. We caught the tail end of "Moses" set. (Didn't really do anything for me lol)
Soon enough, it was time for the Royals. As ever, they were full of bombast & were bloody great ! They're such a FUN band to watch !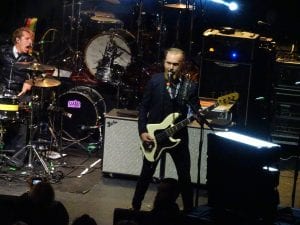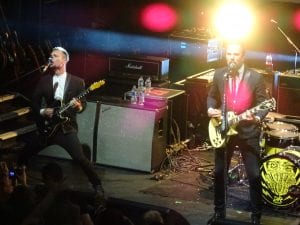 As ever, they finish with "Full Steam Spacemachine"
We started making our way back to the market. Wandered around looking for food. To start off, i wanted some, but then i got a whiff of something & it totally put me off ! Rob had some though.
Went to the Kraken stage which was billed as an "amphitheatre" to see Ally acoustic. All the VMs peeps were already there. It was quite nice sitting on the (false) grass steps. The only downside was that the sun was shining, behind Ally, towards us all. Must confess, when Ally spotted a sound problem & the local(?) guy didn't agree with his opinion, it brought a smile to my face. (I think it was sorted by replacing a cable or something?). As always, Allys performance was pure & from his soul. I'm sure everyone enjoyed his show.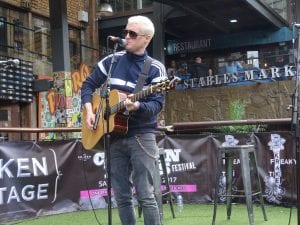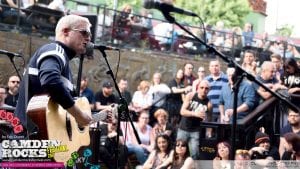 ( I pinched Erics photo)
Me? Take sneeky photos? 😉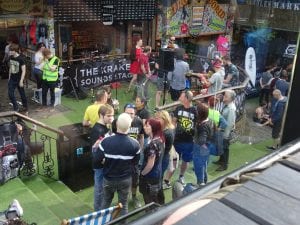 Dunno where the time went today, but soon enough we headed to the Underworld in preparation for the maid band of the day, Virginmarys. But before them, we ended up watching quite a bit of " Ruts DC". They were a laugh. (In a good way). Was obvious there were some diehard fans in the crowd. Was surprised i knew a few of their songs (mighta been covers?)
So, to the main reason for coming down to Camden Rocks : The Virginmarys !
The place was soon heaving. We had a nice view from above to the left. They kick off with a ferocious version of "Portrait Of Red". It's really cool to see the crowd dancing away down there. Smiles all around 🙂 Without taking a breath, they then play "Taking The Blame/ Halo in Her Silhouette".
Next it's one of my faves off the album "Divides", namely "I Wanna Take You Home". I always think of someone when they play this song 😉 We're only 5 or 6 songs into the set & i notice it's already getting quite rough in the pits. As much as i wish i could be down there, it's times like this i appreciate NOT being down there !
The (relatively) new song "Sweet Loretta" comes over great. The VMs family already know this so they're singing along with passion.
Then we get the old classics "Free to Do Whatever They Say" & "Running for My Life". It's getting noticeably more heated in the pits & i can see there's 2 or 3 idiots who just seem to be there to push people around. During the super new song "Sitting Ducks" it's very cool to see Ross stomping around the stage but conversely, i notice the audience is now getting quite violent.
Hell, i even switch off my camera as i'm concerned some of my friends are taking a battering down there.
Next we get "Off To Another Land" & "Into Dust". I find myself looking more at the audience than the band. I've never seen a VMs show where a small minority in the crowd seem to spoil it for the majority. I very much doubt those dickheads even knew a single VMs song. They'd probably rolled in from the bars & just wanted to thrash about. Some people seem to have no respect for others who are there to have a good time. During "For You My Love" it really kicked off in there. I could see at least one of my friends was visibly distressed about what was happening. I ended up filming the guy who was seemingly confronting her…
Got to say, this was the least enjoyable VMs show i've witnessed. Not down to the band, but due to some dickheads in the crowd.
"Walk In My Shoes" & "Motherless Land" seemed to go by without the previous altercations in the crowd. The last song, "Just A Ride" flew by. A bunch of us hung around for a while afterwards. Someone took this great photo of us with Ally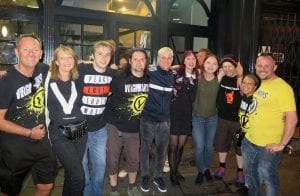 Eventually we all spilled out onto the road & started walking in the direction of Koko. My mate Rob had gone there to see Feeder, so we arranged to meet at the pub opposite. I think Feeder ran over time a little, but whatever, i'd had enough for the night. So once Rob was out, we were on our way back to Stratford. I got a txt from a mate in Boston saying there had been some sort of incident & he was asking if we were ok. (Thanks Andy G. ) On the tube back, we stopped for a few minutes at Mile End. The opposite line was also held. We were beginning to think the tube had been shut down. Eventually, we were on our way, but still wondering exactly what the incident was.