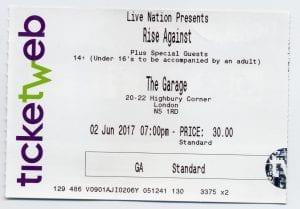 This was a last minute thing. When i go to Camden Rocks all dayer,i go down to Robs on the Friday so we can have an early start. Rob had an extra ticket for Rise Against & he offered it to me. I'm still unsure if i've seen them before or not (maybe at a festival or support act?) but thought it was worth a punt even if just to check out how they've refurbished The Garage. Rob also contacted The Garage about early entry & a seat for me. Most appreciated 😉
Before i set off from Boston, it was a glorious sunny day. Hell, i even wore my shorts, which is a rarity (sorry if i scarred anyone lol). As i got closer to London, the clouds got darker & could see what was gonna happen 😉 By time i got to Stratford, it was absolutely chucking it down. So much so, that i deliberately missed a couple of buses to keep out of it ! Eventually it slowed down a bit so grabbed a bus to Robs place. Kristina was there to greet me. We had a bit of a catch up & then i was on my way to Islington to meet Rob at "The Famous Cock" ! It was so warm that he was having his pint outside 🙂 After a while, we went across road to the Garage. Already a reasonable sized queue for this sold out gig. Rob had a word with security & everything was in place with regards to my seat & early entry. I've got to say, the main guy we dealt with was polite & did his job very well. As we had time to kill, we went next door to the "new" sister venue, "The General Store". It was rather quiet in there,but nice & relaxed. I noticed this on the table next to ours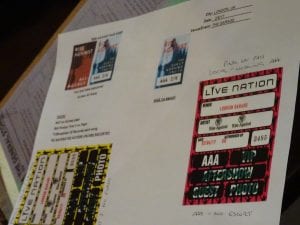 Soon it was time to get in the venue. It all ran smoothly. Only slight problem was where the security chap placed my chair. There's a few steps up to the raised area/bar. There's a handrail in the middle of the steps. He put chair behind said hand rail. I knew this wouldn't work very well 🙂 So i moved it to behind the mixing desk. Admittedly, if i was sat down, i wouldn't see a thing, but i planned to stand up for most of the show & the chair was a backup for when i got tired.
The venue soon filled out. I'd never seen the support act, "Milk Teeth" , before tonight. They were quite entertaining, but it was pretty obvious everyone was here for the headliners. This is the last song of their set.
So to the main act ; Rise Against. As i previously said, i don't know much about them. But i realise they usually play bigger venues than this one & it sold out very quickly. I guess it was part of promoting their new album " Wolves ". They certainly did rock tonight. There were a couple of songs i recognised, which surprised me !
The show was pretty much full on from the start & the only time for a breather was when the vocalist Tim McIlrath did 3 acoustic songs. He dedicated "Swing Life Away" to Chris Cornell, who recently passed away. He also dedicated "People Live Here" to the people of Manchester who had recently suffered from the attrocity of a terrorist.
Tonight the crowd were great. Often singing louder than the band. It was impressive.
During the last song, the crowd kept security busy as quite a few crowd surfed to the front.
Finally i'm pleased to say that the refurbishment of The Garage is generally quite good & there's a good chance i'd attend another show there. (Unlike The Borderline which i consider disabled unfriendly)