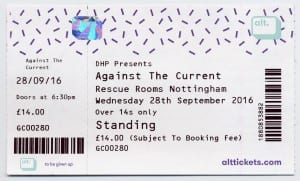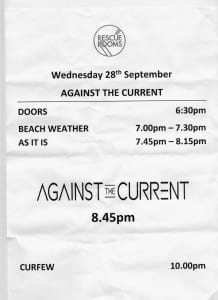 After the recent disappointment of having to miss Hands Of Grettel in London (Due to the puking from my meds) I was really looking forward to this one. I love a bit of good old " pop rock " 🙂
My train travel went fine & as i walked past Rescue Rooms it was already quite busy as the band were doing meet n greets later. I was soon checked into my hotel. Just had to stay there a while to get the energy levels back up (Once again, i'd been surprised that walking from train station into town took it out of me so much. I think i still expect too much…)
When i went back to venue, half the queue had gone.(M&Gs). After a while my mate Jason & his missus Kristy arrived. Was good to have a catch up. Once inside the venue, for the first time ever that i've known, they had the lighting desk up on the balcony. I asked if i was ok to be where i was & reply was "yeah, but we'll put out barrier later". I assumed that meant just around the lighting desk. Later it turned out the were sectioning off & effectively losing half the balcony for punters! They told me to move,but, after explaining i'd been waiting a long time & was under impression i'd be fine, the guy said "Ok stay there,but if security come up, you're on your own". So yep, i was now winging it 😉
Gotta admit, i couldn't get into "Beach Weather" or " As It is ". I just find these bands a little boring nowadays. One of the kids had nice hair though lol. Seriously, i think i was more on edge about security kicking me out, so couldn't really take them in (Even if i wanted too)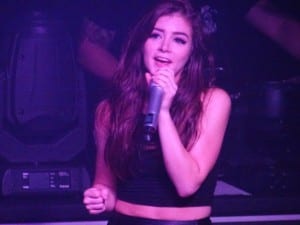 An intro & then Against The Current were on stage. It kinda threw me the way the stage was kind of empty & the guitarists were behind the speaker cabinets. (After later online investigation, i realised this is because officially there's 3 members of the band & the others are touring guys) Chrissy seemed pretty impressed that the show had sold out as it was their first time at this venue. She also explained that " Roo " (guitar/keys) was from Nottingham, after which the crowd chanted " One Of us " 😉
A couple more songs & then Chrissy starts talking about a cover song they did. Of course, everyone twigged on quickly 😉 I must admit, "My Chemical Romance" are one of those bands i just cannot get into. "Hate" is a strong word, but i'm not that far off ! ( Same goes for " Bullet For My Valentine" lol) But saying that, this song does work :
Next up, it's possibly my fave ATC song " Young & Relentless". Just brilliant pop rock 🙂 Then to bring things down a bit, we get a couple of acoustic versions of songs ; " Infinity " & " In Our Bones ". I'm pleased that they perform "Brighter" & "Wasteland" in the same order as on the album. They just work so well together.
This was a decent night out. I said my goodbyes to Jase & then wandered off to my hotel.
With Iron Maiden tickets going on sale at 9am the following morning, i decided i'd go queue early. Might as well seeing as i'm here. Didn't sleep too well & got up early. Was at venue just around 7am…& was the only person there haha. Eventually a few others arrived,but, it was no where as busy as i thought it would be. Got us decent tix.