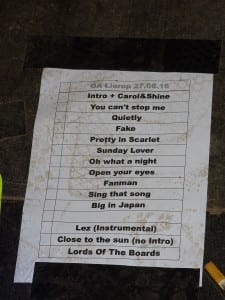 There's a bit of a back story to this show, which i feel i should share : As most people who know me will be aware, i've personally know GA since the early days, back when i saw their debut UK gig at the Borderline back in 1999 ( https://www.gigaddiction.co.uk/guano-apes-the-borderline-london-23-9-99/ ). After that gig, i "lived the dream" following the band around Europe & at times even travelling with them.
Well, i last saw them in Barcelona in 2014. Many of the old friends who i'd met over the years, also travelled to that show. A great day.
Jump forward to 2016 & the proverbial "shit hit the fan" & for a while i was totally out of action. Radio & chemo therapy does that to you.
With all the messages of support i was recieving, i confess, i was disapointed to not hear anything from my old mates in GA. I tried contacting them in case there had been something i'd done or said to have "upset" them. Eventually, via a mutual contact, i was told there's nothing wrong, most people are just very busy all the time. Ok, fair enough, at least i've not done anything bad.
Imagine my surprise when out of the blue i get an email from my old mate Henning saying : " I spoke to the band and we thought maybe we could do something good for you by inviting you to the show in Lierop incl. Travel etc. but I'm not sure If you would actually be able to travel? "
How fooking cool is that ? This was an invite i really had to TRY take up, despite me health being very up & down recently (As close to 3 days before the trip, i had flu type symptoms & it was doubtful if i'd make it or not – hence i didn't dare "announce" anything on my FB page).
Between myself & Henning, we arranged a schedule that suited me……08.00am return the day after??!! No way ! 😉
Come gig day, my train travel ran smoothly to Stansted airport ( 3 changes & nearly 4 hours travel) & i had plenty of extra time before my flight. Then after a while, i saw this :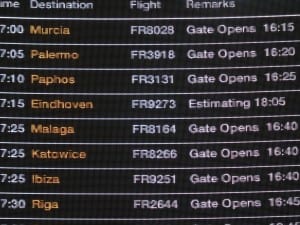 Of all the flights listed, mine was the only one delayed 🙁 Oh well, bang goes the chance of seeing Danko Jones before Guano Apes.
Fortunately, Stansted to Eindhoven is a relatively short flight. Once there, Benoit was awaiting for me. Henning couldn't have booked a better hotel for me ; directly at the airport ! Once we'd checked in, we were on the road to the festival. (The last message i'd sent to Henning in the morning, was about arranging to park the car in the artiste/guests area. He said to give him a ring when we're a few minutes from festival)
Once there, Henning greets us & tells security to open gate for the parking. He quickly wanders off to get our passes from Markus.
Man, it was so great to see Henning again ! Once backstage, we gradually see other members of the band. Stude is having some food which made me wanna bork ! (I have problems with certain food smells nowadays ! For example, i used to love KFC & nowadays i cannot eat it due to the smell! One of the side effects of my treatments i guess) Said hello to Markus & then I explain to Dennis whats been going on. Then he gives me the proper backstage tour. " Where do you want to watch the show from? " Me : " I'd prefer to be onstage as i get a bit tired nowadays ". Dennis : " Oh, do you want a chair as well? " Me : "Oh man that would be perfect, just in case ". The crew did this for me :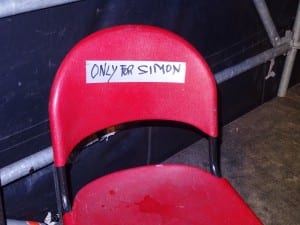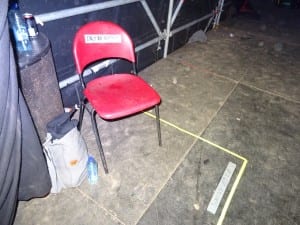 Dennis couldn't have been more helpful. He then showed me the "route" to get back to the other side of the stage (without walking over the actual stage). I then went out into the crowd to say hello to Pezi. She's been following the band since 2003 i think. Nice to see her again. Then Benoit turns up & i leave him in the capable hands of Pezi on the front row 😉 ( I think Pezi may have asked me if i was gonna stay, but, it wasn't advisable for me tbh…& anyway, i already had my own special place 😉 )
As well as bringing my camera, i'd also brought my digital audio recorder as i thought i'd make a not so sneaky recording of the whole show from onstage. As luck would have it, i saw Ingo (FOH engineer) a little before the show started. I thought " Nothing lost by trying..". Me : " Hey Ingo, don't suppose you could record tonights show to my digital recorder? ". He quickly looked at it & said "Yeah" 🙂 RESULT ! Later, when i was back on stage, he came by & told me he'd got a new battery as the one i had wasn't enough power. He's a good man is Ingo 🙂
Originally, i'd planned to take some photos from the pit. But when i was made aware photographers only had one song, i decided to just film a video clip instead 😉
After that, they quickly went into " You Can't Stop Me ", whilst i walked around to my position on the stage. Whenever i've been up on stages before, the sound is generally not as good as out front. Mainly, you just hear drums then other sounds are very small compared. However, i reckon this was the best onstage sound i've heard ! Don't get me wrong, it still wasn't perfect. But Studes bass sounded great & i could also hear Hennings guitar & even Sandra sounded ok (Sandras was probably the lowest in the mix). But i loved it 🙂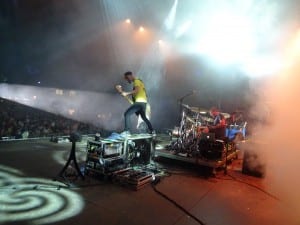 Next up it's " Quietly ". An absolute classic from the "modern era" of the Apes. Gotta be honest, i've never really liked the song "Fake". Whilst it *IS* better live than studio, i still don't find it all that great (sorry)
The next song again is a classic ; "Pretty In Scarlet". Just love that one 🙂 I also love the loose funky feel of "Sunday Lover". If this song performed live does not make you wanna shake your ass or dance, then i'd suggest you check your pulse ! (Sandra got a bit carried away towards the end & fell down during her spins. Though she pulled it off well, so i doubt many would have noticed 😉 )
I couldn't believe it, but, just before " Oh What A Night" some dickhead decided he'd try sit down in MY AREA on MY CHAIR !! Honestly, it's not like it wasn't marked out or anything! I gave him a bit more of my mind than what i recorded 😉
A young lad, Gijs, got lucky when Sandra spotted him on the front row & she went down to him! I bet all his birthdays & Christmases came at once !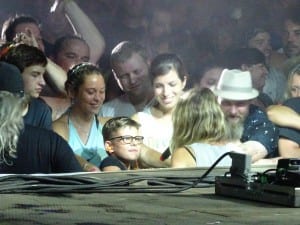 Next up it was the super classic of "Open Your Eyes". I will never ever get tired of hearing this song. It has the same vitality today as it had back in the day. Love it.
Next it's "Fanman". Probably my favourite "modern era" Apes song. I love the bass line in this one. Once again, it's funky & just grooves. I love the change of pace in this song, how it's up & down. So pleased they kept this on in the set list 🙂
"Sing That Song", whilst i like it, i can take it or leave it. At this point i'd much sooner hear something like "All I Wanna Do" 😉
The main set finishes with another classic,the Alphaville cover "Big In Japan"  Man, did that main set just fly by ! It was all pretty solid stuff for sure.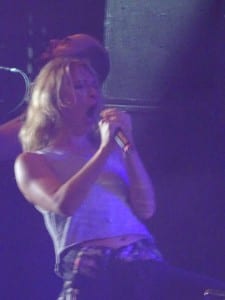 We then get the encore of the instrumental " Lez ". I actually couldn't remember if i'd seen them play this before & had to check when i got home! They did in fact play it in Barcelona last time i saw them ! Doh ! But that's the thing ; i LOVE it when the guys do these jams as you can tell everyone's into it ( Though my favourite will always be "Trompeter",due to the "swing" ;-)) This just rocks.
Then it's the final song of the night….what else could it be, other than "Lords Of The Boards" ? ! A stompingly good version, then the obligatory group photo was took…erm of only Stude & Sandra 😉
Soon afterwards, i was in the backstage are with a very sweaty Stude ! It was just pouring off him 🙂 We had some serious talks. He's not the only band member i really shocked when i explained the extent of my problems. But everyone was very positive (even though shocked) & just told me to fight it all. I do that, to the best of my abilities. As it's been ages, i decided i needed new photos with the band ! I managed to get a group photo (minus Sandra) with the guys.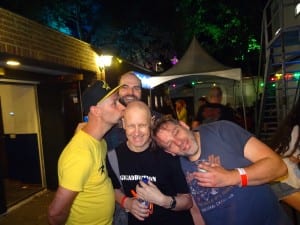 Then had individual ones as well.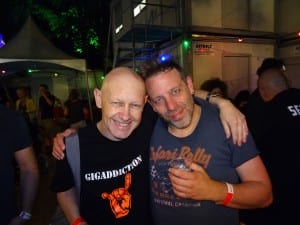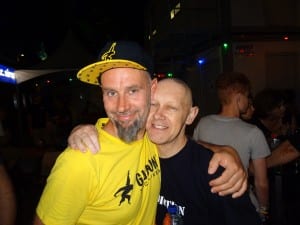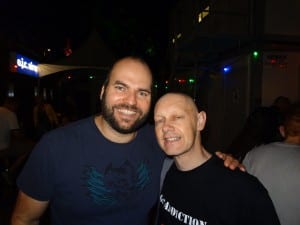 I asked Markus what was Sandra up to & he said soon she'll be presented with a painting someone has made for her. (It looked great actually & i wish i'd took a photo). So that would be my chance for the Sandra photo 😉
After Sandra had been presented with the painting, as she was walking in my direction, there seemed to be a moment of realisation for her when she recognized me! " Simon ! You made it ! " (I don't think she recognized me when i was on stage tbh). So it was big hugs & very nice chats. It was the first time i've been VERY close to breaking down (OK, there were tears from me. To the guys, i hid it all better i think). During our conversation, i learnt something new, which i hadn't expected. When GA posted on their FB page about me being a fan from the beginning & they linked to my "Borderline Story" on my www.gigaddiction.co.uk page, i was always under the impression it must have been Henning who'd posted that. Nope ! Sandra brought it up & said she posted it ! That kinda shocked me & made me love her even more! Cheers Sandra 🙂
As with most people, Sandra told me i must not give up & should keep fighting this cancerous stuff i'm dealing with. Sometimes, it's so much easier said than done though. We made a "deal" between us ; i won't give up if she will do something for me in the future ! I cannot say what though & i very much doubt it will happen (Sandra, if you read this, i won't hold you to it 😉 )

Eventually it was time to go back to our hotel, so off myself, Benoit & Henning went:-) Once there, Henning sorted out breakfast & we agreed to meet early next morning.
Oh that was hilarious ! The following morning, in the restaurant, the officious bitch said " I have no information about you being booked in for breakfast!" Well, we had a card entitling us to 2 breakfasts ! So i told her to check out her story as seemed to me someone hadn't done their job properly 😉 Of course, we were right 😉 Later Henning joined us & he also had a problem with this jobsworth woman : 10mins before breakfast "closed" she said "you need to be making your way out of here". Again, Henning taking no B.S. said " I'll just go round once more ! " Class 😉
After saying our goodbyes, Benoit & me went to Eindhoven to kill some time (Always remember to use the Sat Nav Beno ! More importantly, if using it, take notice of the directions instead of gassing to me all the time!)But whatever, thank you for doing the driving mate. It was appreciated.
My last thought of the weekend was going through customs at Eindhoven Airport. I couldn't believe it ; the bastards scanned my bags THREE times & once was with everything tipped out. Eventually, they decided the dodgy item was….my electric toothbrush ! Were they YTS trainees or something? Useless tossers ! 🙂
So, summing up, this was a magical experience for me all thanks to my old friends in Guano Apes. Without them, i wouldn't have got to see them live again, i'm sure. You'll never know how much i appreciated this kind gesture from you all. It's hard to put into words, but the easiest thing to say is THANK YOU 🙂