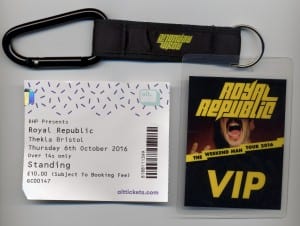 5-10-16 (Day before gig)
I put a lot of work into the planning/logistics of this show & the ones which followed. It was to be the first of 3 gigs in 3 days which involved a lot of travelling. As well as the gigs, it would give myself & Tess a few days together… I suggested we meet in London & stay at " Hotel Rob " the night before as train tickets would work out much cheaper this way instead of Me : Boston>Bristol OR Tess :Bournemouth> Bristol. After meeting up we were gonna visit Montague Pyke (why change tradition?) but it was rammed. Instead we made our way to Hotel Rob where we were greeted by Miss Grigorova 😉 After a while we left to meet Rob at a bar (surprised?) & then he took us to a place called " Flat Iron ". All i can say is OMFG those steaks were great ! Will most certainly visit there again soon, thanks Rob ! http://flatironsteak.co.uk/ ( WE went to the Shoreditch place first)
6-10-16 (gig day)
I deliberately booked a train to Bristol for around midday. But when you're up until 3am gassing & both Rob & Kristina leave early, it makes for a L-O-N-G day…Some of us coped better than others 😉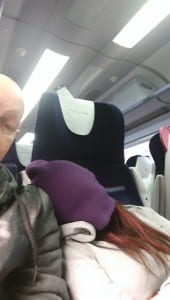 Once in Bristol i wanted to locate venue before checking into hotel,but, we were both too tired.So finding hotel was first priority. As we'd got VIP meet & greet tix, we also needed to be at venue for 5.30 onward.
That worked very well. All the guys in the band were very talkative & a good laugh. I learnt something from Per which surprised me & yet at the same time it didn't. He told me that for Download festival they were offered £500. That's for whole band & crew ! Of course, they said it wasn't enough to even cover their costs, to which Live Nation replied " There's plenty of other bands that will take that slot if you don't ! " So they took it. Nowadays, it seems it's really hard for bands to tour & make any money. They always have to put their own cash into things. The whole industry seems to be so rubbish , especially for "new" bands or ones that are trying to reintroduce themselves after being away (well, unless it's an old "big" band reforming). It just shows the dedication & passion that acts such as Royal Republic, Virginmarys etc have. I knew Adam was tall, but blimey i look so short next to him !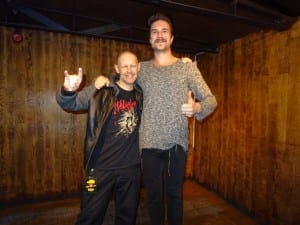 Dinosaur Pile-up were decent enough,but, i got the impression they so want to be Nirvana 😉 Whatever, the kids loved them…
So to the main course : Royal Republic ! After the intro, what a great, in the face, full on start : "When I See You Dance with Another" straight into "Walk!". Already the vibe is UP !
I just love the latest album " Weekend Man ". A strange little secret i have is that i play the first two songs when i have a shower in the morning ! Why? The fast beats make me lather up quickly & i'm soon out of the shower thus saving water 🙂 (Nothing kinky that i'm sure some of you were thinking !)
Next it's back to the album "Save The Nation" with an outing of " Make Love Not War ". We actually get about 4 from that album tonight as next up it's "Strangers Friends Lovers Strangers". Then it's back to basics, or rather, where it all started with the classic " Underwear " from the debut album "We Are The Royal". How many times have myself & friends quoted the line "..I can see your underwear from down here.." lol All done in the best possible taste 😉
Tonight Tess has free reign to take photos all through the show. There's no photo pit,the punters of first row are against the stage. As the venue is so small, we have the great idea of her leaving her camera bag tied to the balcony railing next to me. This way, she can come back up & take photos from this position also. Yo Tess! When are we gonna see those pics online ? 😉
Adam tried to explain about "Weekend Man" saying that "…The Devil on your shoulder is like a choir boy compared to the Weekend Man..". Make of that what you will 🙂
After that it's back to the STN album for "Everybody Wants to Be an Astronaut". I'm really enjoying this set. We're getting songs from all the albums & they all fit so well together. It's just a sign of a quality band. The biggest or nicest surprise is the inclusion of a "Nosebreakers" song. For those not aware, about 2 years ago, Royal Republic covered their own songs acoustically on the album " Royal Republic & The Nosebreakers". They did even tour it around Europe, but, unfortunately not in the UK 🙁 It was really cool to hear "Addictive" this way :
We're then took back to the album " Weekend Man " & the brilliant song "Kung Foo Lovin' ". Oh yes, you need to check out the latest merchandise where they have a "Kung Fu Lovin' Adam" on the design 🙂 Bloody love it & had to get one as the old school baseball shirt with this caricature just works so well
http://royalrepublic.merchcowboy.com/t-shirts/baseball-shirt-kung-fu-weiss-schwarz.html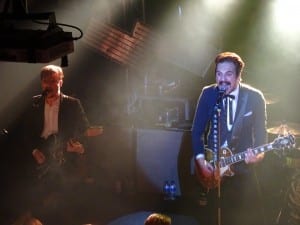 The main set is closed out with the killer song from debut album " Tommy Gun ".
Something i noticed about this place/crowd was that despite there being only a few hundred(?) in the place & it was sold out, the audience was loud. I mean real loud! Already i love this venue. It's nice n cosy with a cool balcony.
The first song of the encore was " Here I Come " (The first song of Weekend Man album…the one i shower too 😉 ) Full on rocking. The atmosphere was then took down a little with the moody " Follow The Sun ". Of course, there was really only one song to finish the show with & it was the amazing " Full Steam Spacemachine ". Just love it when Per hits those drums so hard.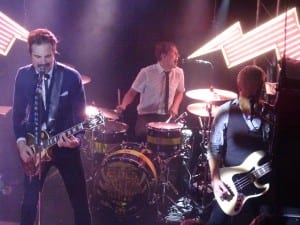 Afterwards i decided i'd have to get a t-shirt. Got the Kung-Fu Adam cariacture one. I think it's brilliant (though mine could be faulty as there are a few "black dots" in the print which are not on the one featured on their merch page 🙁 ) Still, it's supporting the band & helping them to carry on touring. Everyone should buy their merchandise as it really makes a difference (especially when they are partly self funding the tour). I wish i could have got to more shows but they clashed. A mate said Nottingham was great also.
Hopefully they won't be long before their return & the venue sizes will jump up next time. Hope for Rock City next time as they deserve it. Soon afterwards we were back at the hotel hoping to catch up on the sleep. Again, it didn't quite work out…I was really knackered & Tess was checking through the photos she'd took. Hey ho, got there eventually….& following morning was another early rising before the trip back to London 🙂