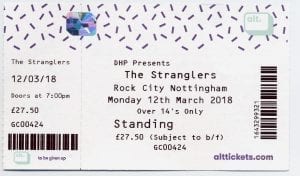 After Alice had left, i had a look in FOPP, then checked out where Brewdog was (was thinking of going there later). Almost went to see a film, but the price put me off 😉 So i spent most of the time in my hotel. Decided i needed some grub to see me through the night,so once again, i visited The Gooseberry Bush. Had a lovely Grilled Chicken Tennessee burger, washed down with Devils Backbone (I'm a creature of habit).By the time i finished that, the rain had just about stopped.Think i had about 40mins in hotel before i needed to go to Rock City. Once there, the queue had grown. As i went to the doors, some one else who had disabilities was just being let in. I told the security chap i needed a seat etc & he kind of questioned me. I saw Kev was there,so asked if i could have the same seat as last night 🙂 His reply was "If i can find it,it's yours.They keep moving it around the place!". Couple of minutes later, the seat was brought up to the balcony for me. Must have been in a good 10mins+ before main doors opened.
It's always interesting seeing people coming into the venue. Some head for the front row on the barrier & others head straight to the bar !
Whilst waiting for Therapy? to take to the stage, a chap to the right of me said " Well done on getting the seat! Think i could also do with one!" (or words to that effect). When i told him that i NEED to have the seat & briefly told him why, he was initially dumbfounded. We carried on chatting, talking about the gigs we'd been to etc. It was surprising that we'd both sometimes been at the same gig (but obviously then we didn't know each other) not only that, he doesn't live too far away from Bostonia! (I think it was Heckington?). I told him about my blog which listed every gig I've seen since 1980 & he seemed quite impressed with what i'd done; "That's amazing!". Later he said something like " You're an inspiration how you cope with things & are still getting to the gigs".I also said to him something like "It's not until you see the situation from the other side, that you can really understand how it totally affects your life. Having a sense of positivity really helps".Then he really shocked me ; " I've been thinking….(He's a headmaster at a school) Would you come to the school & give a talk about how your life has changed & how you cope with these health issues ?….I'm not putting you on the spot."
Whilst i can see where he's coming from, I've never been the sort of person that would, or rather COULD, do that type of thing. I said i'd think about it 😉 Enough of that, lets get to the reason why we're all here tonight : A great line up including Therapy? & The Stranglers 🙂
I've seen Therapy? a few times over the years. We even saw them in Amsterdam back in 2006 ! (Bet you remember that one Chris H? Something to do with beers 😉 ). The thing with Therapy? is you're always sure that it will be a great gig. When i saw they were opening for the Strangers, i just had to go.
Tonight they kick off with "Die Laughing". Andy dedicates it to Ken Dodd who recently passed away 🙂 Next, from the album "Infernal Love", they play "Stories". A couple of songs in & there's already a small group in the crowd bopping away.(Actually, i was surprised that more of the crowd didn't get into Therapy? tonight) I've always loved their version of "Isolation". I really think they made it there own. "Turn" is as great as always. Really wish i'd filmed a couple more songs tonight, but i was enjoying it too much to do that.
They play most of the "hits" from yesteryear; "Turn" , "Teethgrinder" , "Nowhere" , "Knives" all sound as fresh as the day they were released on albums. They finish their set with "Screamager" & "Potato Junkie". Btw,Just who was "James Joyce" ? 🙂
This Stranglers tour is being called "The Definitive Tour". After having a quick gander online to see what they've been playing, that title pretty much sums it up! I just know it's gonna be a great night.
Tonight's show starts with an intro which goes into "Curfew". What a great way to kick things off.(Pretty sure i can hear the chap next to me singing along 😉 )
Next up it's another classic Stranglers song "(Get a) Grip (On Yourself)".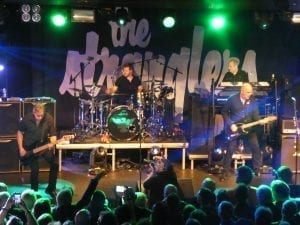 That's followed by "15 Steps" & "Bear Cage". If my memory serves me correctly, the track "Bear Cage" wasn't on any album & was just a single release. However, it was included on the reissue of "The Raven" CD. Talking of "The Raven", I remember buying that on vinyl way back in 1979 (?) & it had a special cover. There was a seemingly 3D image of The Raven on the front. Pretty sure I've still got that LP somewhere. Hmm, i wonder how limited that release was? Might be worth a bit nowadays 😉
Next, from the same album, it's "Nuclear Device (The Wizard of Aus)". Some great shouts/interaction from the crowd. Bloody fantastic !
When they play "Peaches" it takes me back to when i was a prepubescent kid. What a great music scene it was back in those days. Growing up with bands like The Stranglers, Sex Pistols, Siouxie & The Banshees, Blondie, Buzzcocks, B52s, The Jam, The Members, etc etc.
One of the most unexpected songs to hear tonight was "Don't Bring Harry". Again, i remember when i got "The Raven" album, i really didn't like that song !
Maybe it was because,at the time, i didn't know what it was about ? (Heroin). Either way, i just didn't get it.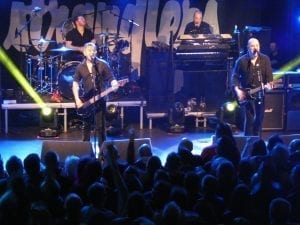 They then play 3 of my fave songs, namely "Golden Brown"(Their biggest hit single i think), "Always the Sun" & "Walk On By" (OK, it is a cover of a Dionne Warwick song, but i think they made it their own 😉 )
I love the angst(lyrics) & power(music) of "Something Better Change". Again, it's right up there with the Stranglers classic songs. After S.B.C. they played "Duchess"
Tonights show comprised of around 22 songs & lasted just shy of 2 hours in length. Talk about value for money 🙂
They finished with "No More Heroes"
After the show finished, i hung around on the balcony & noticed that Michael McKeegan (Therapy? Bassist) was looking down at the crowd leaving. I just felt i needed to go have a brief chat with him. Basically, i just said that i'd seen Therapy? quite a few times over the years & ive not seen a bad show by them. Also mentioned how he always seems to have a smile on his face when he's playing, so to me, he must be enjoying playing. After that quick chat, i said goodbye to the couple of lads i'd met earlier, then headed back to my hotel.
Damn, this has been such a great couple of days/gigs in Nottingham ! Feeling thoroughly contented with everything 🙂