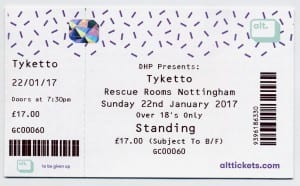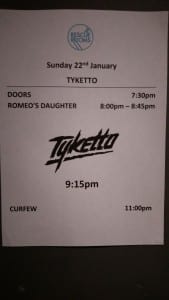 I took a later train than usual as it was a much quicker journey. Checked into "Rooomzz" hotel & had a little relaxation before going to the venue. After the total clusterfuck with entry at rock city a couple of days back, i phone Rescue Rooms to arrange everything again….& try make sure no one pinches my stool like what happened at the last gig here ! Whilst waiting to be sorted out, i bumped into Rob Maher. Hadn't seen him in ages. Was just about to have a chat with him & security said i could go in. Tonight it was a much smoother entry 😉 Got the spot i wanted & the bar stool was in place.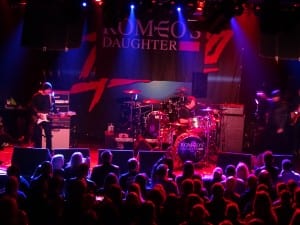 About 30mins after doors, the lights go down & it's the familiar sounds over the PA as the intro to "Heaven in the Back Seat". The band are right on it. Hard to believe this song is so "old". As with most of they're songs, there's a timeless quality to them. Oh, just need to point out that they have a stand in bassist as Ed Poole is away doing his other gig with Bonnie Tyler in New Zealand. Next up we get "Attracted to the Animal" (from the 2nd album " Delectable"). 3rd song, from 3rd album is "Touch" This is quite interesting. Did they do it deliberately or was it just the way it happened to be albums 1,2,3, ? Not that it matters, it's all great stuff. Next we get another from the album titled "Spin". This time it's the song "Radio". It's great to see everyone up on stage really enjoying themselves. Whilst the audience isn't exactly jumping around like crazy (you don't get that at RD shows) they are very appreciative. I see a couple of lasses, a few people back, who are really into it dancin away. That's good to see.
It's now time for a bit more audience participation during " Bittersweet. "
There's only about 4 more songs left & they just seem to fly by. These last songs are "Alive" , "Inside Out", the super emotional "I Cry Myself To Sleep" & finally " Wild Child ".
Not long back i saw "Heart" at a couple of UK shows & forgot that they had covered " Wild Child ". They play it slightly different, but of course, it's Romeos Daughters song & cannot be topped 😉
So that was a very nice warm up to this evening 🙂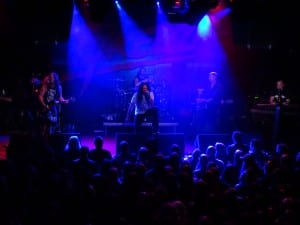 After a while it's time for Tyketto. Tonights show was a rearranged date from last year (as was the whole UK tour). Considering it was a Sunday, there was a fantastic turn out. Just goes to show that if you have a quality line up people will come. During the intro tape, something that stood out to me (apart from the classic music clips) was when the narrator said something along the lines of "…..switch your phones to camera mode….". I thought that was pretty cool, as i take that as they're accepting the fact that so many people nowadays will not only take photos, but also record short clips. (Oh how times have changed since i snuck my video camera into Rock City back in '95 & filmed their gig secretly 😉 ) I guess some of the crowd have been doing this for a while as the guys directly on both my left & right seemed to film the whole show of their Panny TZ cameras 😉
Tyketto kick off with, er… " Kick Like A Mule " 😉 After that, Chris plays the memorable riff to "Wings" & Danny asks " …Nottingham are you ready to sing?.." But of course we were ! Hey it's Nottingham & a pretty much full house.
After Kick, they go straight into " Wings ". Such a classic & mighty fine vocals from the crowd. No holding up, we get another timeless classic " Rescue Me ". Man, only 3 songs in & the night is on fire already. Judging by the smiles on stage, the guys are having a fantastic time.
About midway through tonights set they crank out "Dig In Deep" followed by the amazing "Standing Alone" . It's astounding that after all these years Danny sounds as good as he ever has done.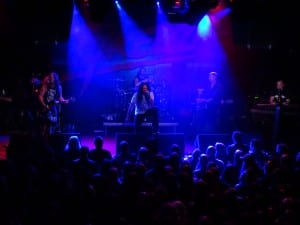 There's only another 5 or so songs before the end of the set. They finish the main set with "Love To Love".
Of course, there's been a song missing tonight & it has to be the encore as it just defines Tyketto. Yup, you guessed it, "Forever Young". What a great night out it's been.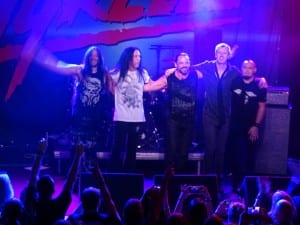 True to their word, both bands came out afterwards for chats & photos. You don't have to pay extra for that unlike some bands. (Though of course it's cool if the punters buy some merchandise as it all makes a difference 😉 )
I go downstairs to briefly meet/chat with Leigh & Craig. Walking up to Leigh, it's so nice she says " Simon ! I saw online you were coming ". Again, it's nice when someone you've admired for years says something nice like "…it's good to see you're still going to gigs despite what you've had to put up with..". That means the world to me, thank you. Both Leigh & Craig seem taken aback when i show them where i had my brain biopsy done. We were talking about gigs at the same time & i said in my lifetime i've been to over 900 shows. Craig kinda misheard me & thought i'd had that many operations ! Leigh soon put him right though 😉
All in all, it was a great night out. Two quality bands for a very reasonable ticket price. These kind of gigs are so much better than arena shows as far as i'm concerned.