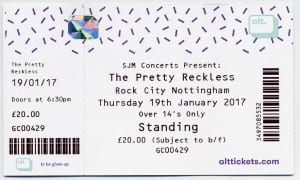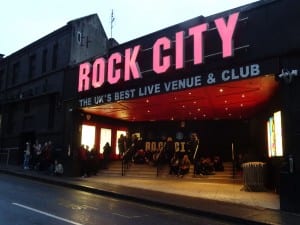 I'd been looking forward to this one for a while. Not only the gig, but a chance to spend a little time with someone. Unfortunately, the latter plans fell apart."The System" seems to do that sometimes. Can be so frustrating… So anyway, i decided to not go too early as i'd only end up spending money around Nottingham!
I was very curious how the support act "The Cruel Knives" would be. If you're not aware, they are a new band formed by a couple of the guys from "Heavens Basement" (what a great band they were) namely ; Sid Glover & Rob Ellershaw . The band is completed by Tom Harris & Al Junior. They've obviously got some good connections in the business as they are now opening for The Pretty Reckless all around the UK/Europe.
Upon arrival at Rock City, i noticed they hadn't posted the times for the night. Also, they'd not put out the barriers. Immediately, i thought something wasn't quite right.
There wasn't a queuing system, it was a mess. Some people had paid extra to be VIPs. What they were supposed to get for that was EARLY ENTRY + a poster. (Ah yes, i remember doing VIP for TPR which included a photo with the band…which didn't happen. But hey they've got your money & when you try arguing , well it's pointless…).
So, as there was no info being given out, there were quite a few punters who were not impressed. From a personal point of view it was getting really hard for me to stand outside for so long. I eventually had to sit on the steps. But the biggest annoyance was one of the RC security guys! When one of the VIPs tried asking him a question, he said something like " Calm down !". Erm no mate, YOU are the one that needs to calm down & LISTEN to the people who have paid to see the show. He was basically a bully. Totally ignorant & showed no compassion what so ever. The problem was that the band were very slow with soundcheck so doors just kept getting pushed back. I understand if security are not getting good info, they are in an awkward place. But as an example of how differently some security deal with this, later on, the HEAD of security came out & said something like "….they've told us they're going to be a while…". He then said "….i interpret that as it will be a long time….". He was calm & collected as he told this message, unlike the arrogant twat from earlier on. Good vs bad eh? I won't even bother mentioning about the whole early entry & bar stool for disabled people like myself & the others….
The only good thing(s) to come of the delays was i saw an old mate who i'd not seen since around the time of my seizure & also got chatting to a couple who'd traveled from Mablethorpe area. (Hello if you're reading this !) When we finally got in, i helped them by showing where to go & also got them a bar stool.
I got my fave spot on balcony so was reasonably happy.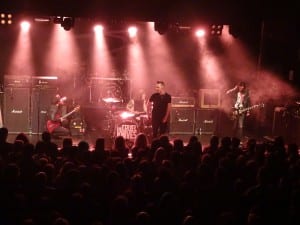 So first up it's "The Cruel Knives" . First song everything just seemed too loud & had a poor mix (maybe they didn't get a line check due to TPR taking so long?). As they went along, it did improve. It's good to see that Sid hasn't changed & is still the show-off in the band 🙂 (That's meant in a nice way. He knows when the cameras are on him & hes a fantastic guitarist). I was unsure if it really was Rob Ellershaw up there ! The new "Liam Gallagher" hair style totally threw me 🙂 Hearing everything for the first time is always hard to take in. Overall, i thought there were some good songs & it's all very upbeat. There's potential as, to me, they don't sound like most of the typical young bands. It's more solid rock. I wanna see them again.
The sound of "Hells Bells" & various other classics are played over the PA before The Pretty Reckless take to the stage. The guys just casually walk on & start playing, then Taylor comes on. The screams from the girls in the crowd are very loud ! As ever, Ms Momsen is sassy wearing her long leather coat. I don't care what anyone says, this really is the Taylor Momsen show.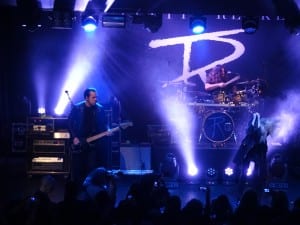 Tonight we get songs from the past few albums, starting with old favorites "Follow Me Down " & " Since You're Gone ". As i don't have the latest album, i didn't know what to expect from the new stuff. "Oh My God " is typical TPR with a barrage of drums. By now either the sound is getting better or i'm just getting used to it ! Interestingly, the next song, "Hangman", is something very different for TPR. It's nice to see the variety going on in that song. One of the biggest problems tonight are the long silences between songs. It kinda kills things. Blaming it on the jet lag is a cheap get out clause.
Ah cant beat a bit of classic TPR! Great vocals from rock city crowd 🙂
Tonights show features a bunch of songs from the latest album "Who You Selling For ". There are way too many silences between songs. A few problems with equipment ( "….my mic stand keeps falling over….hired gear haha…") & a general lack of flow. Jet lag eh ?! I don't think they reached their stride tbh.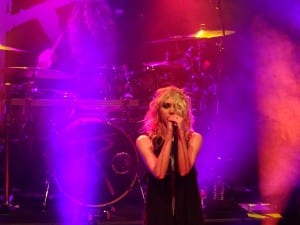 Towards the end of the set they play " Living In The Storm" & that was the most animated we saw Taylor tonight.
Of course, all that buggering about & delayed doors has the knock on effect because there's a curfew of 10pm tonight. Yep, you guessed it, the club/disco is from then. So a few songs must have been dropped from their set. Even though their set was officially over, the crowd kept shouting for an encore. When the house lights went up, there were certainly a few "Boos" in the crowd. I hope they bring their game next time so we don't feel so cheated….