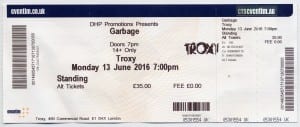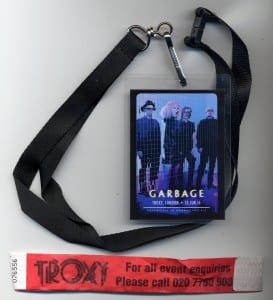 Well, this was always gonna be a special one thanks to some of my great friends with who i go to the Garbage shows. After i was diagnosed with having brain tumors, totally out of the blue, slightly after my birthday, i got this card from my wonderful friends :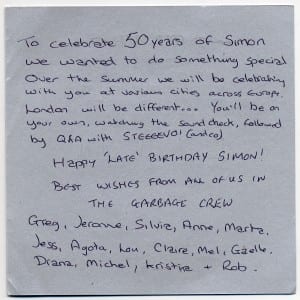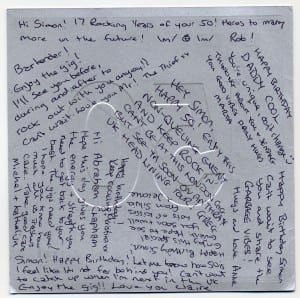 It's times like these that you know who your true friends are. Yes, i admit it, this did make me cry, but it just shows the love from everyone.
The previous day we were in Nottingham for Download Festival. On the morning of Troxy gig, we drove from Nottingham to Lincoln, so i could have my treatments. Then drove back to Boston, where i caught a train to London ! Yup,takes a lot to stop Mr Gigaddiction.
Straight to Troxy where i met Rob & a bunch of others. Eventually the M&G people go inside. Had a bit of a false start as they let us in main room, then asked us to go back out ! Had to feel for Tess as their travel wasn't going well & they had M&G tix as well. Could see they wouldn't make it in time. When we got in proper, it was cool seeing the band soundchecking. They even played a song which wasn't going to be in the setlist that night 🙂 After that, they stayed on stage for the Q & A session. That was quite interesting. The best thing i heard though was that they want to do a Version 2.0 anniversary tour. Now THAT'S something i want, to relive those heady days again 🙂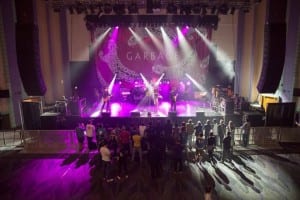 Afterwards, we were took backstage to a room where we get the photo opportunity with the band. As i was wearing my " 50 " badge, i was wished a happy birthday. I explained my birthday was in fact back in April & how my wonderful friends bought me the M&G package. I showed them my card & got them to autograph it. Duke, being the wise guy, asked " Are you Daddy Cool ?"
Of course, he had just looked in the card 😉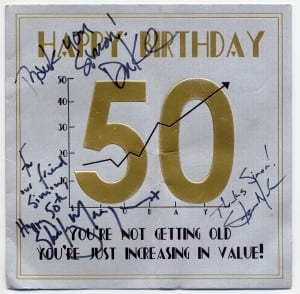 I kind of embarrassed Stevo as i told him how we (myself, Rob, Rijkels) started the Steve-o chants… he went a bit red 😉 Finally, i gave Shirley a copy of the Angelfish film i made in Glasgow last year. " Oh, it was you who was filming it !"
We then were given posters for the Troxy show. I noticed the guy giving them out had extras, so, i just asked if i could have another.
He was fine about it….& then everyone near me was grappling for them lol. Some lead,others follow 🙂 ( I gave my extra one to Rob)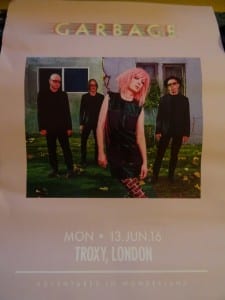 We then went back into the main hall. I got a great spot on the raised area, left side obviously, next to mixing desk. Later Tess, joined me there, along with Rob , Jess, Jeff & his missus & Jim. Also saw some other friends including Becky, who i always see on the Garbage tours 🙂 Once again, it was nice seeing everyone again. Eventually,the rest of the Trashers joined below us on the floor. But Diana kicked ass the most, as she came up & stood other side of barrier,near to the mixing desk ! Stayed there for quite a while as well with no one contesting if she should be there. Maybe they all just knew she is the "Bitch Babe" not to be messed with?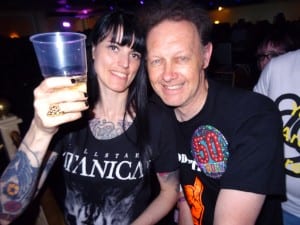 Pearl Harts opened the night & as ever, i enjoyed their little set. Strangely, i didn't take any photos or video of them! Probably because i was otherwise occupied ? 😉 Whatever, they got a decent reaction from the crowd,but, we were there for the main course; Garbage !
There was a lot of expectation on my part as Paradiso had been so good. Not only that, but, the last few London shows just seemed to get better each time.
Whilst i think it's brave of them to open with " Sometimes", i think it's a rubbish opener ! Honestly, i just don't like it ! I guess the idea is to show a somber mood, but i find it meh. At least they go straight into "Empty ". I love that song. Nice energy pop music 🙂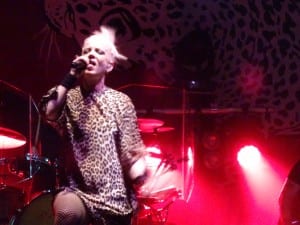 Then we have the killer old classics "Stupid Girl " followed by "Special". It's great seeing everyone getting off on these songs. Already, i don't think i've enjoyed myself this much at a Garbage gig ever before 😉 It was quite a surprise for them to add "So Like A Rose" into the set & lucky i decided to film it.
Actually, i didn't film much as i was just enjoying the moment so much. Once again, it was fun to be rocking out etc with Tess. " #1 Crush " was pretty intense tonight. Loved " I Think I'm Paranoid" as always. Bit of jumping around etc. The whole evening was just great. Shirley did quite a talk, including band members introductions, before  "Automatic Systematic Habit ". Stevo got embarrassed 😉 Mr Avery just showed what a bass god he is & we also were told that Duke is the only member of the band to have not cancelled a show due to being fucked up (So, does that mean he has played a few when he WAS fucked up ? 😉 )
Tonights version of " Vow " , was easily the best they've ever done (that i've seen anyways). Shirley was just so wrapped up in it…as were we. They finished with "Only Happy When It Rains" & everyone was rocking out & singing along. Hmm, cannot remember exactly if it was here or before, but, the girls went further into the crowd. I guess they just couldn't stay at the back 😉
The first song of the encore was " Even Though Our Love Is Doomed ". Myself , like many no doubt, can really relate to the lyrics in this song. It's dark & moody & for me, probably my favourite track on the album ( With " Blackout " being a close second fave ) . We get the final songs "Why Do You Love Me" & "Cherry Lips". Before "WDYLM" Shirley made an impassioned short speech about us, their crowd. She genuinely seems to appreciate us all supporting them over the years.
What a night it was ! Finally meeting the band after all these years supporting them, a fantastic show & probably the best London gig i've seen, some dancin & ass bumping, full of true friends. Just amazing. Once again, huge thanks to the Trashers who clubbed together to buy the M&G for me. It was truly appreciated like you'll never know. Today was a day i'll never forget for so many reasons. Mr Gigaddiction is STILL going strong 😉