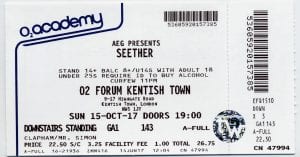 When i ordered my ticket for the show, i requested access to the disabled area downstairs. The complimentary ticket would be for Rob. Anyway, i got an email saying there were more requests for wheechair spaces downstairs & would i change to balcony seating to accomodate those peoople.Of course, I agreed, no problem.
Had a smooth journey down to London. Headed straight to Hotel Rob. When i arrived, he was just preparing some pasta. As i'd not had anything to eat, i took him up on the offer of pasta & mushrooms 🙂
I'd previously asked Rob if he'd got a "Radioactive" sampler CD that i recently found. Included on it was a track listed as Shirley Manson, which was actually Angelfish. There was also a track by "Duke" (no relation to Garbage lol) & most bizarrely a track by Traci Lords ! Don't think her music career was as suck-sess-ful as her previous one 😉 As Rob collects all stuff related to Garbage, i gave him the CD.
Tonight, for a change, Kristina was also joining us for the gig. We got to venue a matter of minutes before doors would open (tubes seemed slow today).Went to box office to get comp ticket & change my downstairs for balcony ticket….then the chap said we could go downstairs! As Kristina had bought a balcony ticket, we opted for balcony.
Strangest thing i've seen happened next : they let the O2 priority people in first. Usually it's the disabled peeps who go in first. It didn't matter though as we were quickly in & got seats on front row of balcony.I like the balcony at the Forum.
I'd not heard anything by the support acts.First up were "Sons Of Texas". Never heard of them before, but they put on a good show.The crowd seemed to like them. Wish i'd filmed a clip actually.
Next up was "LTNT". They were pretty awful ! Also, blokes wearing nightdresses is NOT a new thing. it was done back in the '80s. I think it would have been better if they were the fist act & Sons Of Texas had the middle slot. Whatever…
After struggling to get through LTNT, it seemed ages before Seether came on stage !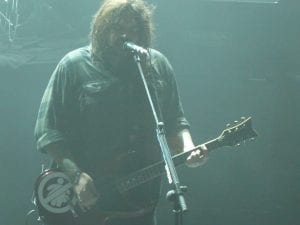 Seether opened with "Stoke the Fire", which is the first song,from their latest album "Poison The Parish". I've not got the latest album, so anything they play off that tonight, will all be new to me. The next song was a real oldie, dating back to 2004. It was "Gasoline" which was on the "Disclaimer 2" album. I quickly noticed that the lighting was pretty poor tonight. Once again, the band were back lit & there were no follow spots. Seems this is happening more & more nowadays 🙁
As with the last time i saw Seether, there's very little audience interaction between Saun Morgan & the crowd. I suppose he prefers to put his head down & get on with things. But that's not to say the audience weren't getting into it, they most certainly were. There were many times i looked downat the audience & they were moshing away & also some great sing a longs.
Tonights show was a pretty balanced affair of old & new songs. From the album "Isolate & Medicate" we got "Words as Weapons", "My Disaster" & "Nobody Praying for Me"
Stand out moments for me were mostly the older classics. Namely, "Country Song", "Broken", "Fake It" & "Remedy"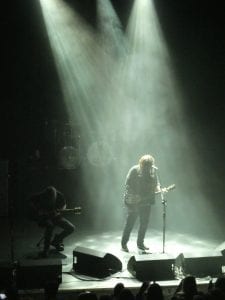 All in all, it was a decent night out. You know what you're gonna get with Seether, It's always a good time with great songs. It's real. Love it.