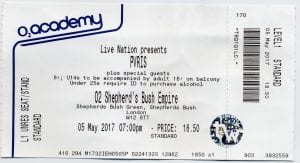 Last night was a late one, so i was pleased my train too London wasn't so early. Journey went well & i was soon at Hotel Rob where Kristina greeted me. After a while we set off to Shepherds Bush where we'd meet Rob for pre-gig food/drinks. Jim also joined us. At the venue, there was quite a queue of young uns waiting in line. Fortunately we needed to collect tix from the box office as they held both mine & my "carers" ticket there. We went through side door & waited in a tiny room with about 8 more people. Tonight i was trying the balcony for the first time. I hoped to get a seat on front row,either side. Eventually we all piled into the lift & once up there we were told to go back downstairs ! Reason? PVRIS were doing a M&G in the bar area where we needed to walk through. After a few minutes we once again went up in the rickaty old lift. Started walking through the bar & AGAIN were told to leave ! This time we just waited other side of the door. Eventually we got in & too my disapointment, both sides were totally reserved (assume friends/family & industry peeps). The first row had been took by the M&G peeps already. I thought 2nd row would still be decent view…until some big chap turned up directly in front of me. Live n learn i guess !
The opening band "Pr/des" were pretty bland to me (that's being nice). Just couldn't get into them as there wasn't anything that stood out by them.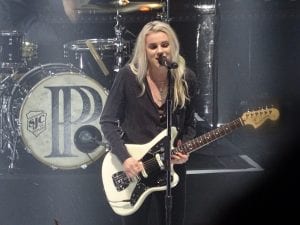 PVRIS were their usual selves ; a great little pop rock band. Kicking off with the great singalong song " You & I ", they set the scene for the evenings entertainment.  Sometimes, it's quite amazing how loud a small audience like this can be. Next we get "Fire". This really shows what a great vocalist Lynn is. "Mirrors" brings the customary arms waving in the crowd. Lynn has a wee chat to the crowd & things get interesting when they play a couple of songs "stripped". Just Lynn & Alex up there.
After a stripped version of " Ghosts ", the rest of the band come back & they play "Smoke". It's all quality stuff. Then it's the real shocker; a NEW song ! It's called " Half ". I'll probably upload it later (quality isn't great 🙁 ) Oh i thought the old style "street lighting" was different 🙂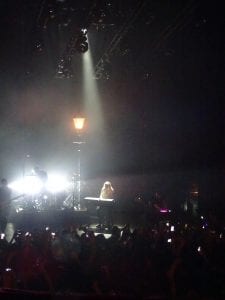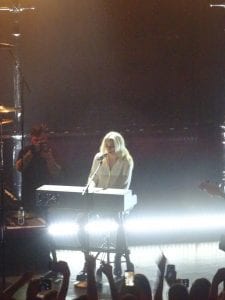 The last 2 songs of the night are "Eyelids" & "St Patrick"
Of course, that cannot be all….they encore with "Heaven" & a rousing version of " My House " (They always seem to finish with that one). As on previous tours, it was a short set of about 12 songs. Hopefully, when they return later in the year, they'll flesh out the set as there will be 2 albums to take songs from 😉
Afterwards, we went back to Brewdog when we met a slightly drunk Rob 😉 Stayed there a while with a couple of others. Lack of sleep was catching up with me & i couldn't wait to get back to Hotel Rob. Had a decent nights sleep & was on my way back home around 1pm.