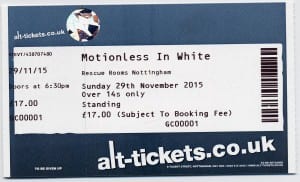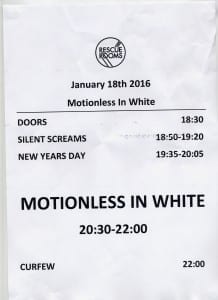 Half expected the queue to be busy  & it sure was. Luckily, i managed to get a great spot on the balcony. The first band "Silent Screams" went down very well with the young audience 😉 They had a circle pit & even a "wall of death". Whilst i wouldn't buy their CD (or go see them headline), they were entertaining. I'm just not much of a fan of "shouty" vocals.
Next up it was New Years Day. Unfortunately, the sound wasn't great (a problem that continued all night) the vocals needed to be higher in the mix. However, i think for a lot of people that didn't even matter as they were either just smashing the hell out of each other, or just swooning over Ash 😉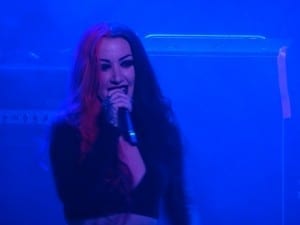 Their set was short, maxing out at about 35minutes & doing around 7 songs. Second song in, "I'm No Good" Ash got the crowd jumping along straight away. Basically, she had everyone in the palm of her hand .
Motionless In White were entertaining but they had sound problems all night. Lost count of the amount of times someone went from the mixing desk to the stage! Ash also joined them for "Contemptress"